I landed in the USA at midnight, going into the 19th September (Friday). The usual grievances at the airport include passport control before grabbing your bags (I would get to queue jump having only hand luggage) and realising your taxi journey is going to be very expensive because they know without them you are stuck.
LAX was different. The queue to get through passport control was ridiculous. People stood in line all along the passport checking desks, then the queue wound up and down 5 more times before coming to a scary looking end. What more could you want after a long journey than an hour of queuing?
Once at the desks I realised what the hold up was. They were photographing and fingerprinting everybody, and actually asking real questions and writing down the answers. Most countries either don't say a word, or ask if you are there for business or pleasure. Not America. 'What are your intentions on this trip?' 'Who are you meeting here?' 'What colour underwear do you have on?' Ridiculous. Plus, if you were a terrorist, you would just lie!
They took my photos and fingerprints, and I was let through to the next queue (woohoo!) at the baggage check. I declared nothing but still had to have my bag scanned. My backpack must have radiation poisoning by now.
The original plan was to sleep for a few hours on the plane (didn't happen), sleep for a few hours in the airport (didn't happen), then have a full day to explore LA when I could pick up my car rental from 7am. So instead I scraped together 50 U.S. Dollars at the exchange counter and jumped in a taxi towards Santa Monica Boulevard. My car rental was from here in the morning and I needed to be walking distance away.
After a few 'there is no room at the inn' conversations I found 'Days Inn' on Santa Monica Boulevard. Looking like a cheap and dirty motel, I expected less than $100 for the night. It was $159. I was glad to just be able to shower and sleep though, and I was up early again to explore Los Angeles.
I walked to the rental company, California Rent-A-Car, and upon arrival noticed two things. Firstly, a sign that is not meant to be funny but kind of is.
Secondly, and much less amusing, was a lack of Mustangs (booked year in advance) in the parking area. I approached reception nonetheless expecting our car to be parked elsewhere. The very nice gentleman inside told me that the previous renter had not brought the Mustang back, and they didn't have another.
He rang a different company, but they wanted more money (there was a reason I chose this company). Then he offered me a Mini for the same price, as if that was supposed to impress me. I wanted a Mustang, and you're offering me basically the opposite?? Anyway, I eventually settled on a Volkswagen Passat (gutted) but every cloud has a silver lining and I saved some cash.
I headed out to Malibu for some touristy photos and to see the beach. I parked near a shop that was called 'She sells sea shells near the sea shore', and that is exactly what she does. The beach was nice as expected, but also very quiet with almost nobody else on it.

After a stroll and some sights I got back in the car and headed towards the Hollywood sign, because you kind of have to I guess. See what all the fuss is about. I drove towards Griffith Observatory, which is also on Mount Hollywood.
Driving into Hollywood is enough to make anyone feel poor. There are more Maserati's than Ford's and everybody looks like they have just stepped out of a magazine shoot. Strange place, but very intriguing.
I drove up the winding Mount Hollywood and parked in the no parking zone along with every other tourist, as the car park at the top is far too small. The sign isn't all that impressive, but the views are lovely.
It was now around midday and could book into my hotel, the Avalon in Beverley Hills. Whit-woo! It was easy to find and they had valet parking, great. Only trouble was, it wasn't included. $31 per day! Parking on the street costs much more than that so I had to say yes. Plus valet parking is very LA and helped me feel like I was living the high life, if only for a day or two.
I chucked the stuff into the room, which was very nice, then went for a walk down Rodeo Drive to check out some of the most expensive shops in the world. I spotted this necklace, and speculated over how much it costs. When a shop doesn't show the price, it's usually bad news.
I nipped into the shop in my football shirt and combat shorts, and tried my very best to act rich when enquiring about the price. $825,000. Ouch. And to think I was complaining about $31 parking.
I got hungry, and being relatively broke I realised grabbing a bite anywhere wasn't an option. Some of the diners look like they will only let you in by invite anyway. It is an area that I can only describe as 'stinking rich'. I managed to find a deli that advertises itself as the oldest deli in LA or something. I ordered a 'peanut butter jelly sandwich' as I have never tried one.
The lovely dear of a waitress couldn't believe I hadn't tried peanut butter and jelly, and I couldn't believe they called jam 'jelly'. I genuinely always thought peanut butter and jelly was peanut butter and jelly. Not peanut butter and jam. Anyway, it turns out these crazy Yanks might not be able to speak properly, but they sure can concoct a good sandwich. It was delicious, and as expected, ridiculously big.
To add to the American stereotyping, 2 punters started talking to each other in their overly loud American way and were arguing over which deli was the best in town.
"Canners is the best deli in town, still plenty of meat in your sandwich, and it's top quality goods. The best."
"No way! Langers is number one and always will be. You eat there and you don't need another meal for a week!"
"Have you tried the dogs at Canners? I bet you a hunned bucks you wouldn't go to another deli again after tasting 'em."
"If I had to score Canners out of 10 I would give them a minus zero."
It went on like that for a while, and I eventually stopped staring after realising this wasn't TV, it was real, which I couldn't get my head around. These two guys just needed to be a bit fatter and have utter ignorance for every other nation and they would be bonafide stereotypical Americans.
I walked back to the hotel, still in awe at the shops and level of wealth in the area. After a nap I went for a drive around Beverley Hills.
It's easier than I thought to find the celebrity houses, they are on long palm tree lined streets, with huge drives and outbuildings bigger than my entire house. They are impressive and other worldly at the same time. It was a good drive, and I got some looks for daring to drive a VW Passat in the area as the Ferraris and Mercedes whizzed past constantly.
I hit up Trader Joe's (supermarket) for some groceries as I couldn't afford to eat and drink out, and I wanted to sample the nightlife. Back at the hotel I had a quick bite, then got a cab to the Comedy Store.
It was only $20 per person and it gave me a good chance to see Los Angeles' finest. There were 10 comedians on the bill, and as I got there the first one was just starting. He was decent, as was the next guy. The third fella however, was really funny. He was talking about a recent article in the news regarding an American footballer that had hit his partner. Not a funny story, but should we be able to laugh at this pathetic man? Yes.
The comedian did well to make light of it and was hammering the domestic abuser when a lady shouted 'STOP!' as if she could tell the entertainer what to do. She began a rant about how she works with somebody that has suffered domestic violence and he should not make a joke of it. Having done stand up and knowing how difficult it is when someone knocks you off your train of thought, I nearly stood up and berated her. Before I had a chance to think though, this pantomime crowd had begun shutting her down.
It just took one guy to shout 'Shut the fuck up!' and everyone got on her back about being too uptight. I'm glad, as she was out of line. If you don't like it, walk out, don't stop the show. Very rude. The polite comedian explained that he was laughing at the man and not domestic violence, which he shouldn't have to explain just because she is an imbecile.
As it was a late night, I was up pretty late the next day. A few too many drinks had left me a bit sore, and my hangover food was sushi and fruit, not ideal.
I headed for Venice Beach (turning into a proper tourist) and after I parked up I entered another world. It is interesting, different and nauseating at the same time. Firstly, I see a basketball tournament happening right on the beach, with a commentator that was making everybody laugh by 'dissing' the ballers.
There was a funfair, volleyballers, bike riders, roller skaters and of course, the public gym.
There were also more rappers than you could shake a stick at. They dress more like Flavor Flav than Jay-Z though.
Their clever ploy is to smile at you with alluring gold teeth and explain that they have had it tough, trying to make it as an artist all the way from the depths of the hood. They offer you a free CD, saying they are the next big thing, then ask for a 'donation' to their cause. It wasn't difficult to see they do this for money, so I stayed well away. As one of them approached, a helicopter was flying overhead, and I waved him away saying 'no thanks' and he said, 'Come on man, you see that chopper? That's my mu'fuckin' chopper!' 
I had seen 'churros' being advertised everywhere in South America and had not yet got around to trying them, so when I saw them for a dollar a piece from a street vendor I went for it. They taste just like long thin donuts. On the way back to the car I saw a pink limousine with a guy asking for money for photos with it. It was pimped out to the max!
My next planned stop was Laguna Beach, and if you zoom out enough on the map it's only a thumbs width away. Of course, I hadn't planned on it taking so long, and halfway there I realised it would be dark by the time I got there and back.
I stopped for a Taco Bell (Mexican fast food) and I was more than impressed. This place is fast food for the Gods. Why we do not have this in the UK I will never know. They are missing a trick. It was a dollar for my meatless wrap, and only a few dollars for the meaty ones which looked nice too.
I diverted to Long Beach as it was close by. As I pulled up at the marina I saw some pirates, it was a pirate celebration of some kind. There was even a female pirate with a huge blue parrot.
I walked along the pier and found a boat rental hut. Bingo. I paid an extortionate amount for an hours jet skiing and after signing  my life away (for the 63rd time this month) I was led down to the water. Jet ski's aren't difficult to drive. Left goes left, right goes right and twisting your wrist goes fast. Easy. Just like a car with an automatic gearbox. It was fun!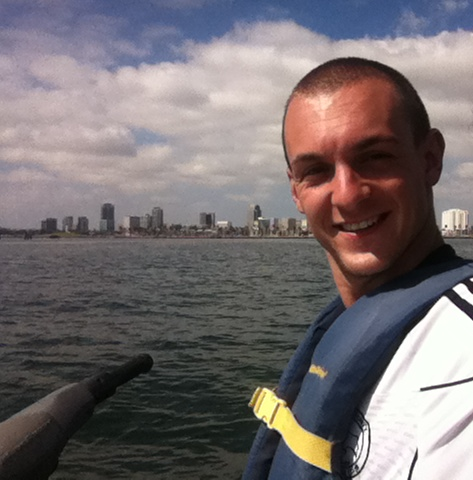 Once I was safely on dry land I went to grab a drink from a shop window. $1.50 it said. I had the right change, result. Oh no, turns out that price was excluding tax. Now I have to break into a 20. Why would a punter want to see the net price? Fools.
I hit the road again and by the time I was back at the hotel, it was dangerously close to kick off time. I had booked tickets to see LA Galaxy vs FC Dallas months ago. I quickly changed and hit the road again, this time headed for the StubHub Center, where LAG play their home games. I turned the cars 'sport mode' on, and I bombed it to make sure I got there in time. I'm still not entirely sure what sport mode does, but in my head I was driving the Batmobile anyway.
I made it just before kick off (it was a night game) and seeing hordes of Yanks going to watch football made me very happy. They are finally beginning to realise which sport is the best in the world. I whizzed through the short queue and entered the ground. I was buzzing.
My hometeam of Derby County have been making more of an event of each game, and I'm a bit old school in that I think we should just get on with it. A cup final yes, a regular league game no. However, this is the States, and I must admit I love the fact that they are over the top. Everybody stood for the national anthem, and everybody sings along. They even have fireworks before the game as the anthem finishes. As the announcer says the players first names, the crowd says the surnames, which was a nice touch. He then finishes with 'thank you' and the crowd then says 'you're welcome'.
Robbie Keane (captain) had the best reaction from the fans, and as he used to play in the Premiership I was looking forward to seeing him play. The ACB (the loud Galaxy fans) were chanting his name. There is a nutter at the front that stands on a podium facing the fans and gets everyone singing. He made a speech before kick off basically saying 'if you do not want to sing, find another place to sit'. So I sang!
I grabbed a Budweiser (only beer they sell, lucky for me I love it) and the prices matched the rest of the occasion, over the top. $9 for a pint, I nearly fainted. I grabbed some Nachos, and the lady couldn't believe that I didn't want melted cheese or sour cream/mayonnaise. I just had extra jalapenos, and she looked at me like I had just eaten my own hand.
The first half was much as I expected with Galaxy dominating possession, but they had a guy up front who can't shoot. 0-0 at half time, and as they changed ends I changed seats for a better view.
The second half was frantic and the fans were briefly silenced as FC Dallas scored a fantastic header.
When the going gets tough, the tough show their colours. Robbie Keane, the one man team, pops up to show his class and scores a great goal to level it up. The guy that can't shoot decided to pass instead of shoot, and it worked a treat.
Galaxy continued to press for a 2nd goal, but Keane made the mistake of passing to his team mates when they clearly cannot finish. The manager made a good decision to put on a big lump (Gordon) of a striker up front for the Galaxy, and with 5 minutes to go Keane skinned a defender and whipped a great ball in, and Gordon duly nodded it in.
Watch the highlights here:
I cheered the players off the pitch and went back to the car. Everybody else turned left out of the stadium, and I turned right. I think I was trying to avoid traffic, but anyways I ended up in Compton. I always imagined the films would glorify Compton, or at least make it seem worse than it is. I can confirm Compton is not exaggerated on TV. It really is as scary as hell. Especially late at night when you're lost!
The first thing you notice is the lack of cars. Whole streets are empty, and I ended up running some red lights for fear of being jacked. There are the gangbangers sitting on the steps outside their home, wearing all black tracksuits with red bandanas. I slowed down to get a good look and considered asking them for directions. Probably not a very good idea.
There is no restbite, and my phone was out of battery so I couldn't use that to navigate, and I didn't have time to read signs as I was too busy looking for guns being pointed at me. Don't judge me until you've been there, I never imagined it would be like this.
I went through Inglewood and a few more people started popping up, mainly eating at street vendors. Eventually I came out near the airport, and finally saw some more cars. A relief, but I still needed to get back to Beverley Hills somehow. I knew it was North so looked for helpful signs. There were none. I pulled up alongside a lady that was walking alone (she looked worried) and asked her for help. I flew straight back with ease, which was fortunate as it was very late by this point!
The morning came, and it was my last day in Los Angeles. I did not want to waste any time, so headed out early for a drive. Once again, the car valet guy held the door open for me to get into the drivers seat, then waited for a tip. I felt like saying 'don't eat yellow snow', but I refrained and just forced the door shut with a smile. $31 a day and he wants a tip? Next joke!
I had wanted to find a place I had heard about but didn't quite believe. It took several attempts to find this place, because the streets are confusing. Eventually, I pulled up to…
A cupcake ATM. Unbelievable scenes.
I purchased one just to make sure it was real, and it bloody is. Mad Americans. They wonder why we had the Global Financial Crisis? I'll tell you, because the Yanks replaced their ATM's with machines that give out cake instead!
I also still hadn't seen the Hollywood Walk of Fame, where all them stars are on the floor. That was the next stop.
Personally I found the walk extremely boring, and only did half of it in the end. Very underwhelming. There were tour guides offering tours for 20 bucks, and of course I said no. I can walk up a street myself thanks.
I went back to the hotel to pack, and it started to sink in that I would be back at work and in a new reality in just 2 days. The flight wasn't until the late evening, so I had time for one last drive and an evening meal. I drove near Santa Monica beach, and once again the cars were mind blowing. Here are just a few:
My favourite ingredient in any meal is garlic. I am the anti-vampire. There is a restaurant in LA called 'The Stinking Rose', which is basically an eaterie based on garlic. I was booked in at 6pm.
The food was amazing, and I even had a side order of an extra bulb, which I ate on it's own in one. Lovely. The interior was like a circus tent, with each table having it's own privacy. The service was great and the valet parking was a much more reasonable $5.50.
I dropped the car off at the rental place, and began walking towards the airport. After a kilometre or so, I was hoping to whistle a cab, but there were none passing. No empty ones, anyway. Eventually I was that shattered I stopped and made it my sole mission to get a cab. I finally found one and for the bargain price of $35 (!) I got to the airport.
Except I was at the wrong end of the airport. Once inside, I had to walk the length of the halls to find my check in desk, where I was very rudely told by a female member of staff that unless I have proof of a valid NZ visa I couldn't board the plane. Thanks love.
I explained to her that it was all online, and after some lessons in logic and common sense she saw that I should be let through. I boarded the plane to New Zealand, ready for a very different part of my adventure…