I was lucky enough to break up for my New Year holiday on the 23rd December and not have to return to work until January 19th.
I had been invited by my lovely neighbours to an Xmas BBQ and drinks at the harbour (they all work on superyachts). It was a hot day, and what I can remember of it was great. Some pretty embarrassing photos though, and I have a vague memory of jumping into the sea in my underwear. I will spare everyone these photos.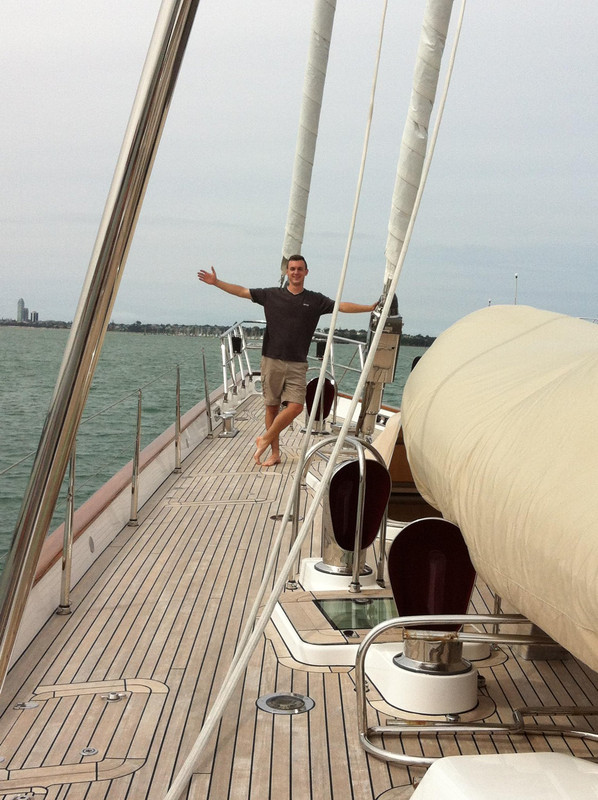 Anyway, my parents, who have always fancied New Zealand, agreed to fly half way around the world to have a break and see their travelling son.
On the 29th they were due in at 7.30am, and I had arranged to pick them up from the airport. Of course the car park is 15 minutes free, then $7,827 per hour or something daft, so I decided to wait for them, then do a loop in the car, then wait, then do a loop, and so on and so forth until around 8.15am when I gave up and sat down to wait, muttering that Dad could pay for the parking.
When they finally emerged my impatience dissipated immediately and I ran over to hug my Mum and we all probably got too emotional for saying it had only been 3 months. It was great to see them, and I felt a small kind of repayment for all their parenting was for me to host them in New Zealand.
Gemma was on her rota'd day off so that was lucky too, and after a few hours of chatting and a brisk walk to the dairy (that's what Kiwi's call a corner shop/newsagent) we went up Mount Eden (best view in Auckland). After that Mum and Dad retired to bed due to jetlag/heatstroke! Not only had they had over 24 hours of travelling, but they had left the UK when it was around freezing point, and arrived here to 28 degree heat. Not that they were complaining!
Gem and I walked to the library to grab some books for our upcoming trip and set our makeshift beds up in the living room (we only have 1 bedroom and parents trump children in life's hierarchy). Our bed isn't exactly luxury so we didn't mind too much!
The 30th was planned to be a day for us to chaffeur my parents up to Pakiri, which is an hour or so North of Auckland, so that they could carry out their first planned activity, horse riding. It is supposed to be the one of the best places in New Zealand to do it. Gemma decided against coming with us so I took them on the nice drive up the coast. As we approached the remote Pakiri we could hear the waves and saw a lovely looking stables at the other end of the dusty track that we were on.
Once we pulled up we were greeted by staff, and after grabbing a cold drink we sat near the only other group that were there. On the 1 hour ride, which was to go through a river, through forests, over hills and of course the beautiful golden sandy beach, there would be Mum, Dad, 2 other adults and a child, plus a member of staff of course.
Horses were assigned to riders by ability and size. The little girl has her own horse ($$$) back in the States apparently, so there was no extra concern necessary. She had what looked like a Shetland pony to ride on.
They mounted using handy steps and everyone had a quick practice before they all set off across the dirt track, through the river and into the woods beyond.
Once they had disappeared I asked for the quickest route to the beach, which was across a dodgy bridge (2 planks of wood) and over some sand dunes. There was a handy shaded pagoda just before the beach where a group of beach goers had left there beers so as not to get too warm. I headed down and was quickly invited to crack one open with them, typical good natured Kiwis! I enjoyed the beer as we chatted and they said they had seen the horses pass 10 minutes before.
I headed back so I could watch them trot in and Mum and Dad seemed very happy as they did so.
The staff were very good, with Dad being allowed to 'race' on his horse (big kid) and Mum getting into a conversation with one staff member regarding pay and working conditions. You could see how a young person could easily get bored here as there wasn't much to do. Plus, they work 7 day weeks often so that must be tough.
Apparently the little girl fell off at one point, and in that split second when everyone is thinking 'i hope she's not broke her back, here come the tears' the little girl jumped up, ran after her horse and remounted. Good stuff.
On the way back to Auckland I wanted to give them a glimpse of the Gulf Peninsula which I had been to for work and was gorgeous. There is a point on the main road travelling East where you can see the coast on both sides (North and South). We stopped at 'Big Manly Beach', how appropriate then for Dad to whip everything off and go skinny dipping. The water was very warm, almost bath-like on a day that hot.
After Dad had squeezed back into his Speedo's we headed further along looking for a winery. We stumbled upon Brick Bay, which is set against a lovely backdrop and has a posh cafe along with an arty walk that you can do for a small fee. That's not our thing so we passed. My parents do love wine though, and as such a tasting was in order.
For $5 a head you can try their best rose (okay), white (nice) and red (vinegar). We asked for a bottle of rose and a bottle of white (my parents drink red too, but weren't impressed) and they were 'pre-wrapped'. We assumed the professionalism of an expensive place like this would be up to scratch, but when we returned home we found that both bottles were Pinot Gris (the white one), despite their wrapper labels!
We got home and played a game of Trivial Pursuit that I got for Gem for Xmas and settled into our bed/floor/sofa. The next day was New Year's Eve and Gemma was working, so once she had left I took my parents to the CBD for a walk down Queen Street, a look at the harbour and a quick glance at SkyCity.
On the return journey we saw one of those huge elasticated bungee's and for $100 (for all 3 of us) we opted to give it a go. Mum required some coaxing, but I think she was glad she did it eventually. It was much better than I expected, anyway.
We then went for some food at a pub called 'The Occidental'. It is Belgian themed and serves nice Belgian beer along with some very tasty green lipped mussels. After another beer at a friendly cowboy themed bar, we found our way back to base to shower and get ready to hit Aucklands finest bars to see in the New Year.
As everywhere was absolutely rammed (this is why I prefer family parties for New Years Eve when I'm in the UK) we had to squeeze back into the cowboy bar and find some hot and stuffy seats near the open pizza stove. Gem left early as she had work on NYD which was a shame, but the fireworks and music at New Year by the harbour were great, even if we were a little drunk.
The inevitable hangover struck on the 1st, and after my parents had woken up I crawled from the living room into our old bed to continue my hibernation from light and sound. We have a 10 day trip to the South Island tomorrow, and I need my rest!
You can see all the photos relating to this post here.