It was the beginning of January, and we rose early to start a few hours drive down the coast to Invercargill. It is here that I would be swimming with great white sharks, along with my parents.
The journey was broken up by a standard sight in New Zealand, cattle crossing the road. You don't get that in London. We had planned a halfway point stop for lunch at The Whistling Frog, near the Tautuku River. We eventually found the Frog and enjoyed a decent meal. We saw an abundance of signs for 'McLean Falls' nearby, so thought we would take the opportunity to check it out.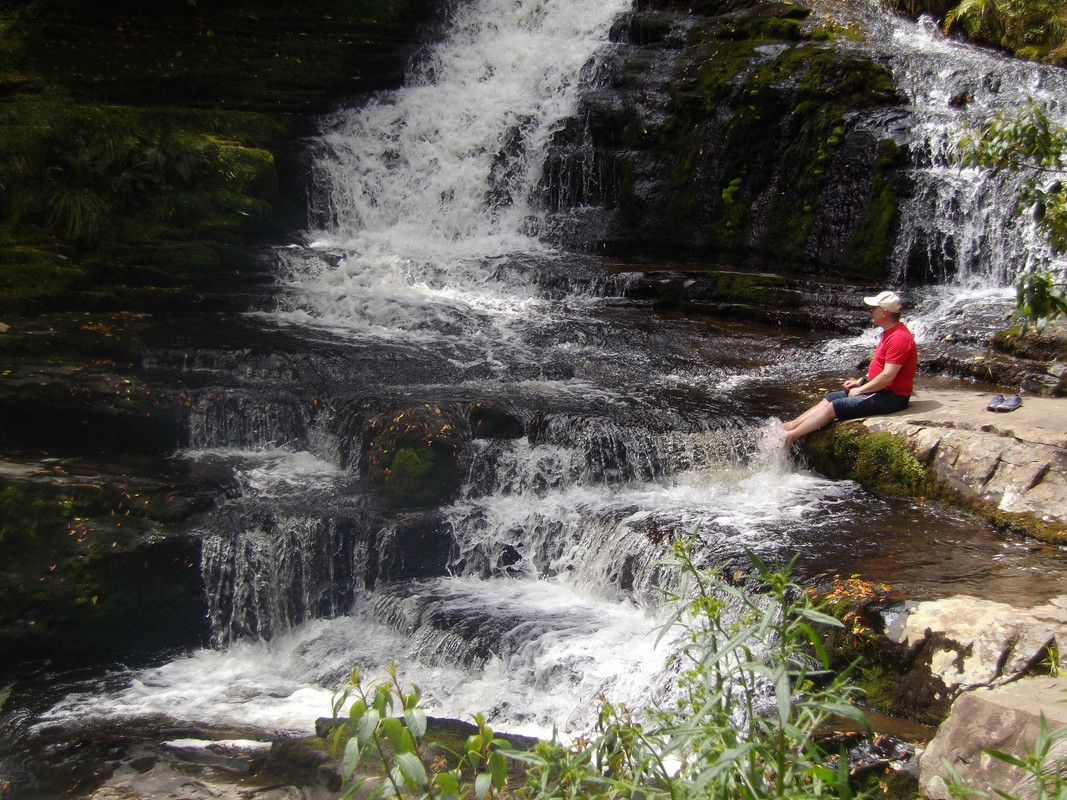 Once we were done, we continued on the long journey to Invercargill. It reminds me a little of a ghost town with many empty streets and an eerie feel to it. January and February is peak tourist season in New Zealand, and here we are trying to find evidence of life throughout this weary town.
Our first full day in Invercargill and we are ready to swim! Excitement turns to nerves, nerves melt into fear. The 20 minute drive to the meeting point for our shark experience was a reflective one. I'm not sure about the others but I considered etching my will into the plastic armrest in the car, just in case the worst happened.
We eventually found Mike, the chap that runs the show, after driving past him a couple of times. He was abrupt as ever, but smiling. He introduced us to his assistant and the other passengers, one of which was just there for spectating.
We had to pay $99 per person extra, just for a 10 minute chat with his assistant showing us how to breathe underwater as we weren't SCUBA qualified. Definitely over-priced, but we were a captive audience. The boat set sail and the water was a tad choppy to begin with.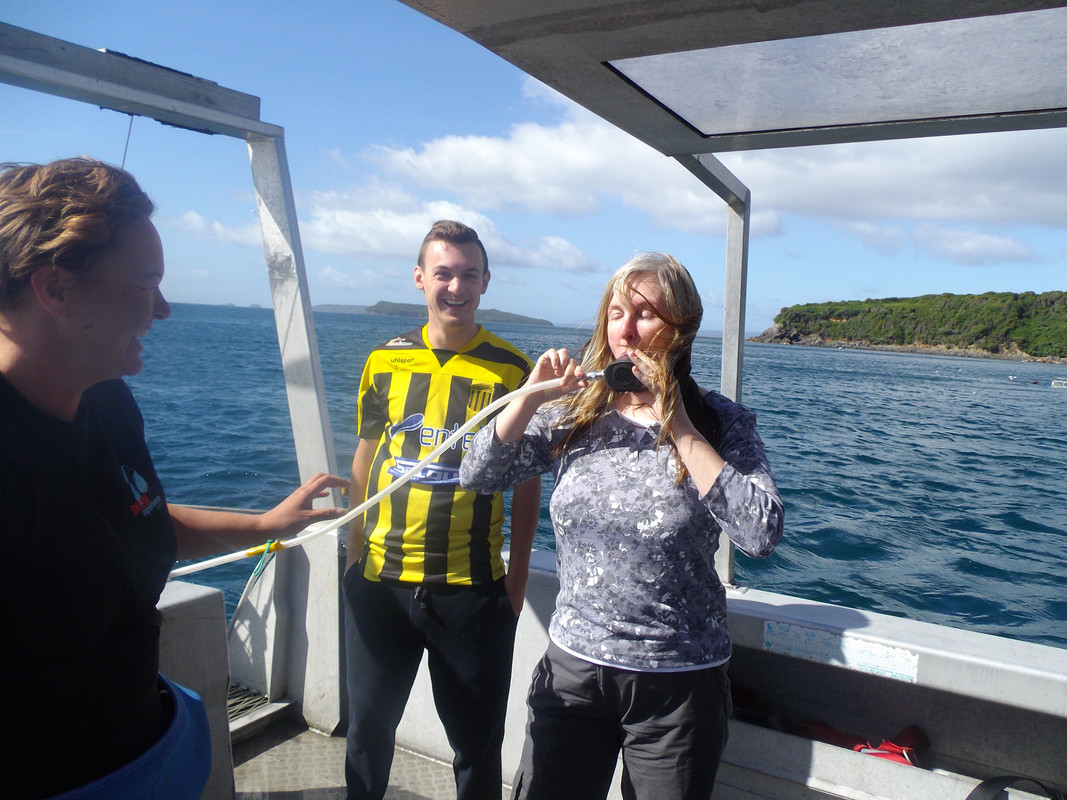 Once we hit the open water though, the waves came up way over the boat and for every wave crest, there is a huge dip. It wasn't too comfortable either. We eventually arrived at our destination, which is less turbulent due to being sheltered by an uninhabited island.
Another boat was already there, and almost immediately we saw our first great white shark. First impressions are always important, and they certainly give you one. They are absolutely massive. This one was 4.5 metres long, which is huge, but apparently they get even bigger. This was a male and the females are even larger.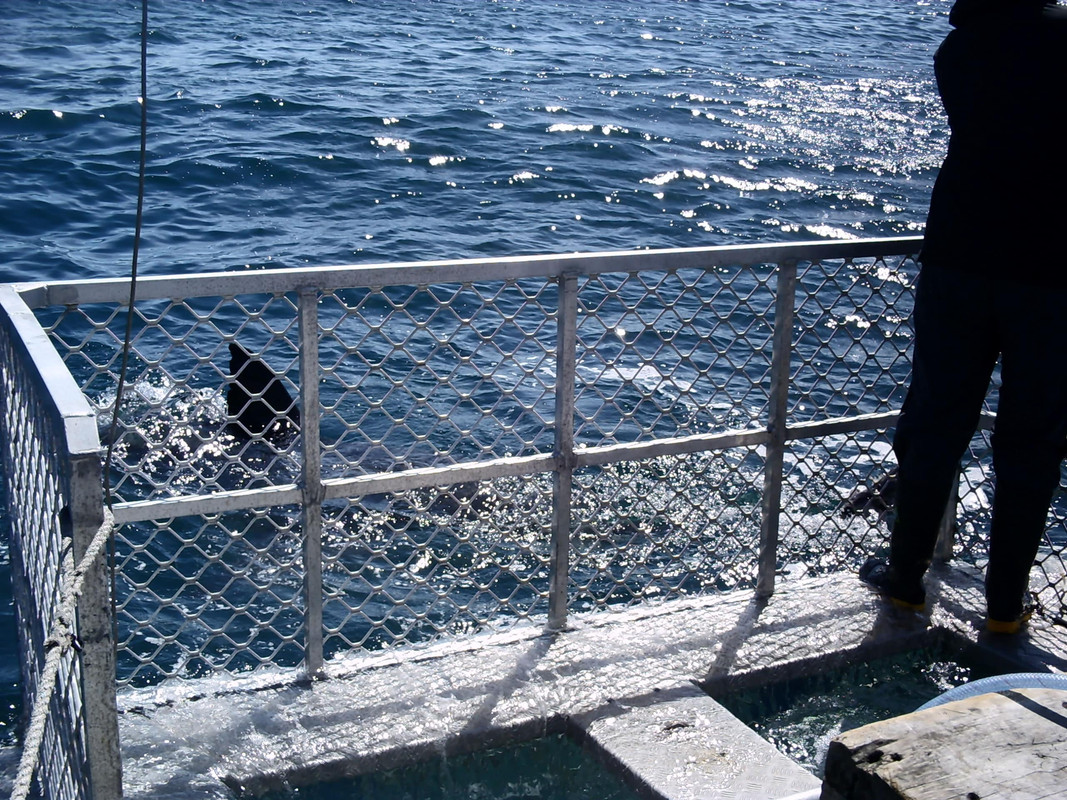 We suited up and the first group were dunked into the water to try and sight this magnificent beast. To attract the sharks they use a technique called 'chumming', which is legally okay, but morally, I'm not so sure. Basically they pour fish guts into the sea so that the sharks smell it and approach. It's not all that dangerous, but it is teasing them a bit.
The first group went down as we had seen a shark approaching. The shark came cleverly from the side of the boat as I just so happened to be looking over the side of the boat and the bloody thing leapt out of the water like a scene form Jaws. He soon recoiled back into the water once he had tasted boat instead of flesh. I was too close for comfort at the time, but looking back it is my most vivid memory, and I am very grateful.
Everyone was very brave, and Dad was even pretty stupid at one point, putting his fingers and head very close to the edge of the cage! The first sighting of the shark is exhilarating, you see this huge lump of muscle, fins complete with battle scars, getting ever closer and larger. The dark, black eyes follow your every move as it swishes past, seeing who looks the most edible.
It is difficult to explain the feeling, but I would recommend it to everybody. After the initial rush of adrenaline, you relax into a nice underwater viewing booth, watching in awe as some of the world's greatest hunters go about their business. Phenomenal.
We had 3 or 4 goes in the water and everybody had plenty of time down there. Mike was very knowledgeable about the sharks, and was all too happy to share that with us. We ended up seeing 3 great white sharks, of varying sizes. The views from the boat can be just as good as underwater too, as the sharks often swim close to the surface.
Seeing these creatures can make you forget other shortfalls, but I feel they have to be mentioned. The crew were supposed to be there for our safety, and whilst Mike was driving the boat back, the lady fell asleep, leaving some passengers crashing around on the back of the boat out of view. They could have easily gone overboard with the rough sea. Mike's manners, for example when I was going into the water for the first time I wanted to take my time, and he said 'Am I going to have to put my foot on your head, hurry up', which wasn't appropriate. There was very much a feel of, 'another group of tourists, here we go again', rather than 'lets take these people that are paying me in excess of $4000 to see some fantastic sea life'.
As I said though, the reason they continue to trade with this level of service is the sheer magnitude of seeing a shark in it's habitat. Strong, agile and dangerous, it was a great day that we will not forget in a hurry.