Milford Sound and Te Anau are not only beautiful in their own right, but the journey to and from them is breathtaking too.
I set off with my parents relatively early as we had to be at Milford by a certain time for our eagerly anticipated overnight cruise on 'the beautiful sound'. We made it there around 1pm and had plenty of time to grab a a bite to eat (at the overpriced cafe that holds a monopoly over the area) before boarding our vessel. As we boarded the ship I thought that it looked like it would struggle to accommodate 35 guests plus a crew.
The showers and toilets on board were unisex, which made Mum a little uncomfortable. We had a quick safety briefing on board, then went above deck and saw one of the worlds most beautiful places, Milford Sound.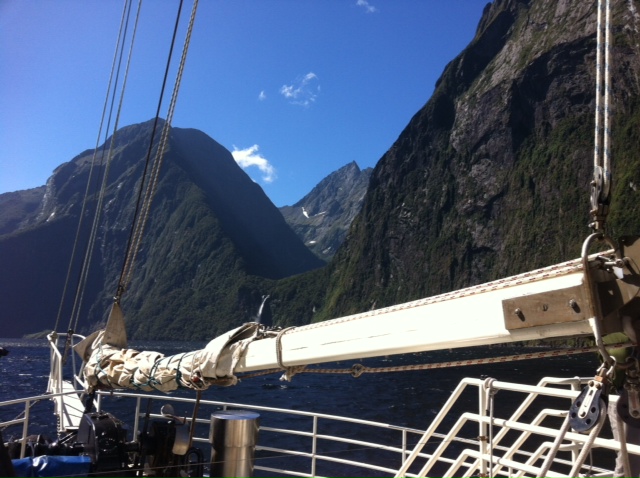 It was a red hot day, and for somewhere that receives 8 metres of rain every year we did well to stay dry. We had our evening meal made specially for us, as they had no vegan choices on the menu. The chef was very accommodating and it was lovely food too.
After the food we had reached a small bay and it was here that people were allowed to kayak. I did it at primary school once, but can't remember anything. I jumped in (first one in!) and asked for a bit of guidance. It's pretty easy once you get going. The sound was calm, warm and beautiful. That was until me and Dad started racing, anyway.
We had a few sandflies buzzing around us but only when you are close to the shore. We were directed past an old stone house that greenstone miners used to live in. Once we were back on the boat we were allowed to dive in off the top of the boat. Dad plunged in first, and no sooner had he resurfaced to take a breath, than he was beckoning me in to the freezing abyss. I decided not to give in to peer pressure, and walked down the stairs to slide in like a sensible human being.
Dad swam straight around the boat and got out, giving me no incentive to get in at all. I thought the idea was to go for a swim! Dads grief did not stop, and eventually I had to give in to the peer pressure. It's a stupid macho gene that I have and it can be hard to beat it. We said we would jump together, but of course, he let me go first! It was pretty nippy at first, but as with most water "it's okay once you're in". Dad eventually followed suit with Mum snapping some pictures!
Once showered and dried, we hit the deck again to soak in some more of this lovely area. I am a sucker for a view, and a sucker for a waterfall, so I was in my element. We pulled alongside one of the many waterfalls on the sound and were told over the tannoy that it was 3 times the height of Niagara Falls! Purely because of perspective, next to the huge mountains, the waterfall looked around 100 feet tall, but in fact it was 500!
We passed a rock face that the seals like to lay about on in the sunshine, and saw some valiant efforts of one seal trying to get to the top of this rock, to no avail. The seal that had managed to get up there when the tide was higher was pretty smug about it too.
We headed inside as the sun disappeared, to play some cards and wind down. Dad and I drank whisky until we were rather merry, and we all retired to our small cabins.
I had a great sleep, and Dad wishes he could say the same. Due to the layout of the rooms and the guests being packed in like sardines, Dad was closer to a Chinese man from next door than he was to Mum, despite the paper thin wall between them. Said Chinese man just so happened to have a tickly cough, bronchitis and emphysema, to Dad's delight!
We started the day early (7am) as that is when breakfast is served. A vegan fry up isn't quite the same as a normal one, but it was still tasty and appreciated. Hash browns, mushrooms and tomatoes.
We hit the Tasman Sea for a quick look out, and as the boat rocked with the waves it was obvious we had left the Sound. Fortunately for those who hate sea motion, it was only for 10 minutes or so. On the way back into the sound we were followed by a large pod of dolphins, and it was the first time some people on board had seen them in real life.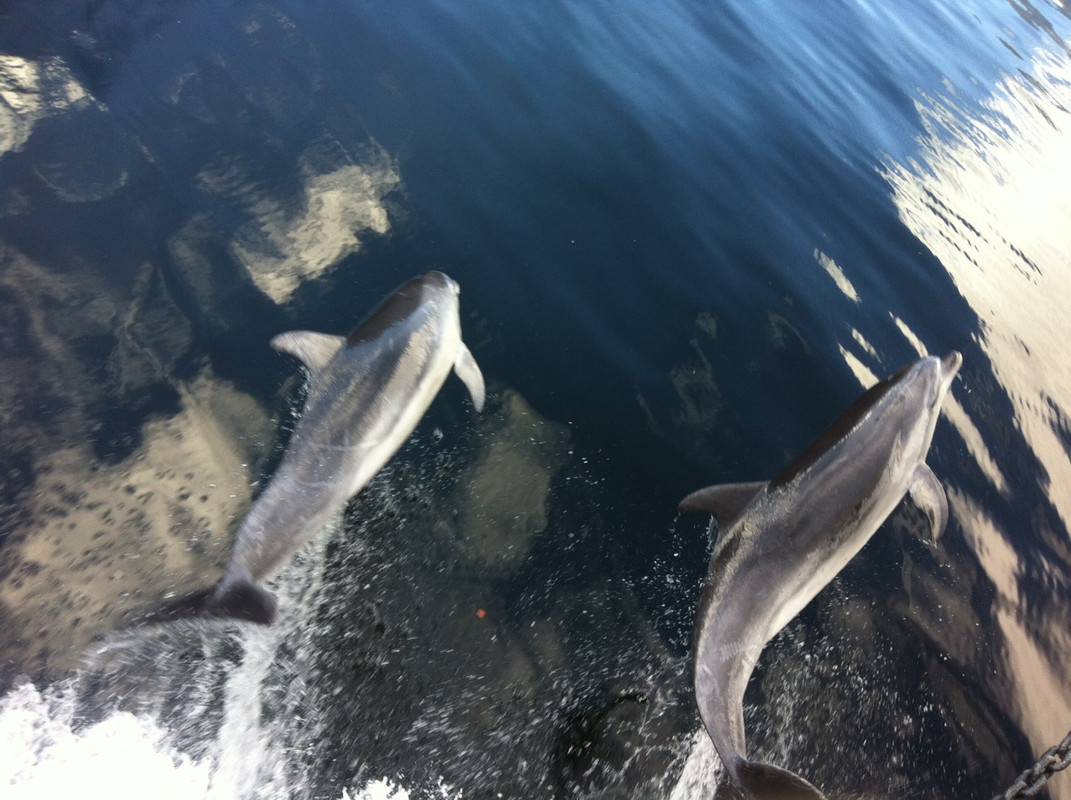 After such a wonderful and lucky experience, we gently cruised to shore and were quickly robbed of $35 for a key ring. You also get a CD and a postcard, but still.
We had a great time, and were excited to get to Te Anau now for the next few nights. Dad drove the 2 hours to Parklands Motel, where we were met by a strangely abrupt owner. We were shown our room, and for some reason the motel had skimped on the interior doors. We had a curtain separating us and my parents, which made us feel as though the curtain would lift during the night and there would be a huge applauding crowd watching us sleep.
I went for a wander to see what was about, and  fell in love with the quaint little town of Te Anau. Bordering the beautiful Lake Te Anau, this tourist town was just busy enough to have an atmosphere but not so busy you felt crushed. I stopped at one of the many small diners for a bite to eat in the sun, and ordered some eel sushi, it tastes just as you may imagine! I soon retired to our motel garden for a bit of sunbathing.
The parents had been playing minigolf and I met up with them after my lazy afternoon, and they invited me out for dinner, their treat. Lovely stuff. We went to Dolce Vita, which is the poshest looking place in Te Anau. They have an authentic Italian car parked out the front of the open air restaurant, and in full view of all the other guests Dad decides to hop in for a photo. It was only when I saw the car parked elsewhere the next day that I realised it was the owners real car, not just a marketing tool.
Rather than call the police and report grand theft auto, the owner welcomed us in with a beaming smile and found us a nice table. Being limited to what we can eat (no meat or dairy) makes choices pretty easy at places like this for me. The pasta with tomato based sauce and no cheese, please. The food was very underwhelming for the prices and I can't say I'd recommend it to anybody. I am easily pleased, so as the food was edible I don't care too much, but when you pay top dollar you expect top food, and this was not it.
The next day I wanted to repay the parents, so I headed out and bought us all tickets to see the glow worm caves just across the lake. We were picked up on a packed cruise boat, running slightly late as they do, and transported across the lake to where the caves are located.
The large crowd was split into smaller groups of around 14 people and each group was given a staff member to guide them. After a brief introductory video that explained how and what they eat, what they really are (not worms) and why they live in caves, we were led into the caves and warned not to photograph as the flash could upset them.
The entrance to the caves is very low so bending is necessary, but the remainder of the caves are fine, and they have a man-made metal bridge running right through them. There was a waterfall inside the first cave, and a few faint glows flecked on the ceiling. It's pretty impressive that a tiny creature such as this can make it's bum glow.
We spotted an eel hiding behind a rock in the shallow waters below us, and it just reminded me of yesterday's lunch. As we ventured further into the cave it got progressively darker, and as such the lights from the glow worms became brighter. We turned the flash off on the camera and tried to take a photo, but it just came out black.
We did manage to get a good photo of their nests though. They leave stringy, sticky residue dangling all around them and then emit their light. The light attracts small bugs, and the bugs get stuck to this stringy stuff. The glow-worm then enjoys their meal. Nature, eh?
The tour finishes with a short paddle boat experience, in absolute pitch black and silence. The concentration of glow worms is huge here, and it's not dissimilar to watching the stars on a clear night. Overall I would recommend glow-worm caves, and it was probably worth $75 each but in the same breath I would have to warn that I have since found areas where glow-worm caves are free entry. Hokitika on the West coast of the South Island is one such place.
We returned to the mainland, and headed to the mini golf for an oldies versus youngies match. It was of course Mum and Dads home turf after their practice run the day before and they knew the lay of the land. They used this wisely to their advantage, and the oldies were victorious.
We split off for food, as I wanted to try the cheaper looking Italian. Turns out it's much better! I even had a doggy bag for the bits I couldn't finish. We reconvened at the motel and Mum hit the hay after a long day, but Dad and I fancied a drink so we hit the local pub. There was a rock band on, and we played pool with some locals whilst listening to the rockers. We knew we had a big day in Queenstown the next day so didn't stay long, it was back to the room with no doors for a kip!