We left our motel in Te Anau nice and early to go back past Queenstown and headed towards the Fox Glacier and Franz Josef Glacier areas. It was a long drive so Dad and I shared the driving.
As we approached the Fox Glacier, I mentioned that our luck with the weather (glorious sunshine for two weeks) may have run out. The grey clouds were descending rapidly around the peaks above us, and we crossed our fingers and wished for it to clear for tomorrow.
We were staying at Rainforest Motel, which was a pretty nice place that actually had two seperate bedrooms (we were separated by only a curtain in Te Anau). The owner welcomed us and recommended a walk around Lake Matheson, a short drive away. He also recommended the restaurant there, and one in the town centre called 'The Last Kitchen' (TLK).
After a long drive we didn't need any convincing to go for a walk, so Lake Matheson it was. The walk takes around 45 minutes and isn't hard work. It was nice, but I assume it is better when the weather is sunny. There is an area called 'the mirror' (or something similar) where on a clear day you can see the reflection of the glacier in the water at your feet. We could see nothing but murky water.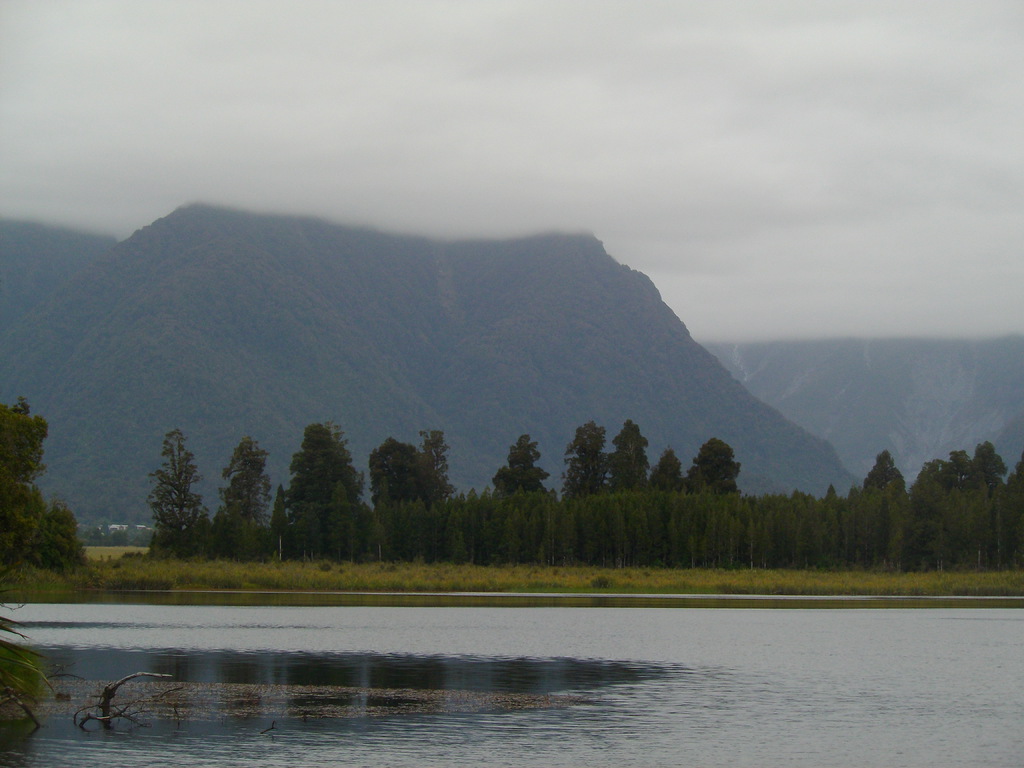 On the way out we glanced at the restaurants menu, and the prices were extortionate. Once back at the room we realised why this place had been recommended, there were adverts for the restaurant inside the rooms, and there was obviously some collusion here.
The final recommendation from the motel owner was TLK restaurant. I ate in that night while Mum and Dad played guinea pigs at TLK. They came back happy and said the food was well priced and delicious, and that it was the only eatery in town that was full.
The next morning we drove the 20 minutes to the base of the Franz Josef Glacier, where we were due to do our heli hike. Upon arrival our fears were confirmed, the weather meant that no flights were happening that day. After Dad got the refund we rushed back to the Fox Glacier and began asking around for any available flights there, and managed to agree a time with one of the staff, pending the pilots permission.
After 20 long minutes of waiting, the pilot called through and said it was too dangerous to fly. Mum and Dad really wanted to walk on a glacier, and this had dampened all of our spirits. The lesson here is to ensure you have ample time around this area to combat the adverse weather conditions you may encounter.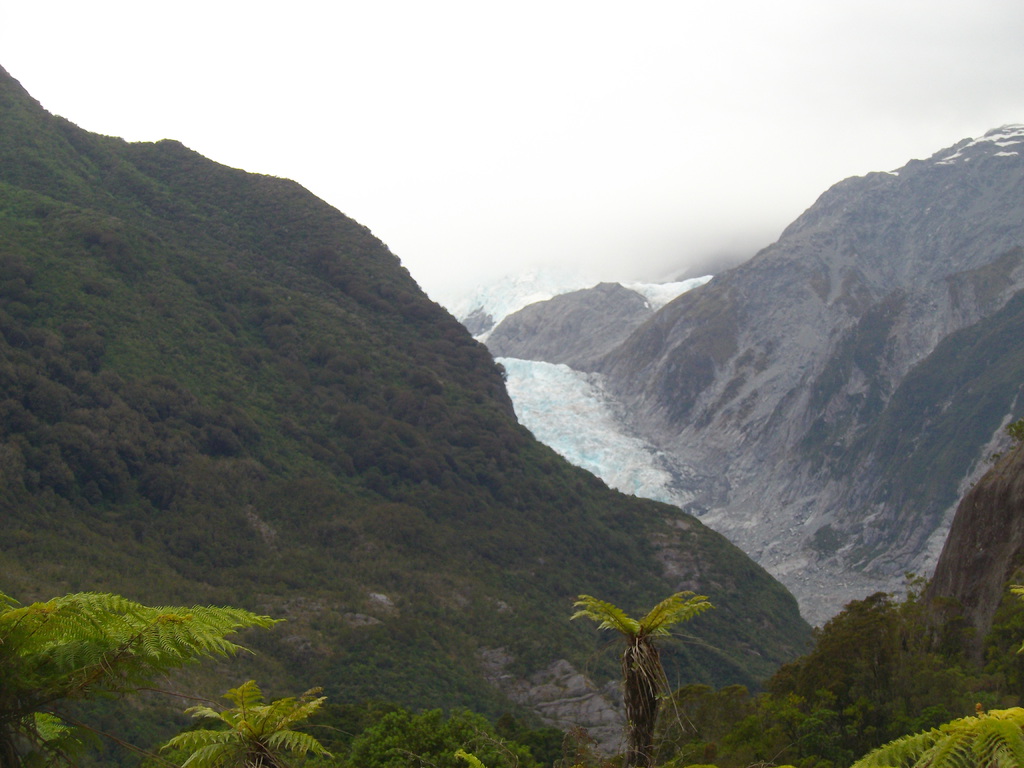 That evening we all went to TLK and once again it was the only place in town that was full. We had to wait to be seated, but only for five minutes. Once we had sat down we explained to the staff that I don't eat meat or dairy, and the chef was very accommodating and made us some great food. It was easy to see why this place was always packed.
We had to stop our selves laughing at the fiasco going on behind us. A young couple with an infant had noticed an older couple next to them smiling at their infant. The lady from the young couple asked if the lady would like to hold their baby. The lady from the older couple happily agreed, clearly not realising what she was in for. The young mother passed over her baby, turned her chair around and tucked into her food, chatting to her partner as if they were there alone. It must have been 15 minutes before she turned back around. Unbelievable!
I had had a sore throat developing throughout the day, and when Mum suggested whisky and ginger ale, I wasn't going to complain. She kindly bought me some and I sipped away back at the room whilst we all watched 22 Jump Street on the TV. A positive end to a crappy day.
The next day was the end of the road for me, I had a job to go back to! The parents dropped us at the tiny airport in Hokitika, where we would be flying back to Auckland on an 18 seater powered by some form of lawn mower engine. Hokitika is also a place that you can see glow worms for free, instead of paying like us fools. The goodbye's weren't tearful, because I would be seeing them after their trip to Christchurch, and going up to the Bay of Islands with them next week.