My parents and I travelled up to the beach resort of Paihia, Bay of Islands for the last weekend in January. They had just flown in from Christchurch after spending 4 nights at Arrowsmith Lodge, which is a totally isolated private lodging, complete with its very own private lake. How posh.
I was great to reunite with my parents after our joint trip to the South Island. I met them at Auckland airport around 2pm and we headed straight up the highway towards the Northlands. It took us under 3 hours, which is pretty good for a Friday afternoon. The drive up is lovely too, just like the majority of drives in New Zealand.
We arrived at Admiral's View Motel, which is only one short street from the beach, and were met by the owner, who showed us to our tidy 2 bed apartment. We had noticed some tennis courts opposite our motel and asked the proprietor if we could rent some racquets. As it turns out, they are free, along with the balls and court. Cue me playing tennis against the man that gave me my competitiveness. Fortunately for me it was red hot, and he's in his fifties. After going down 5-3, I fought back to win 8-6. One set was plenty in that heat. Perfect revenge for the mini-golf in Queenstown.
After our showers we hit up a recommended seafood restaurant, aptly named 'Only Seafood'. It was very expensive, but as I had paid for the accommodation, the parents came to the rescue. It was pretty good food, and you could tell it was all fresh. We had a drink, took a walk along the beach, then returned to the room for cards, beer and wine.
Next morning we had booked a Maori experience on a 'Waka', which is a traditional Maori boat. It is only 5 minutes drive from where we were staying. Another glorious day was upon us, and we found ourselves near the mouth of the Waitangi River with 4 other tourists, each emitting an equal stench of sun cream.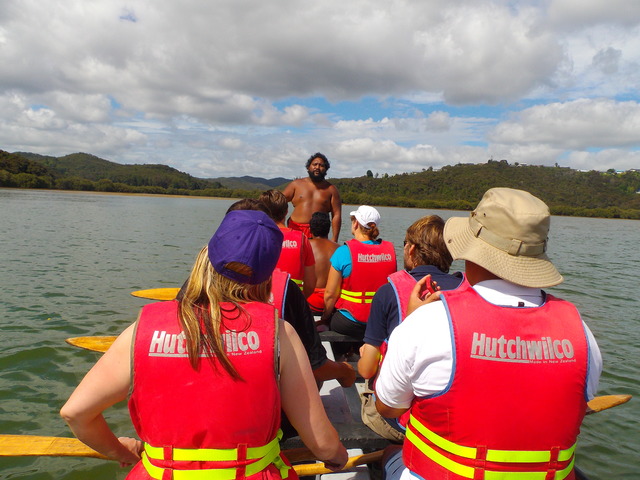 The Maori family that were taking us onto the water were very nice and greeted us in both languages. In English they said 'Welcome' and in Maori we were instructed to place our arm on their shoulder before pressing our forehead and nose together. It wasn't as embarrassing as you might think, it was actually a very warm welcome. They wore traditional clothing, but that was most probably for our benefit.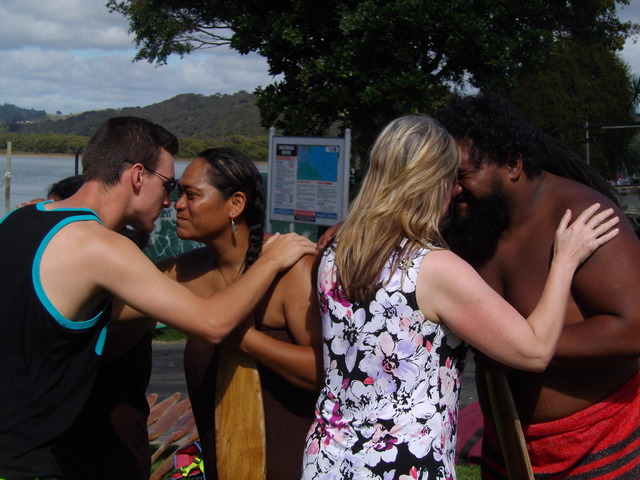 We were then instructed by the father on how to row with traditional Maori paddles and what to chant whilst rowing. We were told his children were being taught English, but Maori was their first language as they want to encourage keeping their traditions. Dad and I weren't so sure after hearing the kids talking perfect English, but never mind.
We were frogmarched to the boat, where you can only get in a certain way, so as not to offend the Gods. Dad and I were at the back, with Mum in front. We noticed a sneaky modern invention at the rear of the boat though, a Suzuki motor! We would later discover Suzuki was our dear friend.
We began rowing in time, chanting 'Takihi' with every stroke. The chanting got a little monotonous at times, but it was a good experience. Once we were all shattered and had only travelled 20 metres, we realised why Suzuki was on board. We rested as the motor gently pushed us down the river and the father of the family told us Maori legends and myths.
We pulled up to a waterfall where we could take photos, and there were a few tourists on the river bank so the father instructed us to whip out a little bit of the Haka that we had practiced earlier. We all chant scary sounding words while pumping our paddles and eventually stick out our tongues and open our eyes as wide as possible and scream 'Aaaargh!' at the tourists. In all the commotion of trying to remember my lines, I ended up turning the wrong way and screaming down the empty river, ruining our collective fear-mongering. Apologies group.
It was great fun, and we were all definitely glad we did it. From memory it was just over $100 per person and you spend an hour on the water and half an hour off it (beforehand).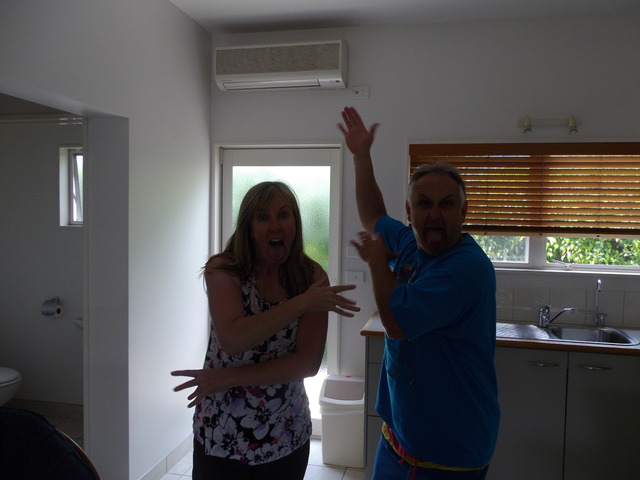 As Dad had let me attempt to beat him at mini-golf after his first victory I did the right thing and let him try at tennis (at 1pm, nice and toasty!), it was a similar game, with me coming from behind to win 9-7.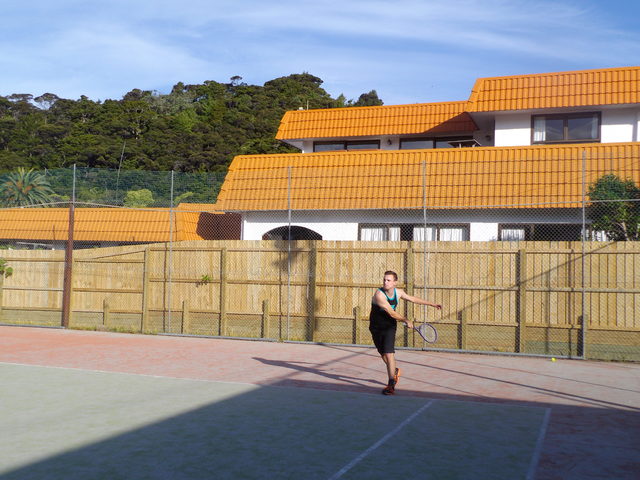 We all showered (not together, we're not that close) and I was the designated driver for our afternoon trip. I had picked out a winery to take them too that was only 15 minutes away. It had a private function on when we arrived, but luckily it wasn't the only one in the region so we went to the next one along.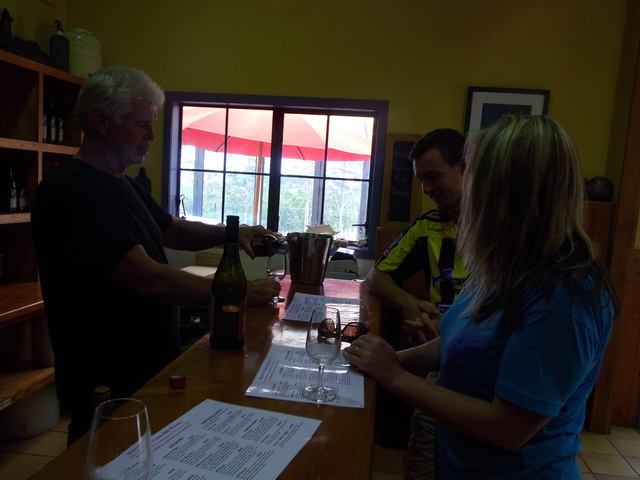 I can't remember the name of it, but it was a lovely little place, and after a tasting they purchased some wine. Not without Dad getting into the owners Morris Minor though, of course. I really do think he was a car thief in a past life.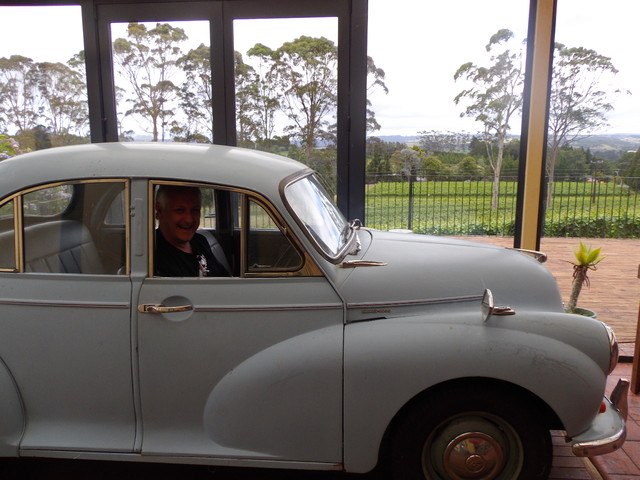 Our next stop was Mangonui Fish and Chip Shop, which is a self-proclaimed 'world renowned' chippy. Due to this claim, I assumed a 90 minute round trip would be well worth it. When we arrived, it was packed (good sign!) and another coach load of tourists were just arriving.
We ordered fish of the day and chips x 3, plus a fish cake for me as I am a growing boy. The alarm bells began to ring when ordering, as they asked if we want fat chips or thin fries. Proper chippies don't ask, they assume you are not a moron that wants thin salty strips of burnt potato. We were given our ticket, number 85, and found a seat.
For a chippy that is on the beach, you can't actually see the water. Seagulls are a problem everywhere there is sea and food, so they have had to put up ghastly plastic sheeting which takes viewing from transparent to almost opaque. I had been warned that this chippy would be equally as disappointing as the others in New Zealand, and I had a yearning for that to be wrong, so continued to look for positive signs. Numbers 86 and 87 being called out before us didn't help my case.
It was as I looked at our Number 85 ticket that I realised no matter how beautiful the fish, this chippy would be terrible. The ticket had a logo on the bottom of it. McCain Oven Chips.
McCain Oven Chips!!!!!!!! From a chippy? I almost booked my flight back to the UK there and then. Whoever runs this establishment should be banned from working with food forever. Serving frozen oven chips at a chip shop should be illegal. I thought it was.
The 'food' eventually arrived and the fish cake was a frozen one (homemade wins all day) and the chips were as they always are from the oven, average. The fish of the day (Hakupu or something) was cooked very well and it was nice, but that didn't give me enough to smile about. We had a 45 minute journey back to Paihia, which is not enough time for me to explain to my parents why I wasted 2 hours of their holiday. In short, do NOT go to this tourist trap waste of space.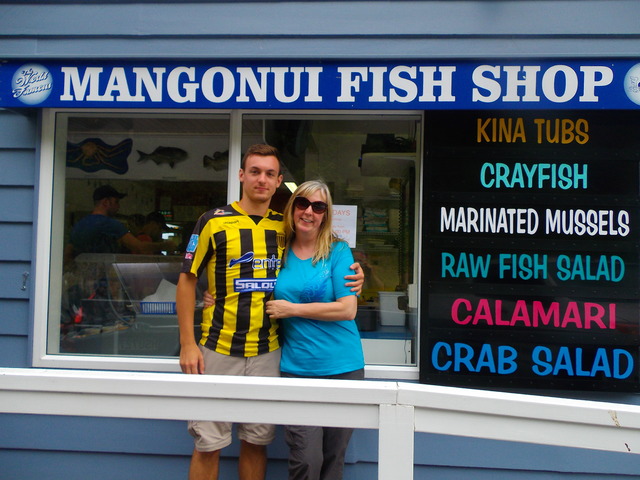 That night we hit up another waterfront restaurant, this time in Paihia, called 35. It was bloody lovely. After some drinks we returned to the apartment once again for more drinks (it's a holiday!) and some chit chat that always seems to turn into a political debate.
The next day, Sunday, we scurried back down the coast towards Auckland as I had work on the Monday and Mum and Dad had a date with Hobbiton, the place where Lord of the Rings was filmed. A few days later, it was time for Mum and Dad to return home. Sad goodbyes, but that is life. We all had a great time!