I went to Hot Water Beach during Easter weekend. It is found in the Coromandel Peninsula on New Zealand's North Island. It is often voted one of the top 10 beaches in the world.
I had heard good things, about beachgoers digging holes and the hole then filling with really hot water so that they have their very own jacuzzi on the beach. It has something to do with geothermal springs under the surface heating the water. When my parents visited in January they said that the water was too hot and they had to use seawater to cool it down. That's saying something, because my Dad doesn't bother with the cold tap when having a bath. I wanted to find out for myself how hot is was.
I invited one of my footballing friends and his partner, and they were happy to come along. It turned out pretty useful having some local knowledge with us, and it helped spice up the conversation on the 2 hour car journey from Auckland.
We arrived to find they have ample free parking, which is rare these days. This natural attraction really is still 100% free. We found a spot on the beach, amongst the pot holes where groups of people sat anxiously waiting for hot water to seep in. Most of the holes had been abandoned so make sure you watch where you are standing. Some of them you can drown in!
After some walks along the beach (beside the main attraction, it is a beautiful beach) and swimming amongst the waves, we saw a crowd of people gathering in one area near a large rock that juts out and almost splits the beach. The tide had begun retreating and the hot water was only coming up in one small area, which of course led to mayhem. I took a photo of it before we went over!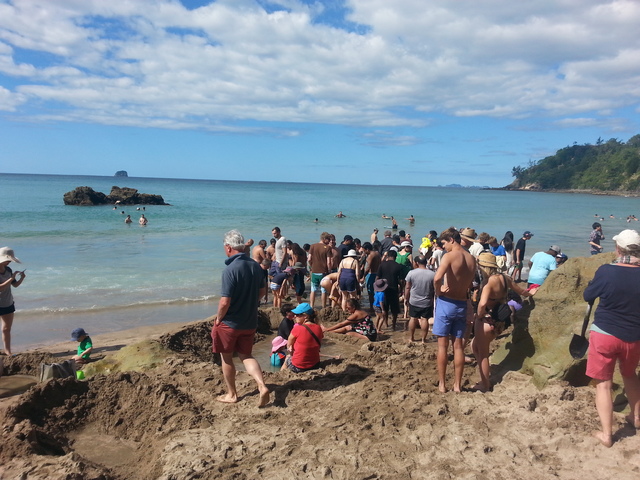 We managed to get our own little space amongst the pandemonium and dug our feet into the sand, and waited to get scalded. In the right spot, it was a lovely feel. In the wrong spot, you do get burned. It's a strange phenomenon, and this is intensified when the comparatively cold sea water is lashing against your ankles.
We had our fun then went back to the car park so seek out chips. We ended up overlooking a nearby beach called Hahei, which was much quieter, but still beautiful. Equally, there are some lovely views on the drive back to Auckland.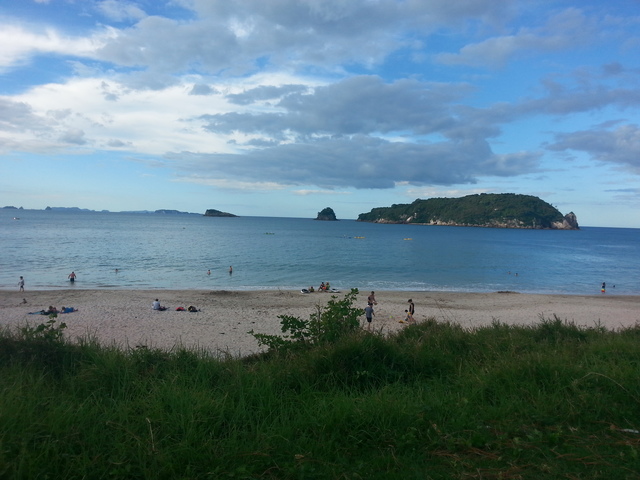 All in all, I probably would recommend Hot Water Beach as it's a rare, free, natural beauty, and everyone should bask in its glory once. That being said, I wouldn't go back as I'm not a fan of crowds and the functionality of the makeshift jacuzzi is minimal.
Top tips would include checking the tide times before you go and taking a spade with you to avoid rental charges.