We were up early to start our mission from Kuala Lumpur to Taman Negara. We had to pack our stuff before heading through Chinatown to Han Travel, the company we would use for our long journey to the oldest rainforest in the world.
We were there at 7.40am and were the first to arrive, better safe than sorry in my eyes! The doors opened soon after and we paid for our pre-booked trip at the desk. We also paid for the next leg of our journey, which was to Kuala Besut, a coastal town where you can jump across to the idyllic Perhentian Islands.
It was around 95 ringgit per leg per person and our 9 seater minibus was filled with Dutch families and us. A Malaysian fella gave us our instructions for the day and he began driving, but unfortunately it was only for 10 yards. He then got out, and swapped with an oriental looking lady, I assume they had method in their madness but it didn't look that way. The driver was great, the only downside being that we stopped 40 minutes into the 3 hour journey, rather than somewhere closer to the middle.
The vegetation began thickening and the buildings were decreasing, the rainforest was approaching fast. We got to Kuala Tembeling just after 11am and sat down to take in the beautiful view down the Kuala River. Our boat was not leaving until 2pm, so sunbathing was in order.
Around midday an office opened for people to get their boats tickets from (why the receipt isn't enough I really don't know). Turns out it is an excuse for everyone to ask silly questions and us organised folk are hindered. Typical. The queue never ceased so we just waited until the end and got our tickets then. You also have to buy your admission to the national park (1RMpp) and camera licence for each camera you have (5RMpc) whilst you are here.
I grabbed some cheap fruit from a local store and we took it with us on our boat journey along with our prepared water bottles, these are essential. We requested the front seat and it was great but the luggage restricted our forward view slightly. The 3 hour journey was spectacular and full of wildlife including a large monitor lizard that poked it's head out of the water!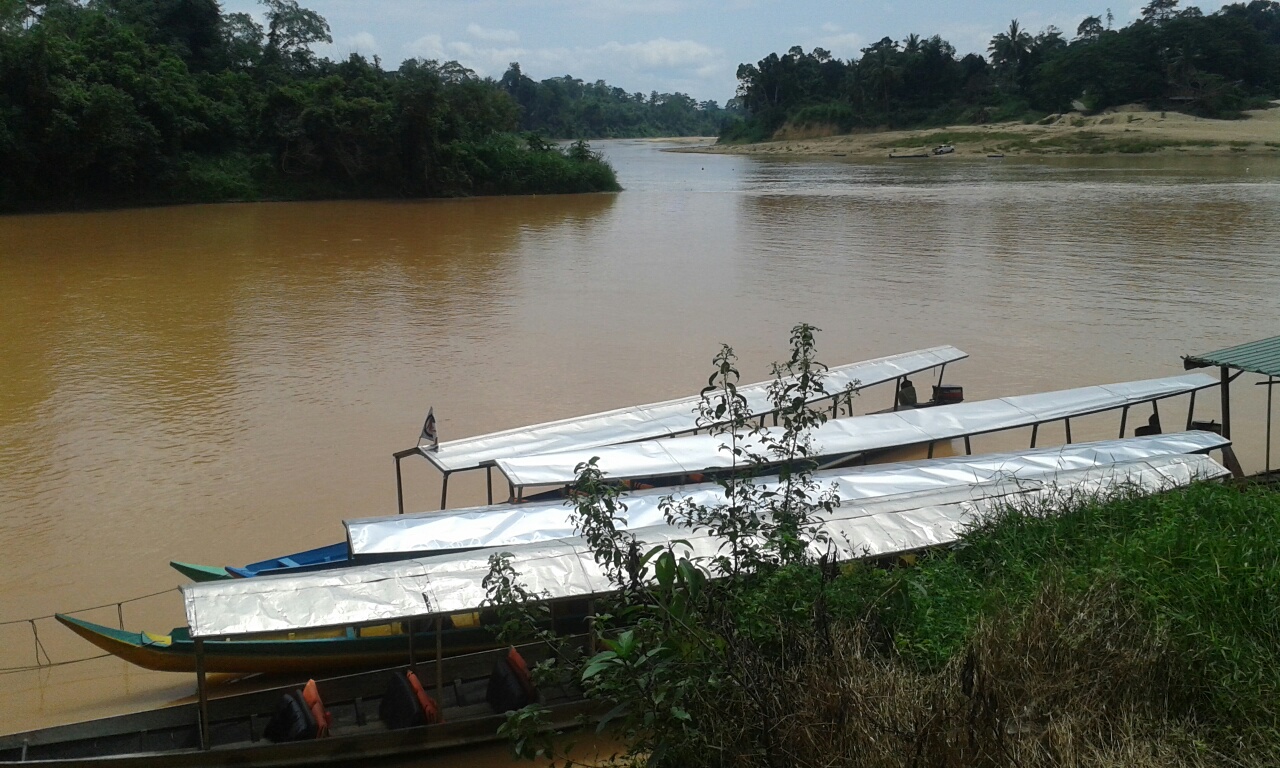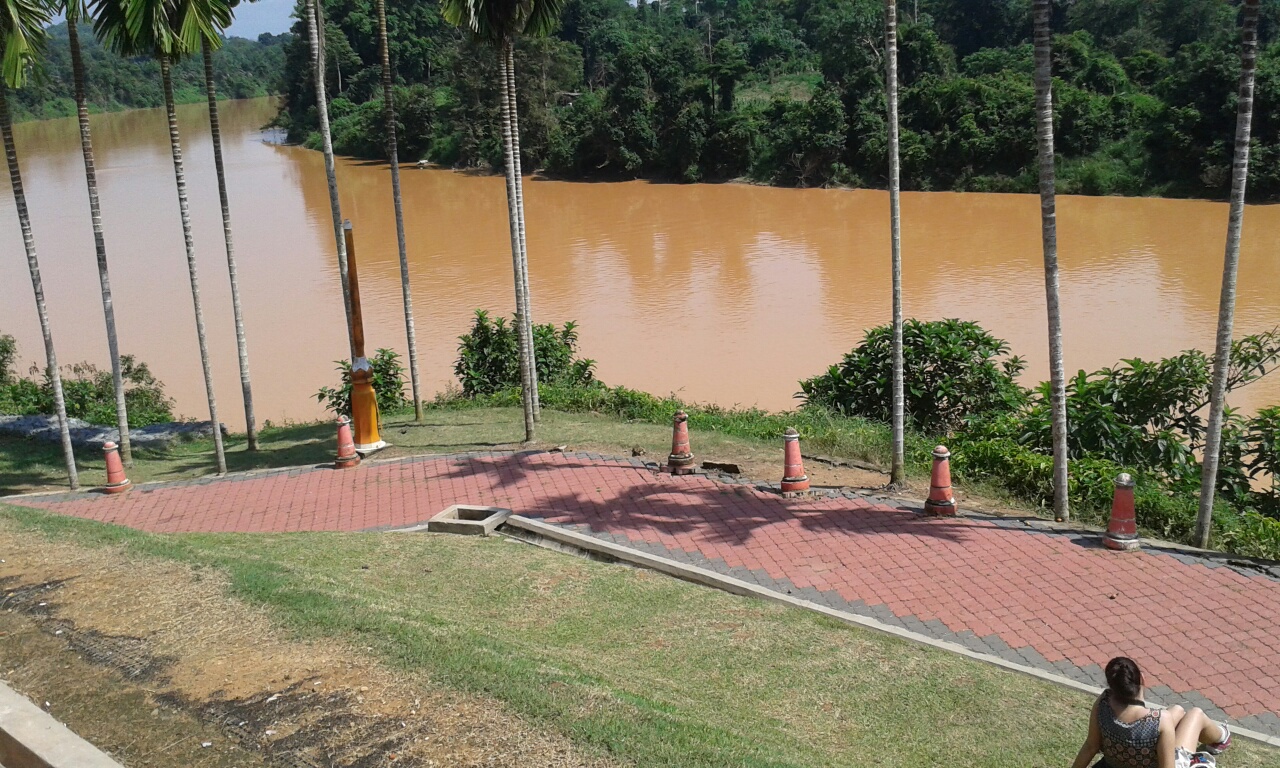 Finally, we meandered around the last corner and the floating restaurants became visible. We had found Kuala Tahan, a vibrant town in the depths of a rainforest! We hopped off and walked to Delimah Guesthouse where we were staying, which is up a brutally steep hill then 300 metres on the left. A lovely lady welcomed us in with a drink and we paid the 180RM for our 2 night stay. This is less than 20GBP per night.
The room was spacious and had air conditioning, a dressing table and a mosquito net for the bed. We flipped the air con on straight away and stripped off to shower. The shower is just a tap that is 7 foot high, and it gives you whatever temperature it desires. Today it was cold, and thank God because we were sweating profusely and Gems legs were badly burned on the boat trip.
After a quick change we headed out for a cold drink and then paid the 1RM river crossing fare to get to the Mutiara Hotel for some grub. The prices were steep for Malaysia but it was our treat for the evening.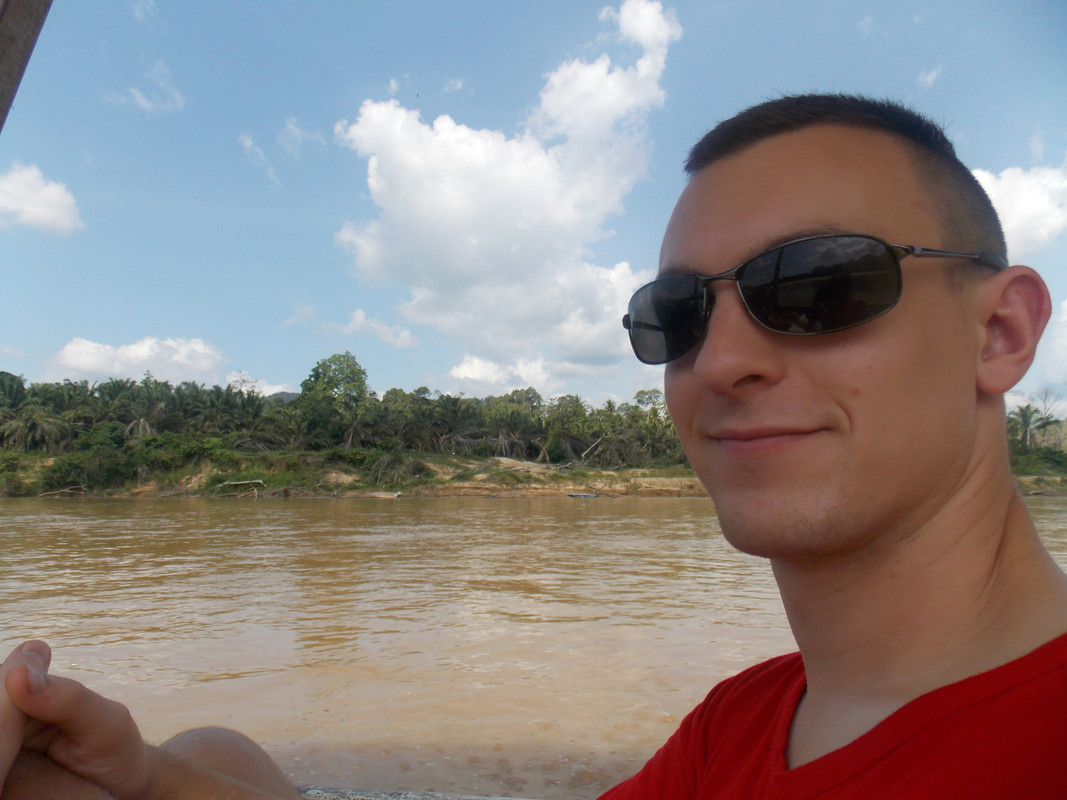 Gemma's "chef special" vegetable curry had a tasty enough sauce but wasn't filled with much veg. We also had a fresh fruit juice that cost us 15RM each, not cheap!!! An early night was in order after such gruelling travelling, and we retired to bed shortly after our food.
I woke naturally around 8am after nearly 11 hours of sleep. Gemma stirred from her slumber soon after and we had breakfast at 8.30 courtesy of Delimah. The toasts and jams are nice, washed down with tea or fresh coffee. Then we saddled up and trekked back down to the river to cross once more and see the longest canopy walkway on Earth.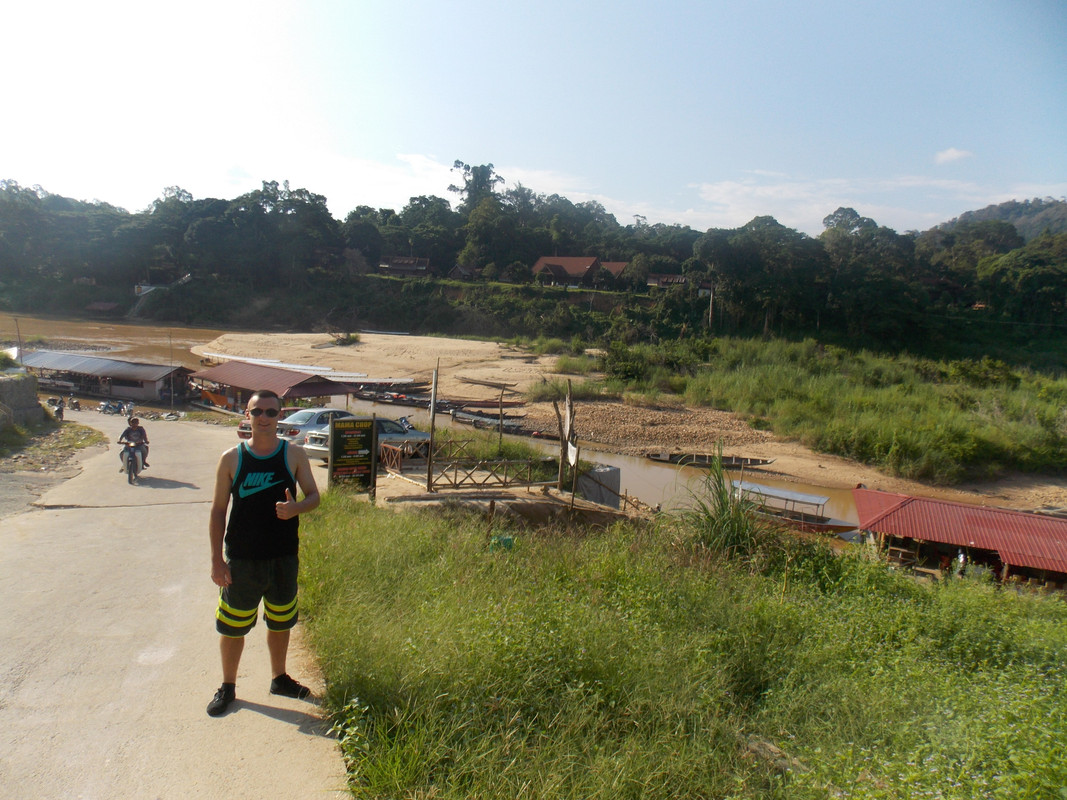 We followed the signs onto a rickety track, slightly raised above the rainforest floor. We walked for around a kilometre and began sweating heavily, which had become a common theme in Malaysia. There are a few diversions from the track due to fallen trees, but we thought we had it sussed. It soon became clear that we hadn't!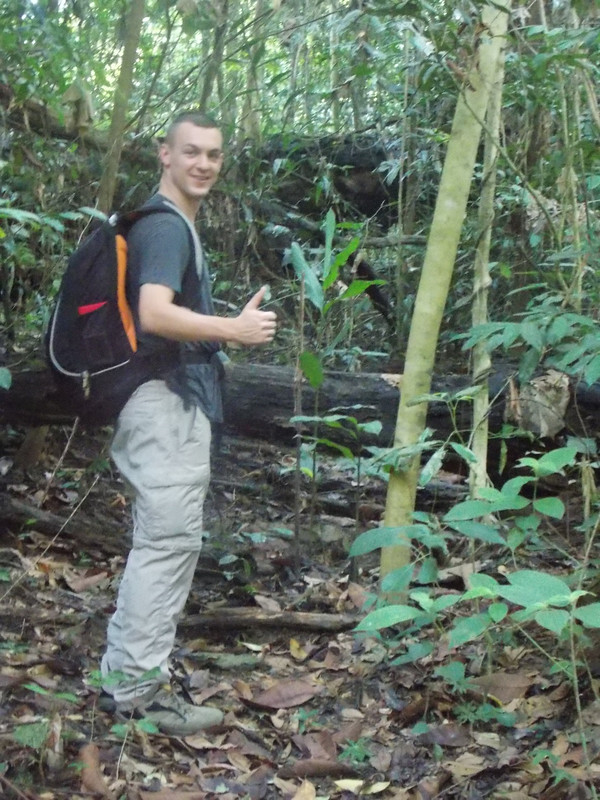 We eventually realised we were back where we had started, because we had taken a wrong turn. We came across a fork in the track and went the opposite way to where a sign stated "exit". I still don't know why that sign is there, and what exit it is describing.
So off we went again, taking the correct route. On our way we heard rustling in the trees, we stopped to investigate and we saw quite a few monkeys jumping from tree to tree. A lovely sight. Long-tailed macaques I think.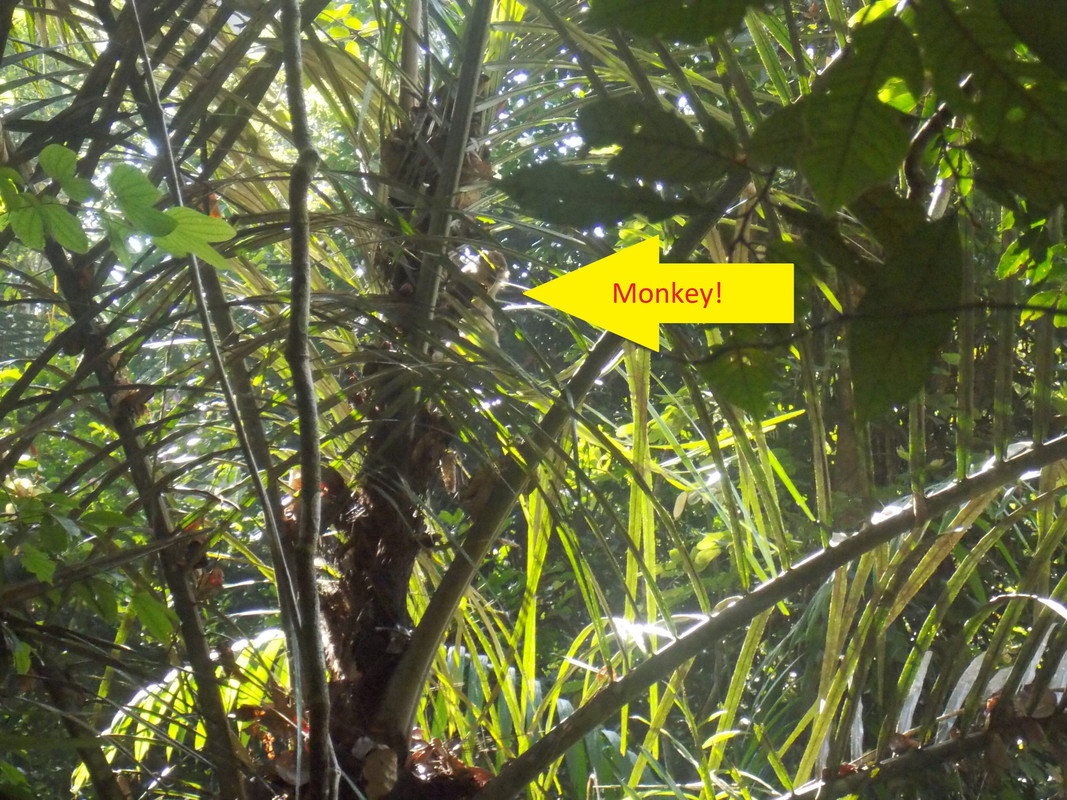 After around 1.5 kilometres the track became stairs leading up to the canopy walkway. When we reached the top there were two men at a desk requesting 5RM each for the tickets. I went first and then Gem followed once I was 10 metres ahead of her, this is compulsory for safety reasons. The views are amazing, and it seems as though the trees do not end.
The canopy walkway is linked from tree to tree and we swapped over few times to let the other one lead. Gemma moaned when I was behind because when I got on I shook the already wobbly walkway and made her hold on for dear life!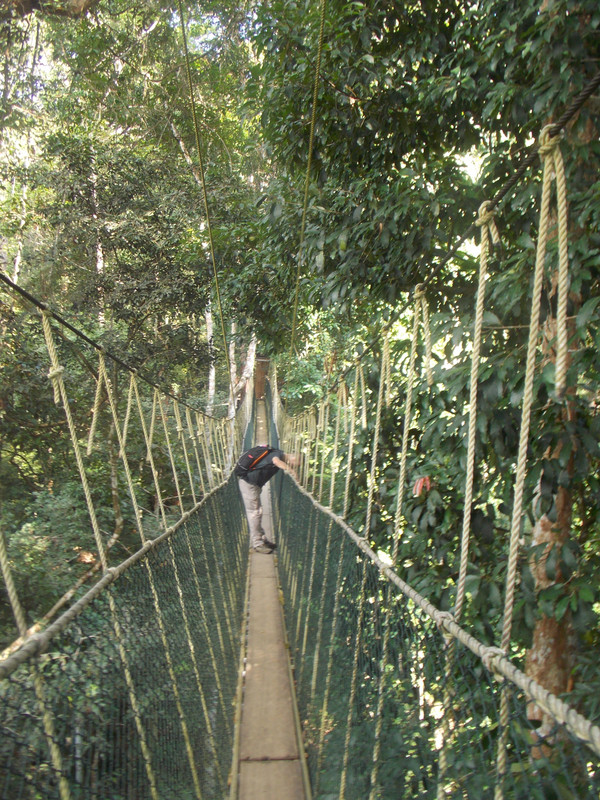 There is also a good walk up to Bukit Teresek, a lovely viewing point, for those still feeling fit. We decided to give it a crack. There were 1000 steps and I was soaked with sweat, but I fought through with some helpful kicks off Gemma, and boy was it worth it.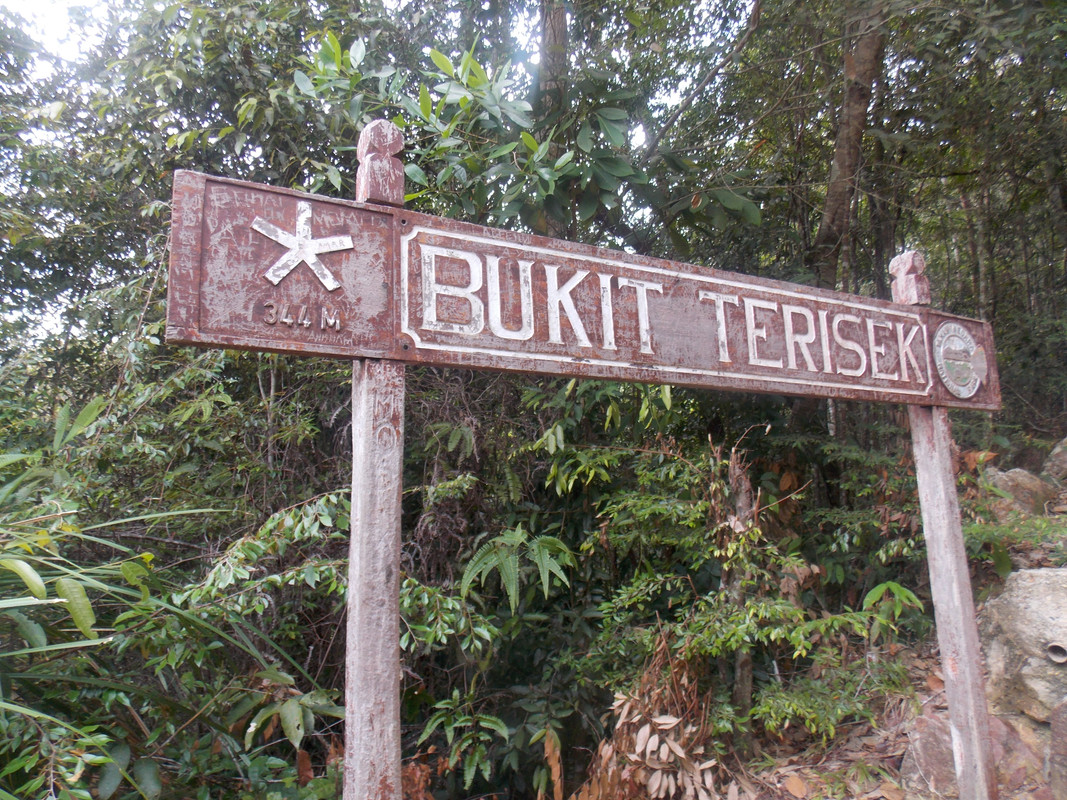 The only downside was rude tourists not waiting their turn to take photographs. Maybe it is a culture thing, or maybe some people are just dicks. After taking in the sights we headed back down the steps towards our village. Once we made it out of the rainforest we hopped on a boat to cross the river and headed to "Family Restaurant" for a drink and some food. After a couple of days of using floating restaurants you get used to them!
Gemma smashed off some fresh orange juice and pineapple and I opted for the banana juice, the perfect post-trek refreshment. Gem had a salad with fries and I went for the malay noodles. The food was plentiful and delicious, with the prices being lower than we'd seen anywhere else in the village. The service isn't great, the food and drinks are brought out when the staff can be bothered rather than when they are ready, and the staff do not smile or interact with you. That said, they weren't hostile and delivered excellent food for less than a pound a meal – no complaints here.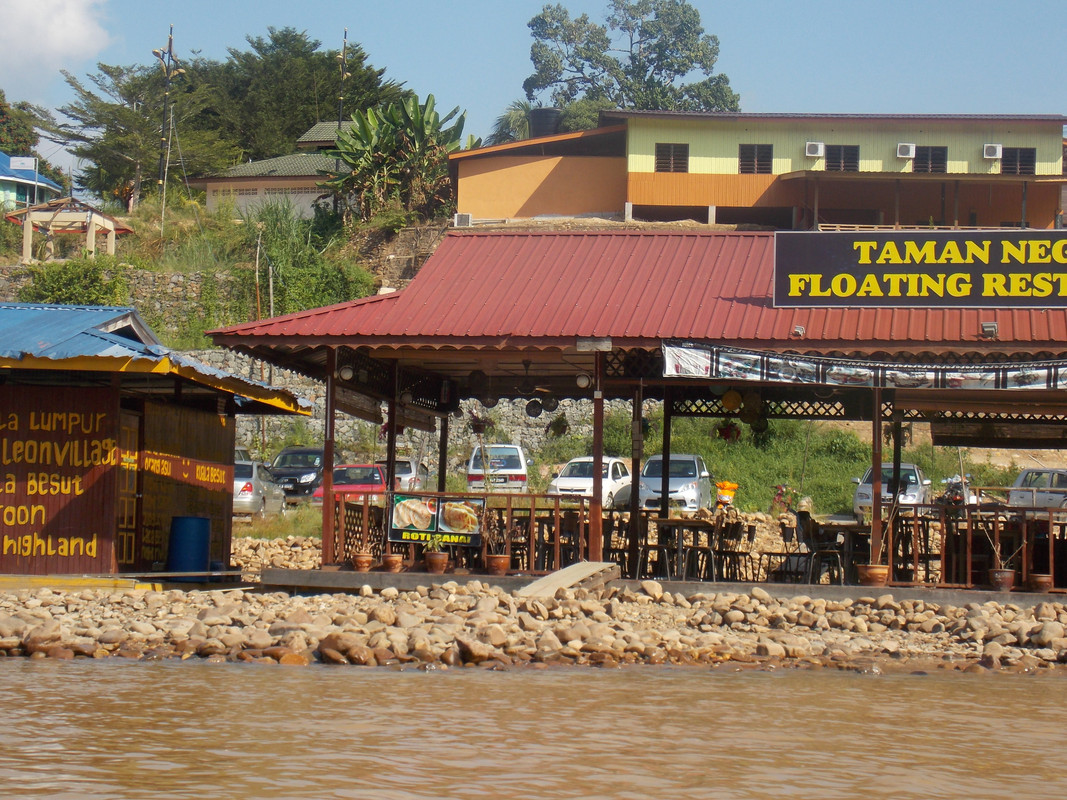 We headed back to the room for much needed showers and then became frighteningly modern by going on a WiFi hunt. I couldn't be frustrated that the guesthouse WiFi wasn't working, we were in the middle of the rainforest after all. Nowhere in the town seemed to have any we could use so we followed the signs for "hotel and restaurant – free wifi".
After around a kilometre we reached our destination and grabbed a drink, which is only fair when using their facilities. Unfortuntely it became clear after 10 minutes that their WiFi was not working either. Great. We did, however, meet a teacher and a world challenge leader that were there on a school trip. They told us all about their travels and that they had just spent 4 days in the deep jungle.
We ordered a taxi back to the hotel and were told it would be there for around 4pm. At 5pm we realised that this taxi wasn't going to materialise, and another walk was in order. While walking up the straight road a work truck stopped and offered us a lift. We hopped in the back, aided by the lovely chaps on board, and trundled back into the town. We were extremely grateful and I offered them some money, a minimal amount, which they point blank declined.
We hopped off and headed for back to our guesthouse for the second shower of the day. After a cheeky snooze we headed for dinner at the Dawar Restaurant. We shared vegetable noodles and rice with 2 fruit juices, and it came to a total of 28RM, which is less than 5GBP. We nipped into the local market on the way back to grab supplies for tomorrows journey, and nearly died of fright on the way. The local kids all managed to get their hands on bangers, and love scaring the tourists with them! They are an inquisitive bunch and one young lad, maybe 5 years old, even managed to get a lighter from somewhere, and his parents had no qualms with him playing with it.
On the way home we noticed some mangoes lying by the roadside, having dropped naturally from the trees above. The first few we picked up already had insects devouring them, so we looked for freshly dropped ones and struck lucky with a couple. One even dropped right in front of us! We pocketed them and kept them for our breakfast the next day, when we would be moving on to the Perhentian Islands.
The video of our entire Malaysian trip is here.