Waking up in the oldest rainforest in the world knowing that you will be arriving at one of Earth's most beautiful islands later that day, is a feeling that you don't get too often.
My schedule was packed, as always, so I couldn't relish this feeling for too long. Today I was heading to the Perhentian Islands, 2 islands located just off the East coast of Malaysia, that are enjoyed by foreigners and Malaysians alike.
We met at Dawar Restaurant, one of many floating restaurants in Taman Negara, which is Han Travels meeting point. Everyone hopped in a mini bus that took us to Escape Hotel, a small way out of town. Here we met several other groups and swapped onto a coach, which was comfortable and spacious.
We trundled for a few hours taking in some beautiful rainforest scenery before arriving in Gua Musang, where were we stopped for lunch. I had packed my own but everyone else bought local and the prices seemed fair. Han Travel have an office here so people bought their boat tickets that would enable them to get to the islands from the mainland.
The next stop is Gerantut where the coach becomes several mini vans once again. As I only had a small bag, compared to some travellers with huge rucksacks and some families with several suitcases, I became the moveable piece of the jigsaw in the staffs attempt at getting everyone in their vans with their own luggage. Once I boarded my 3rd minivan I was getting a little frustrated but finally it all worked, though I ended up very cramped for the 3 hour journey ahead.
I headed for Kuala Besut, the coastal town that links the mainland to the Perhentians. After 2 or 3 stops at petrol stations on the way, I eventually arrived around 5pm, even though the driver advised us we would be there for 4pm. No surprise there! Everybody boarded their respective boats (one for each island) and jetted off for a nice, breezy 20 minute cruise to paradise.
I was dropped at the pier on Perhentian Kecil and headed across the beach towards my hotel, which fortunately for me was Senja Bay, and you can't miss it as you approach Kecil's infamous Coral Bay.
Immediately I was amazed about how beautiful this place is. I checked into my room, which was directly on the beach! The room was comfy but basic, perfect for this setting. I threw my stuff down and slipped into swimming gear in haste, the shimmering water was just irresistible.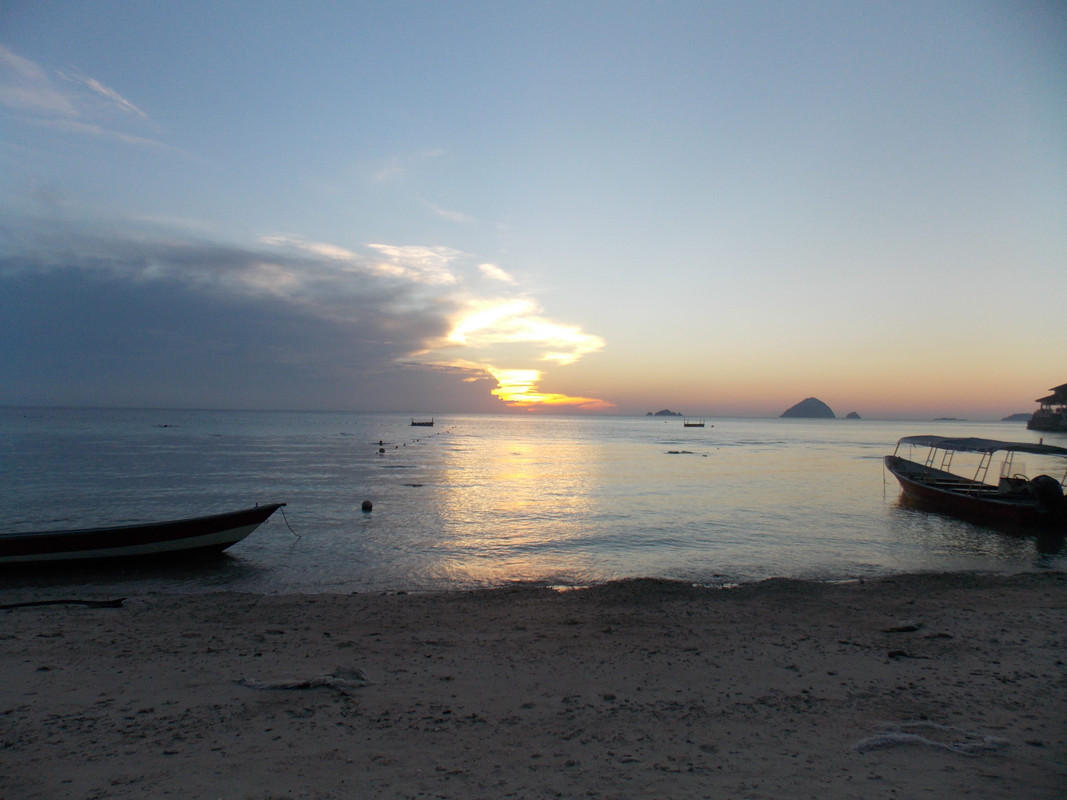 It was around 6pm at this point, but there were still a few people in the sea and plenty on the beach. A nice atmosphere, but not overcrowded. The sea was very warm and equally refreshing. The coral can stab you in the foot from time to time, as a friendly reminder that you shouldn't be standing on it. The coral is welcome though, because it brings fish aplenty.
It didn't take me long to decide that I needed to extend my stay here from 2 days to 4. Kota Bharu on the mainland would have to wait until my next visit to Malaysia, I was content in the Perhentians!
I then headed back to the room to get showered ready for dinner. I ate at Senja's restaurant that night, a BBQ meal on the beach. A lightning storm kicked up a few miles offshore and I got to see nature's finest fireworks while fine dining. They also had no issue with me bringing my own beers to have with the meal.
As Senja does not sell alcohol (Muslim owned) I moved 50 yards down the beach to the Gem Internet Café. It is a popular jaunt as it is the only place on Coral Bay where you can buy booze. I met an English couple here and chatted with them and the lovely owners of the café until the early hours of the morning.
The next morning I walked the leisurely 20 yards to breakfast, which is usually 20RM per person. Cooked "English" breakfast is available, along with fruits and pancakes.
Today was my scheduled snorkelling trip. I planned to do the touristy thing of going on a day trip to aid in getting my bearings, then I was going to head off on my own aqua adventure. I got to the meeting point at 10:30am and joined the 8 man crew.
The route has 6 stops and the first is aptly named Shark Bay. I didn't waste any time in jumping off the boat and once my snorkel was secured I went on the search for white tipped reef sharks.
As soon as I spotted one I was overly excited. This was my holy grail here just as wild monkeys were in Costa Rica. I swam my fastest in a futile attempt to keep up with the shark. They are scary creatures, but so very majestic. I was just grateful they weren't these sharks.
We then went to Fish Point. It may come as a shock to some but this place was full of fish, and I mean FULL of fish.
Turtle Point was next, and I spotted one poor little bleeder on the seabed, moving slowly as they do. The turtle probably didn't have a clue about the dozens of tourists pointing their GoPro towards it's protective shell, but it still somehow felt a bit wrong.
We got dropped off for lunch at Fisherman's Village. I didn't realise this and ended up slightly over budget because I had banked on having lunch at the hotel and using the free lunch voucher. I kept the receipt, but I thought it was a long shot.
Romantic Bay is the next stop, followed by the Lighthouse. Both are pretty and good for extravagantly coloured fish. The water was so clear and I could see for what seemed like miles.
Snorkelling over, I returned to the hotel and asked for a refund for lunch. It worked! A nice bonus. That afternoon I took a walk to Long Beach, which is only 10 minutes away and is the more "party" side of the island.
When I arrived I was glad that I had chosen to stay on Coral Bay. The sand isn't as clean on Long Beach, and space is limited. On the plus side I bought a snorkel for cheap and I stocked up on beers as they are only 7RM (1GBP) a beer on this side, and 10RM per beer on our side. After a few steady ones I needed sleep, I think I had a fair amount of sun on the snorkelling trip.
The next day my shark obsession dictated my plans. I hired a water taxi to take me to Shark Point with the condition that he stick around so that I have a boat to return to if necessary. The driver agreed, but of course as soon as I was in the water he sped off saying he would be back shortly. Cheers. To add insult to injury my mask wasn't securing to my face properly. As if things couldn't get any worse when I finally gathered myself and went looking for sharks I realised that the visibility was less than half of what it was the day before. It became clear after 30 minutes that I wouldn't be able to find any sharks so I gave it up as a bad job and the wandering taxi driver eventually returned and brought me back to Coral Bay.
My evening meal was at a beach diner that had no electricity due to a dodgy generator. That's beach life I suppose! The food was nice and reasonably priced for these islands. I caught some live music at Crocodile Rock, which is a Bohemian style café on the beach. It's a cool place but don't use the loo, it's half a mile into the jungle behind! I managed to end up back at Gem Internet Café sipping some beers until the early hours once again, and I formed a nice bond with the owners and their son, Joshua.
My final day in paradise. Mixed emotions! After breakfast I grabbed my snorkel gear and marched across the beach to the Shari-La hotel, on the other side of which is a private bay where I had heard you could see rays. It didn't take long to spot one, and the cute little fella was happily cruising along until a young boy decided to scream in it's face and point to it, almost touching it. Kids will be kids, but I was expecting the parents to do something. No such luck. Is it acceptable to clip other people's kids round the ears? It should be…
Around lunchtime I opted to grab a canoe, they're for hire everywhere here. Unfortunately my lack of co-ordination meant it was very difficult to steer the damn thing in a straight line, and it took me a long time to get almost nowhere. I had grand plans but ended up only doing half of my initial route, stopping at one point on a private beach all to myself.
After some rice and vegetables washed down with beer I had to retire to bed as my transfer left the island at 8.30am the next day. Not only did this mark the end of my holiday but my first visit to the UK for over a year!
I sailed to the mainland and flew back to the UK via Vietnam, worked out really cheap that way. Check the video out below to see the entire Malaysian trip!