If you are wondering which hotel is the best place to stay in Kuala Lumpur, or what area is the best to stay in, then look no further. I have compiled the ultimate list of where to stay in Kuala Lumpur!
Hotel Istana – Bukit Bintang
Located in the heart of the bustling shopping district, this 5 star resort is the best place to stay in Kuala Lumpur if you're looking for high end luxury. Rooms have fantastic views over the city skyline as well as the pool area, and there is an extravagant spa for those wanting ultimate opulence when choosing where to stay.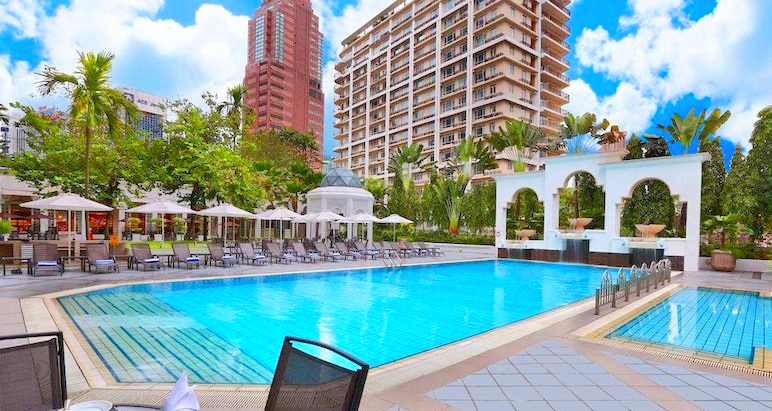 They have a large outdoor pool that sits at the foot of this pristine hotel and I cannot recommend this enough. Prices start around 245RM per night and rooms can be booked directly through their website.
Grid 9 – Kuala Lumpur City Centre
Grid 9 is a flashpacker hostel nestled perfectly between Kampung Attap and Kuala Lumpur City Center, or KLCC. This is great if you want accommodation that is compact, affordable and in the perfect position for transport. Also, within a two minute walk you are in Chinatown and the famous Petaling Street, the busy market street running directly through Chinatown.
As well as private rooms, Grid 9 offer pods in dorms rooms, meaning they have options for most travellers. The  fantastic air conditioning works a treat for when you've finished in the humid Malaysian capital too. Prices start around 70RM per night.
Hill Inn Hotel Batu Cave – Batu Caves
If you're wanting to see Genting Highlands and Batu Caves, then this 3 star, mid range hotel could be the pick of the bunch for you. The Genting Highlands are a short 20 minute taxi ride away, and Batu Caves are right on the doorstep – the walk took me just 4 minutes.
The rooms are clean and comfortable and the atmosphere is quiet and relaxed, the perfect place to unwind before and after some heavy sightseeing. There are 272 steep steps at Batu Caves, so choose your hotel wisely! Prices start around 95RM per night and rooms can be booked directly through their website.
One World Hotel – Petaling Jaya
When searching for the best place to stay in Kuala Lumpur, many people over look Petaling Jaya. For over a decade now this has been a city in its own right, but I still see it as a a suburb of Kuala Lumpur, particularly as the public transport links are so efficient. Home to the top rated waterpark Sunway Lagoon, several huge climbing walls and plenty more activities, Petaling Jaya should be given serious consideration.
The best place to stay here is the One World Hotel.  This elegant 438 room hotel blends Asian furnishings with Western design, and the cuisine available here is second to none, continuing the East meets West theme. It is also adjoined to the largest shopping center in Malaysia, and the 7th largest in the world, 1 Utama Shopping Centre.
Prices start around 265RM per night and rooms can be booked directly through their website.
Accor Pullman – Bangsar
This smart hotel by Accor is adjacent to Kuala Lumpur's iconic Menara Telecom Tower, and smack bang in the perfect place to access the hipster region that is Bangsar. You won't find many tourists in Bangsar, which the modern locals here love. You will however find plenty of affluent nightlife, an array of coffee shops and a plethora of boutique art stores.
The Pullman is well equipped to experience all of this, with a decor to suit its bohemian surroundings. Prices start around 285RM per night and rooms can be booked directly through their website.
Reggae Mansion – Dataran Merdeka (Merdeka Square)
If you want to see the old town of Kuala Lumpur in the day, but party hard at night, then Reggae Mansion KL is for you. Another hotel with both private rooms and shared dormitories, it may also suit many travellers. Be warned though, this place is anything but quiet.
This loud party hotel is typifyied by its famous rooftop bar, offering views over Petronas Twin Towers, KL Tower and the city's skyline beyond. Bring your dancing shoes! Prices start around 35RM per night for dorms.
Ascott Central – Brickfields
Affectionately known as "Little India" – Brickfields is famous for Indian banana leaf food and colourful Indian shops selling allsorts. It is also home to KL Sentral, the main train station in Kuala Lumpur.
The Ascott Central Kuala Lumpur is located in the centre of Brickfields, just a  2 minute walk to KL Sentral. Blessed with an indoor and an outdoor pool, the Ascott is actually comprised over 157 state of the art apartments with fully equipped kitchenettes. Prices start around 340RM per night and rooms can be booked directly through their website.
There are literally hundreds of different options to choose from when looking where to stay in Kuala Lumpur, but only the best in each area made it to this list. Enjoy your time in Kuala Lumpur and make sure you check out all the best places to see in Malaysia!