A review of Kawar Tours is important to anyone wondering how to visit Jordan and which company to book with. Anyone can use a travel agent in their home country to book for them, but since working on the Kawar Tours review we have seen a lot of reasons to use a local company such as Kawar Tours as Jordan still relies heavily on personal relationships and local knowledge. Kawar Tours is is the travel and tourism arm of Amin Kawar & Sons. Our itinerary included some of the best highlights of Jordan, including Petra, one of the 7 wonders of the world.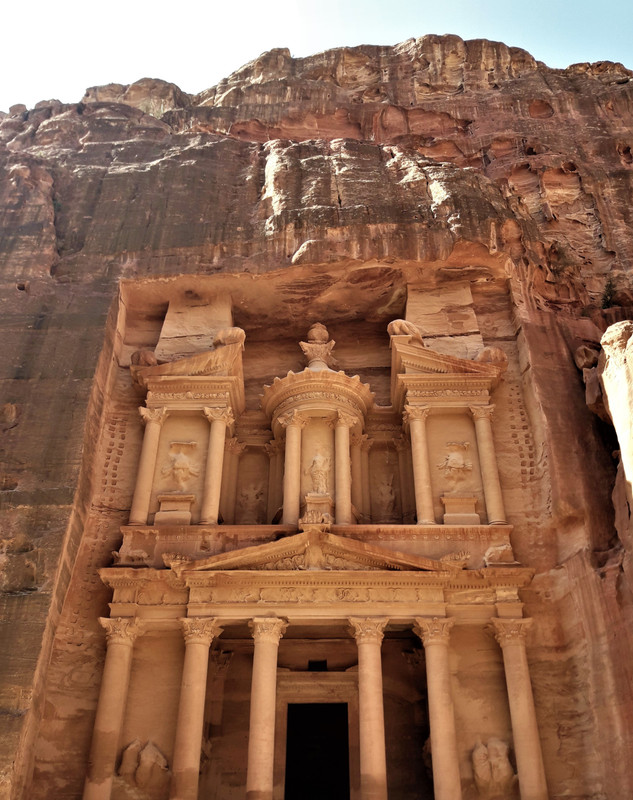 The first thing to note is that before our trip, the itinerary was agreed with Kawar Tours. If you're unsure on exactly what to see, where to go and how to do it, they are more than willing to help you. They are a bespoke service for each customer, so your trip will be unique to you. We decided a week would be ample to show you some of Jordan's best sights in luxury, and for Kawar Tours to prove their worth.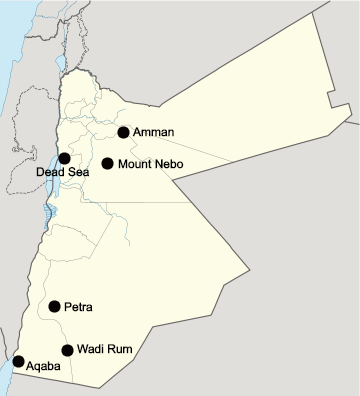 Contents
Aqaba – Jordan's beach destination
Wadi Rum – the moon-like desert, home to the Bedouin people
Petra – one of the seven wonders of the world
Mount Nebo – the elevated ridge where Moses is buried
Dead Sea – the lowest point on Earth
Amman – Jordan's bustling capital
Jordan has direct flights from 77 destinations spanning 40 countries, and Kawar Tours can book these as part of your package if you wish, though there is no pressure to do so.
Aqaba
We arrived into Aqaba, Jordan's sunny beach destination, on a Saturday in February. We were met off the plane by a driver who helped with the bags and was very accommodating with my requests for photos and videos. The first thing you notice about Jordan is the hospitality. Nothing is too much trouble for the locals here and they regularly over deliver, proud of their reputation for being warm and welcoming.
We had a leisurely 10 minute journey to our first stop and hotel, the Mövenpick Resort & Residences Aqaba. As you enter you will notice that security check your vehicle, then check your bags through an airport style scanner, to ensure no dangerous items reach the hotel and can harm yourself or the other guests. We'd always recommend to check with your foreign office before travelling, but Jordan has been a safe country to visit for a very long time.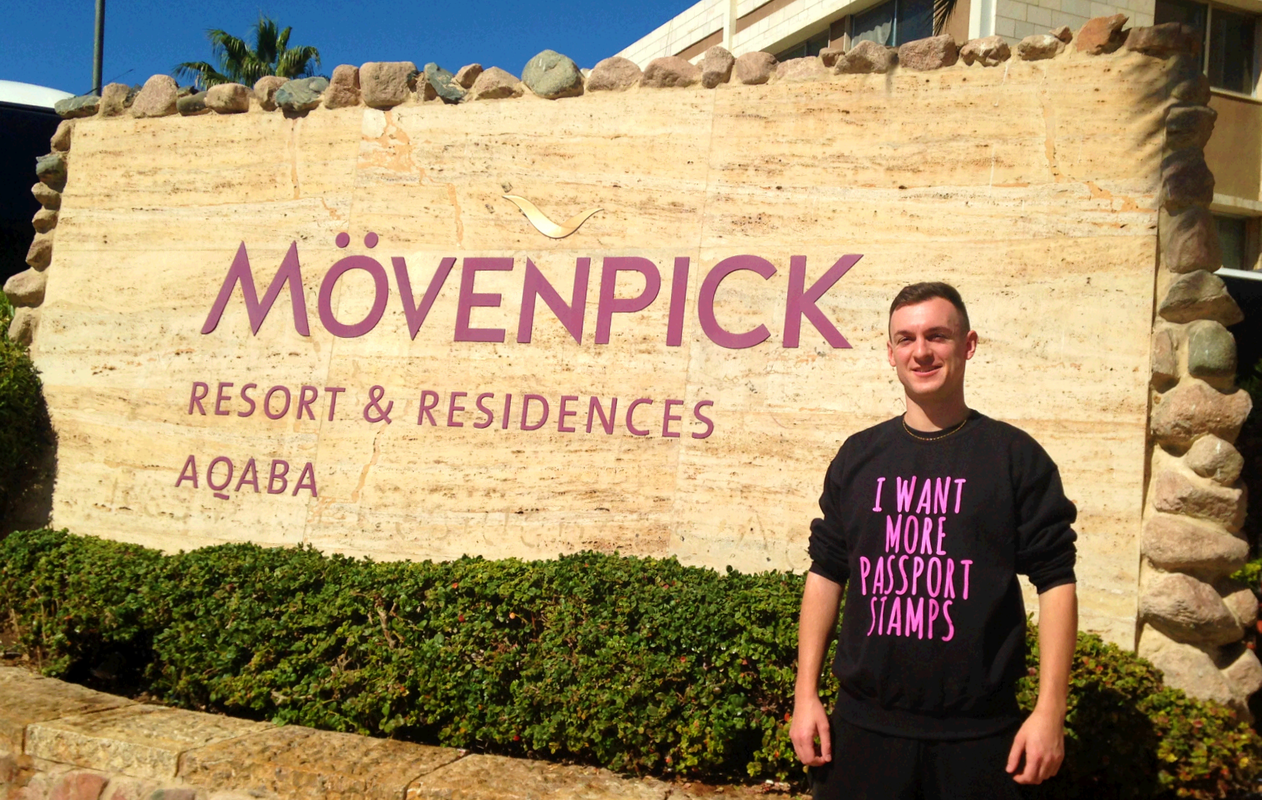 Mövenpick have a great reputation the world over, and I must admit the Aqaba resort did not falter. I was very impressed. The resort has several restaurants, its' own private beach, multiple pools, 2 saunas (nearly all saunas in Jordan are separated by gender), indoor and outdoor jacuzzis and wonderful views . The staff are set on ensuring you have an opulent, stress free experience and check in is a thorough walk through of the resort, your room, and the surrounding area.
In the rooms, the first thing to notice is the space. They feel "open plan", which is comforting as soon as you walk through the door. Then you open the curtains, to reveal your balcony with view over several pools and ultimately the beautiful Red Sea. It was great to sit out and enjoy the view with a drink during February (supposedly winter) so it will be even better in the warmer months. The first recommendation from this Kawar Tours review gets a huge tick.
The first full day with Kawar Tours consisted of our included breakfast at the Mövenpick (delicious) and then being picked up by our guide for the day, Mohamed. He is a representative from Berenice Beach, a secluded beach area that can be visited for the day for umpteen different variations of watersports, or even just to sit and relax on the golden sand watching the waves of the Red Sea lapping the shoreline.
The minibus arrived promptly and we began the 20-minute journey down the beautiful coastline, don't forget to take your camera! In the complex, Berenice have 2 large pools and one kids pool, as well as a viewing area for adults to watch their children swimming. We started on the beach with a relaxing drink then grabbed our wetsuits and headed for a 2 hour glass bottom boat ride and snorkel.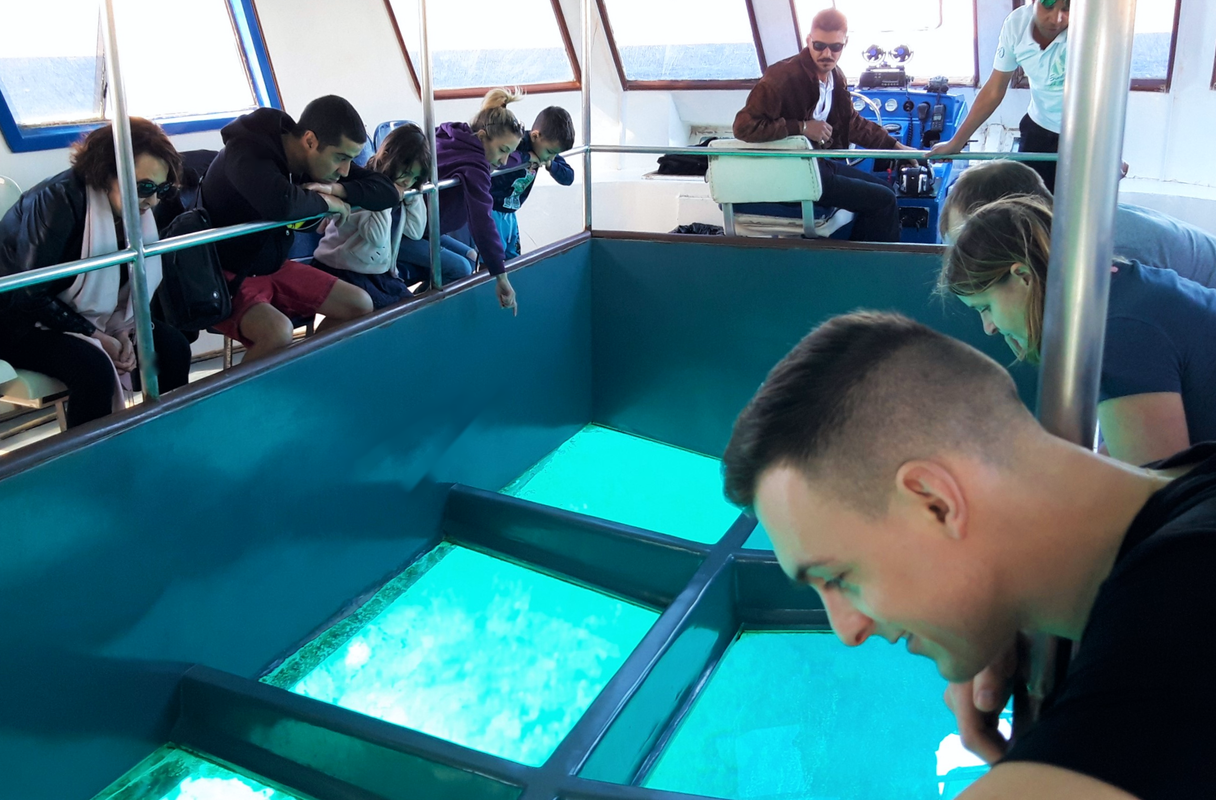 The Red Sea is teeming with marine life and is also rich in Arab history. Amongst the colourful fish and jellyfish are a large shipwreck and sunken aeroplane. Our guide talked us through the history of these pieces, whilst pointing out fish and coral species also. The water is so clear we could easily see right through to the bottom through the huge glass panes. We even spotted some divers in the shipwreck!
After meandering through the deeper waters, it's time to head slightly shallower for a snorkelling experience like no other. We donned flippers and a mask with the help of the boat crew and launched into the tepid water. The fish are great, but the jellyfish really stunned me, in their hundreds! I've never seen so many, of all different sizes, and swimming through them and having them brush past me was a strange experience, as I was always taught to be wary of them.
Alas, I had no stings or rashes and after a while got used to them being so close. It's a lovely sight and I'm very glad of the experience. Free soft drinks are provided back on board while you lounge in the Sun and drift back towards shore.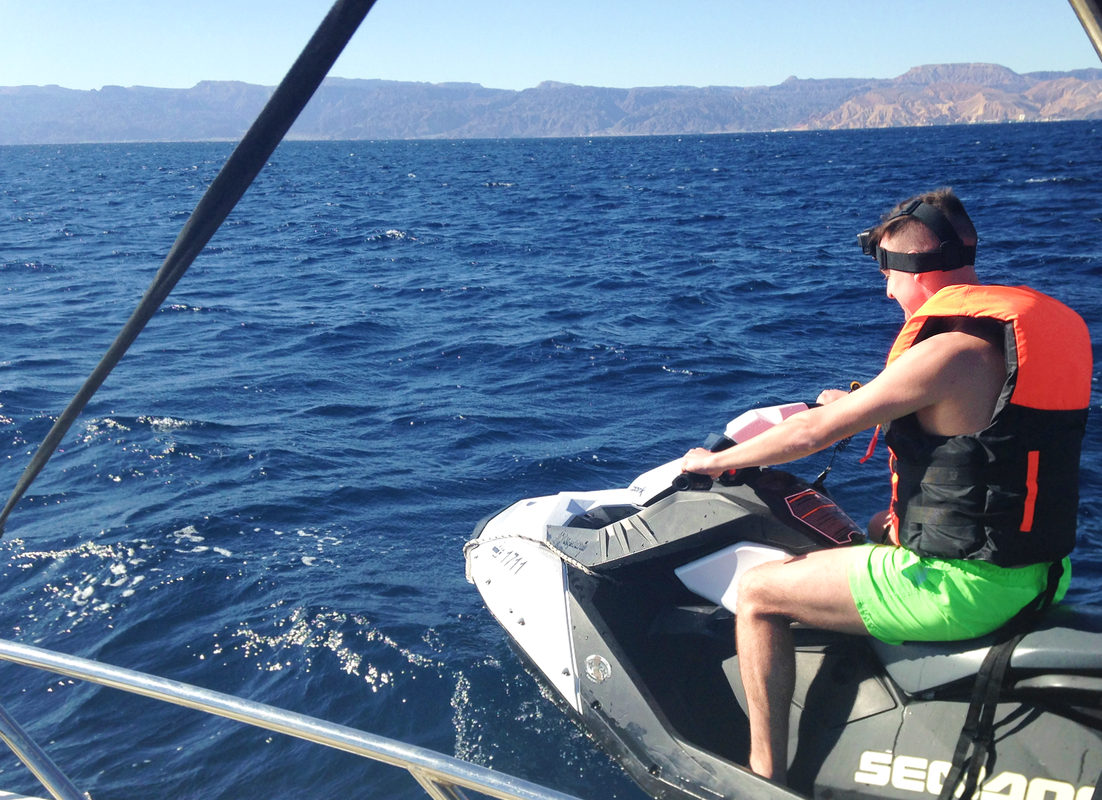 A tasty lunch is cooked fresh, including seafood options, and served for you with a view over the bay. Now it was time for a jet ski, one of many motorised water sports available at Berenice. The guides take you (with a plus one if you like) out to sea and start your machine up for you. After a simple demonstration and some safety procedures, you are let loose. It's an absolute riot! They are such powerful machines and the speeds can be as white knuckled as you like. Soaring across the bluest water with the sun on your back and beautiful skylines all around you, you feel free. Thank you to Berenice Beach, another tick for the Kawar Tours review!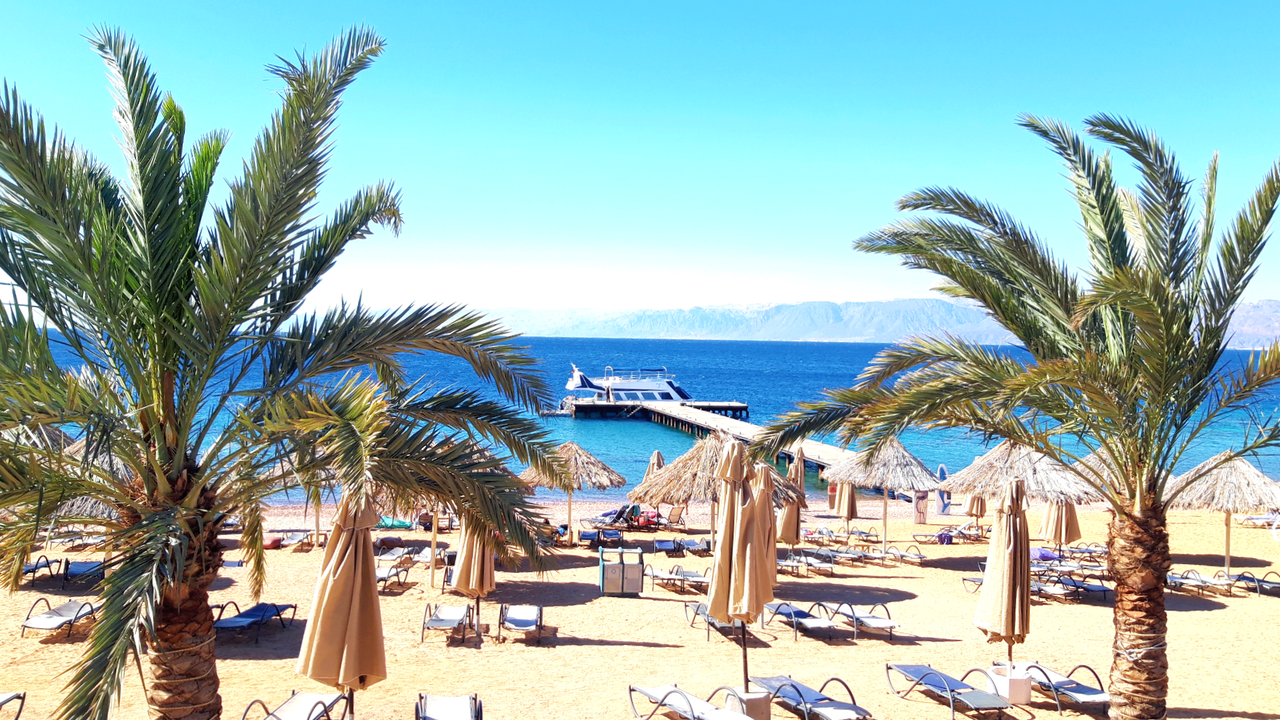 This is all we had time for, but Berenice offer much more in the way of diving, snorkelling, swimming, water sports and more. We left on the 3.30pm bus, but the resorts free transport runs well into the evening and they have a Bedouin tent that comes alive once the sun goes down. Cooking classes are offered using locally caught fish being cooked on spikes in the ground. For full details see the Berenice Beach website.
Day 3 and we have the morning free to relax. After gorging a delightful breakfast at Mövenpick Resorts and Residences Aqaba, we descended on the heated outdoor pool while there was nobody else around. After a swim, some time in the hot tub and a sauna, it was time to change and meet our guides once again.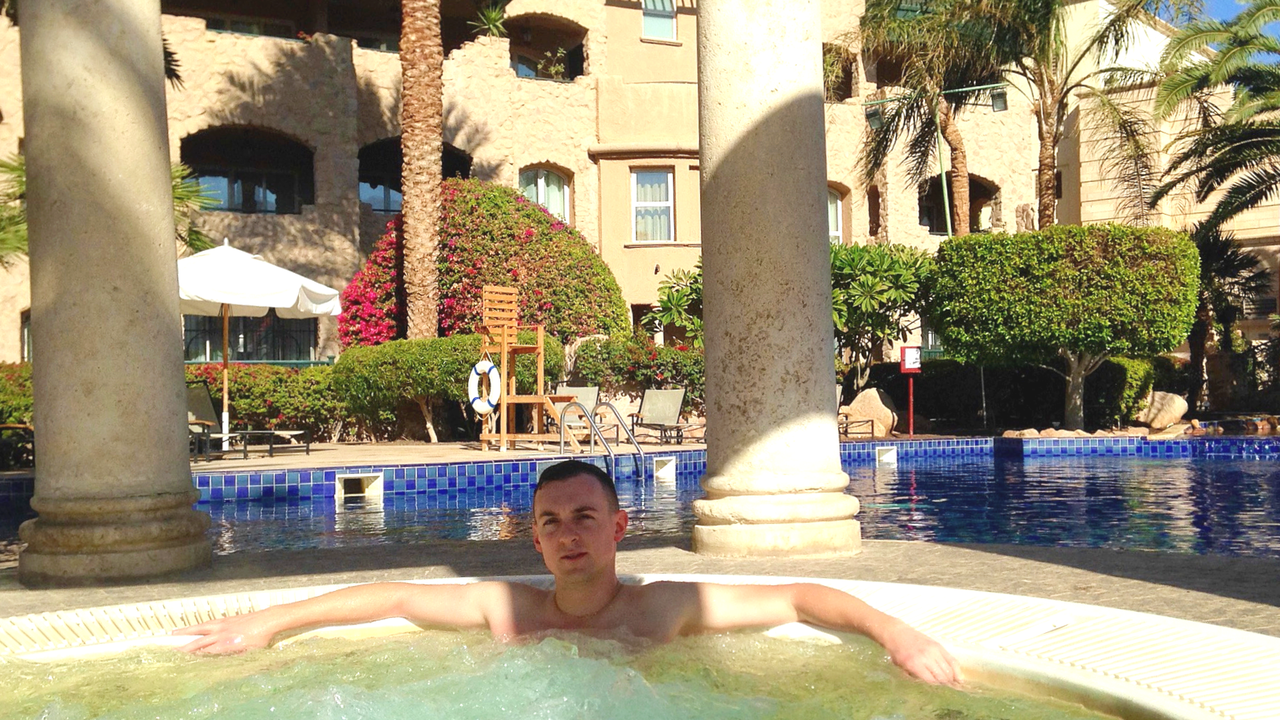 Wadi Rum
Ramez, our guide, met us on time in the hotel reception, and led us outside to driver Firas and our comfortable vehicle for the rest of our time in Jordan. Both Ramez and Firas made it very clear that they are always here to help and that whilst they will be giving us all the necessary information, we shouldn't hesitate to ask any further questions. Todays destination is Wadi Rum, the moon-like desert in Jordan where they filmed "The Martian".
Ramez was very informative during the short ride to the desert, filling the air with all the historic titbits you could imagine. Prior to reaching our final destination, we stopped at the "Seven Pillars of Wisdom", a popular tourist photo-location and rock formation in the area.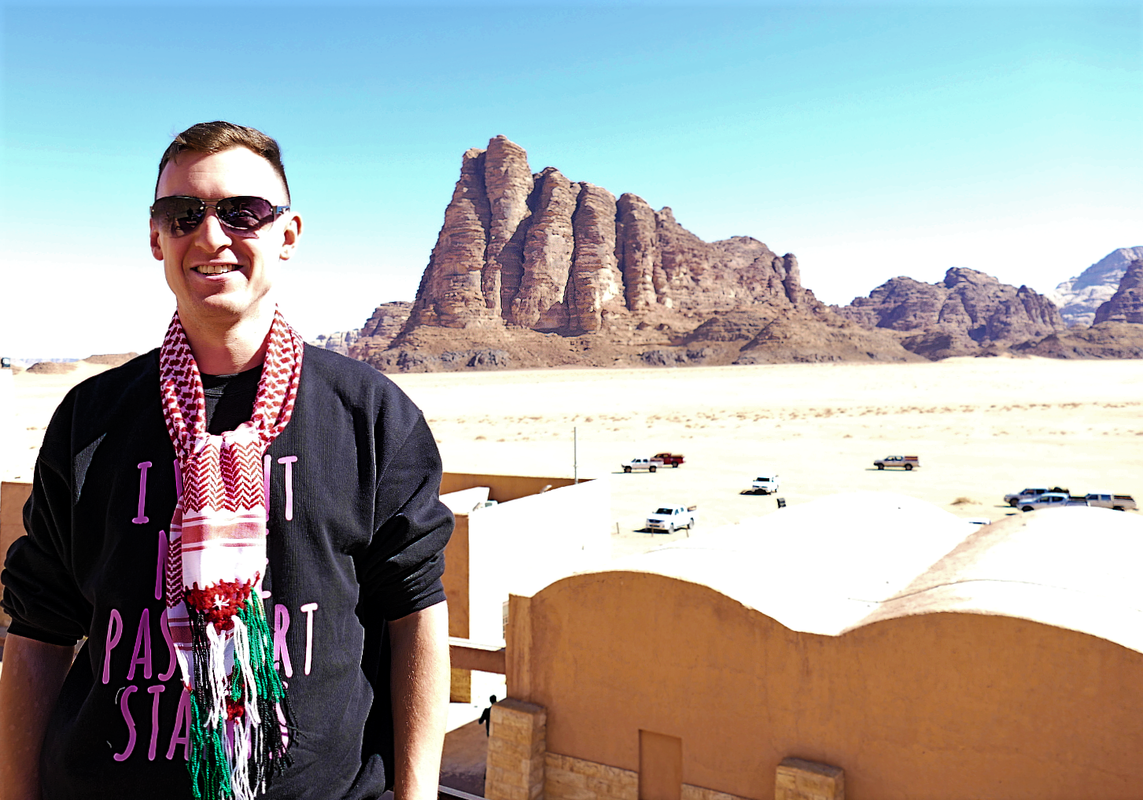 As we drove further, I felt more and more as though we were reaching the wilderness, my feelings cemented when we were stopped by a camel herder to let his flock cross the road. Geologists think Wadi Rum resulted from a great crack on the surface of the earth caused by an enormous upheaval. Some of the ridges are a thousand feet high and are topped with domes worn smooth by the desert winds.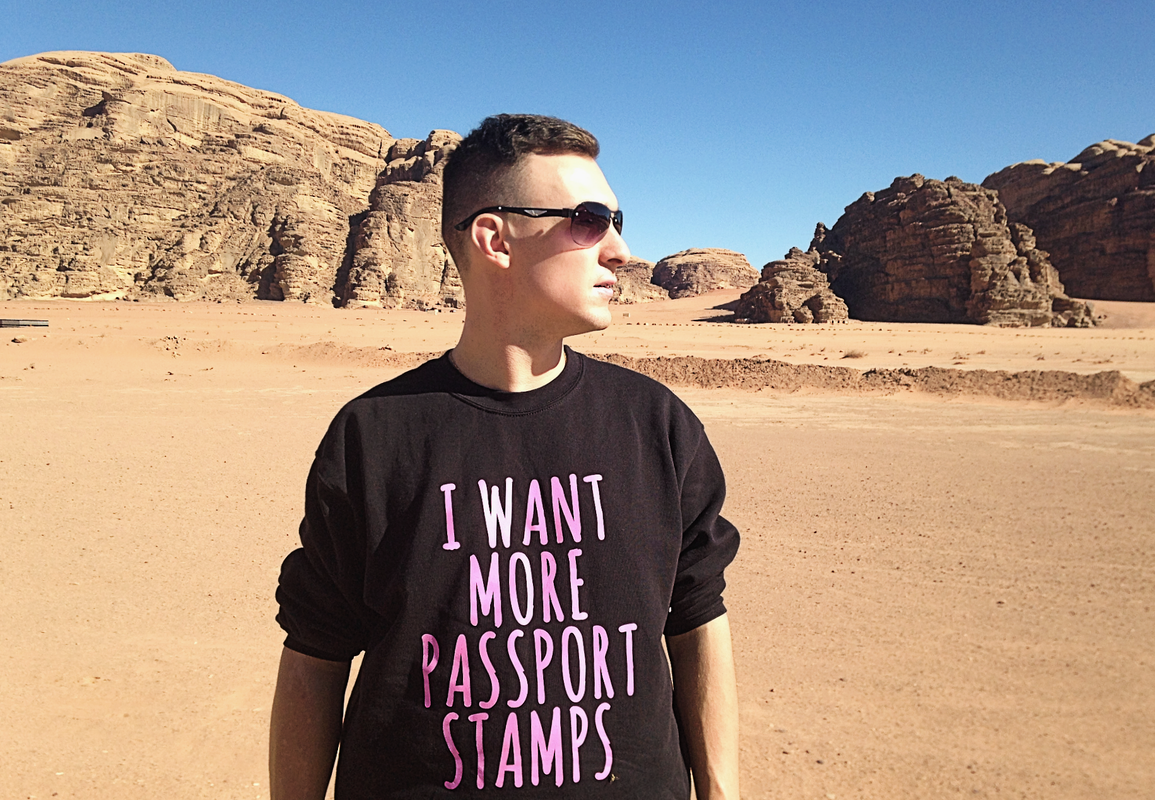 It was just before 2pm when we landed at our accommodation for the day, Sun City Camp Wadi Rum. This area feels like you are on another planet and it's easy to see why "The Martian" was filmed here. I have never seen landscapes like this in real life before this journey to review Kawar Tours. The background is alien-like rock formations in the desert, and the foreground is luxury accommodation pods, dubbed "Martian Domes".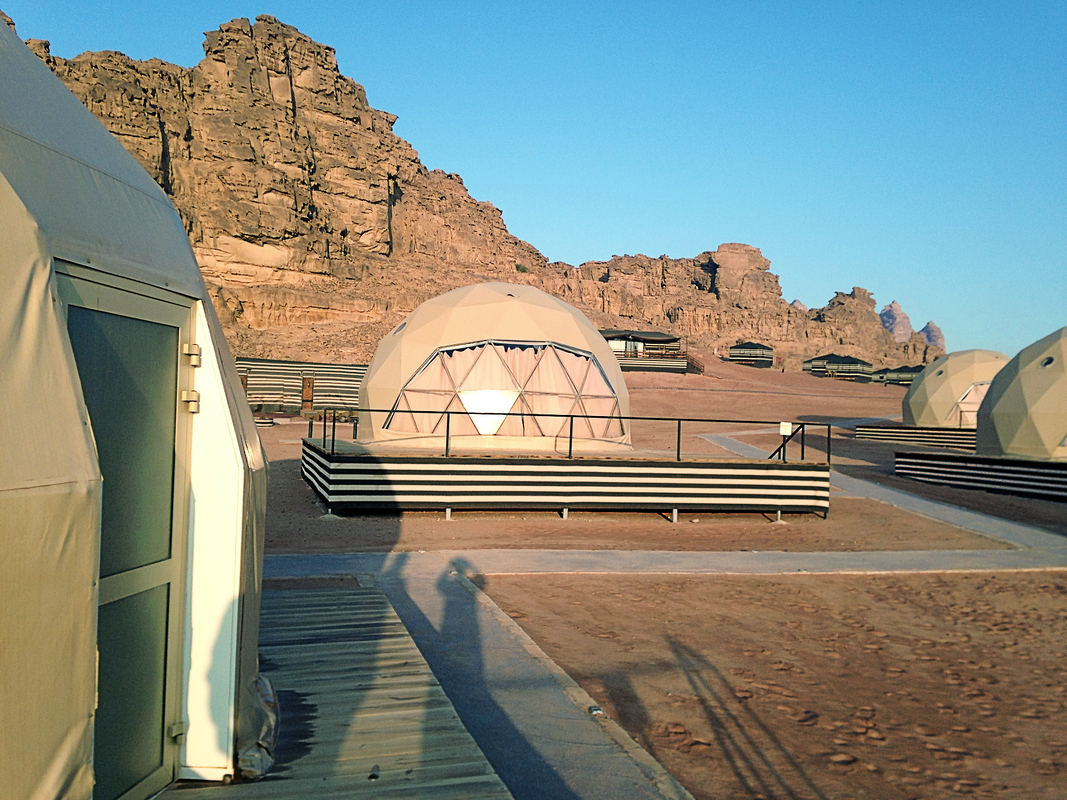 Inside your "tent" is nothing short of 5 star accommodation. Hardwood floors, comfortable seating, large beds, plenty of power sockets, dressing gowns & slippers, a mini-bar and a huge bathroom with spacious shower, all of this fully air-conditioned for the day and heated for the chilly nights. The only thing it doesn't have is a television, instead the dome has a transparent window with a view out to the incredible rock formations during the day, and the twinkling stars at night. It really is incredible!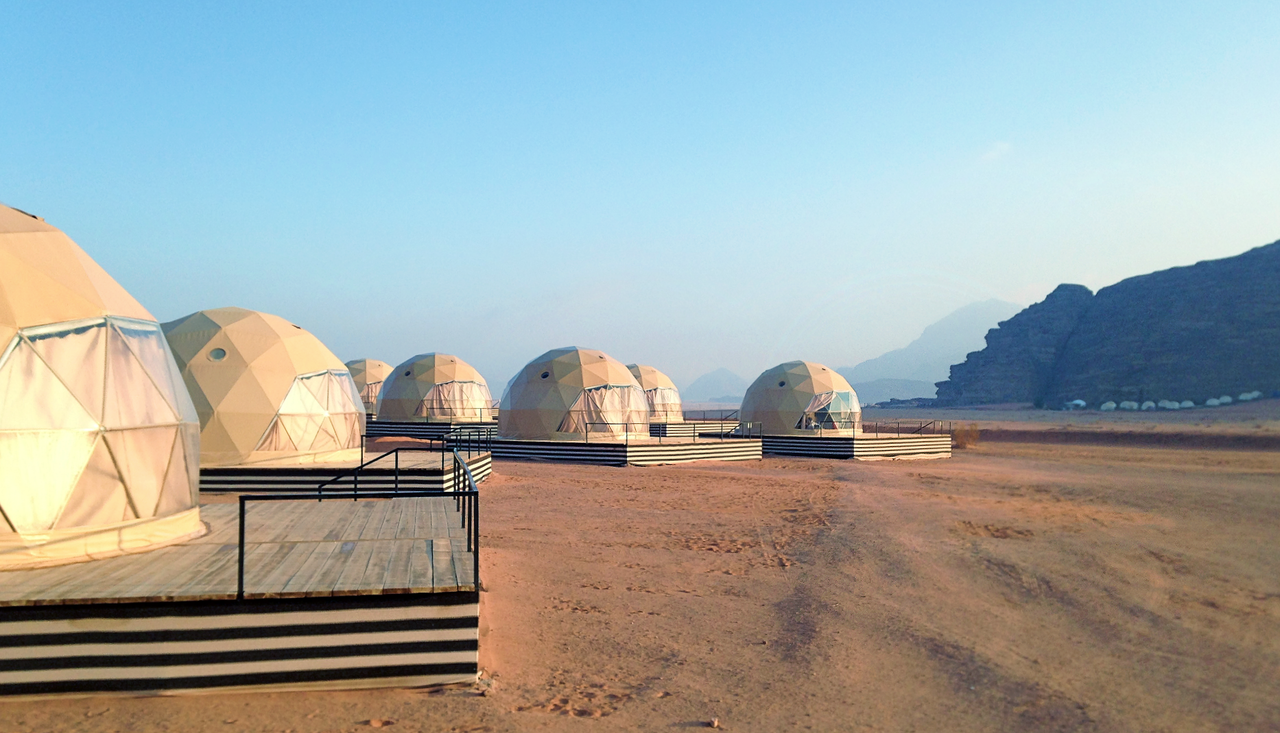 Many people opt to have 4×4 Jeep tours here, to reach even further into the barrens. These are available through Kawar Tours. You may also ride camels here, though this is now common throughout Jordan.
For sunset, Ramez kindly walked us to a beautiful spot where we soaked in the views and appreciated where we were. Wadi Rum is a perfect place for being present. We can all be guilty of thinking about the past and/or future, when the reality is right now. It was one of the most enjoyable sunsets I've experienced.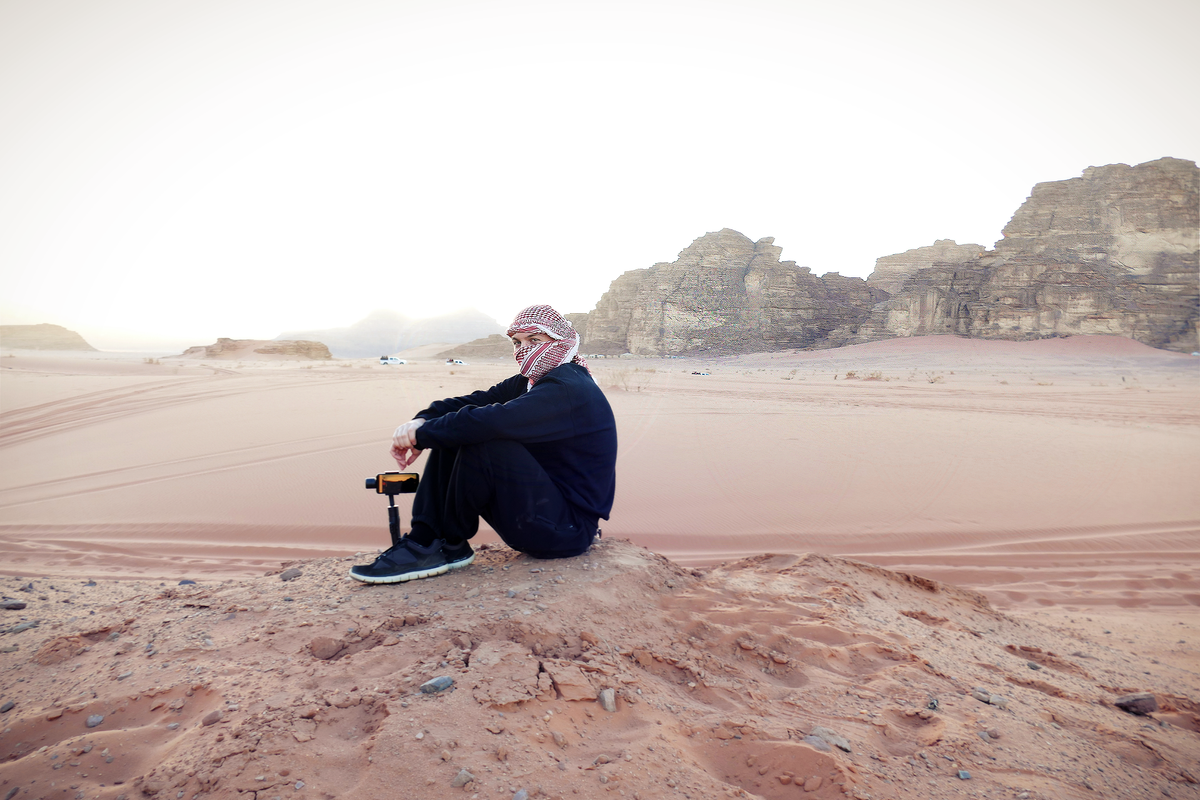 After returning to the camp it was time for our evening meal. All of the guests congregate inside the main building and are served hot tea, locally known as chai, whilst a Bedouin musician plays the oud, a traditional Arabic instrument, for all to hear.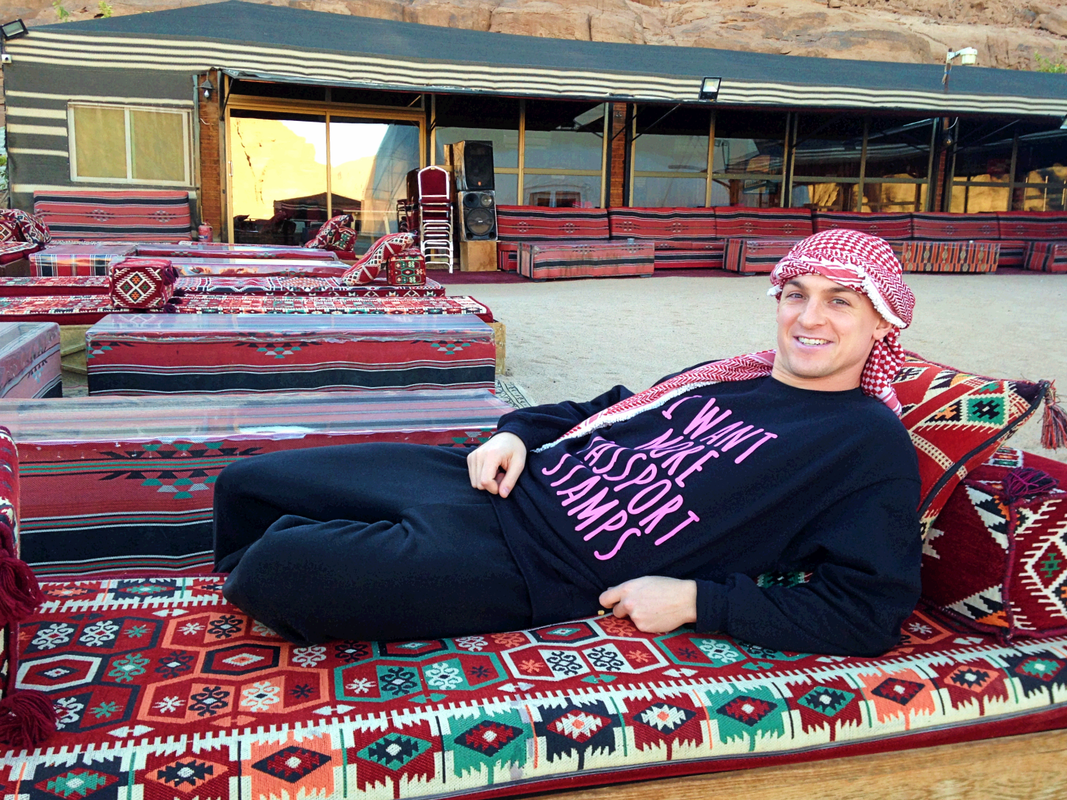 After your tea, you are invited outside to see how your meal is being cooked. They use a classic Bedouin method of cooking called Zarb. Several different meats and vegetables are placed in an underground oven and left to cook using the heat of the Earth. As the food was pulled out it smelled delicious.
You are then led to a huge Martian Dome, which has seating and the rest of the buffet style meal, accompanied by helpful staff to serve you if and when needed. The food was very tasty, with the traditionally cooked options the best by far. After your meal you are welcome to return to the main building where the music will continue for as long as the guests require. I used this time to get to know Ramez better and get an even deeper insight into Jordanian culture.
Other activities available for booking at Wadi Rum include a 4×4 Jeep tour of the desert, camel rides and even stargazing through the nearby Star Gate Telescope, the largest telescope in Jordan. The sky is so clear here due to lack of air pollution that even just looking out from your bed at night gives an incredible view of the stars.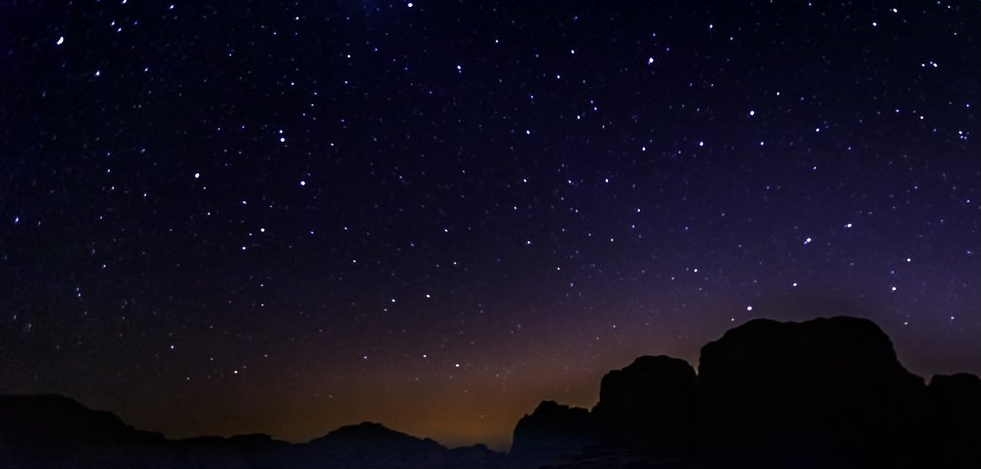 Petra
The start of Day 4 was an early breakfast back in the dining dome, then an 8am check out in preparation for a 90 minute drive to Petra. As you can imagine, even the drive itself was quite something. Looking out of the windows to the changing landscapes whilst Ramez filled us in about the unbelievable history of Petra and surrounding areas.
The mysterious city, once home to the Nabateans almost 10,000 years ago, is one of the wonders of the world. Nabateans are famed for their stone carving, and you can see why here. It really is jaw-dropping. The Treasury, the Royal Tomb and the Theatre are among some of the amazing sights still standing, after a huge earthquake in the 4th century ruined many others.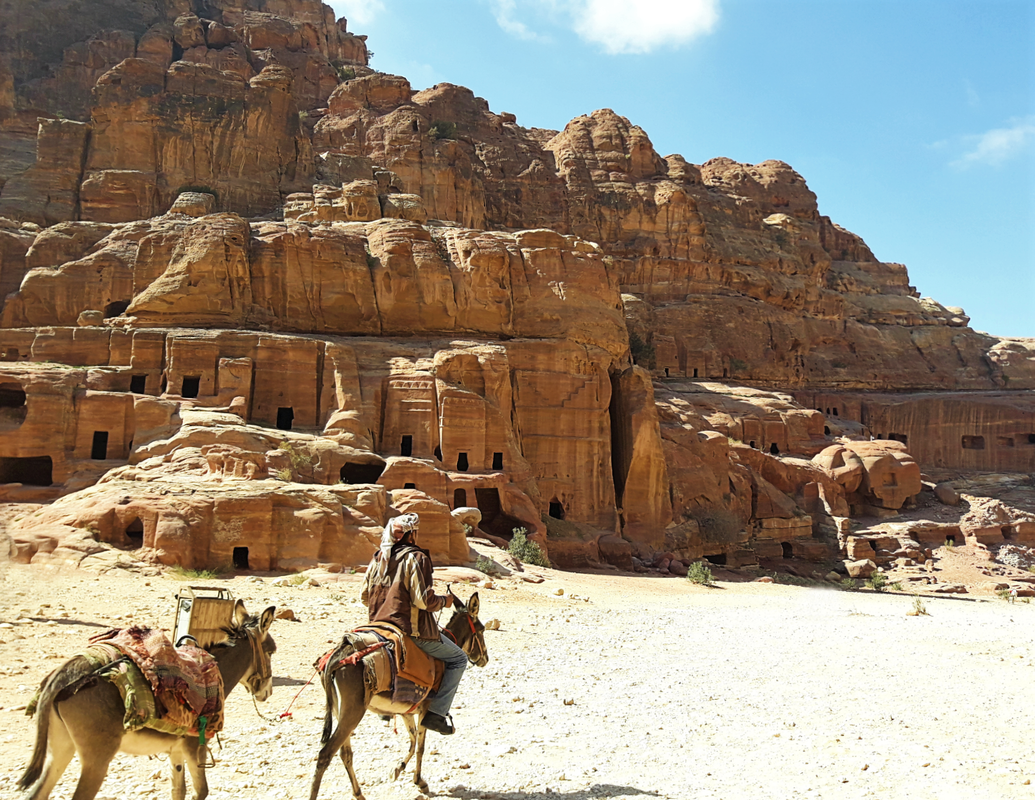 Guidebooks might warn that Petra is a tough walk (roughly 8km round-trip for the most common route) but there are horse rides, donkey rides and even chariot rides available for those that prefer not to walk.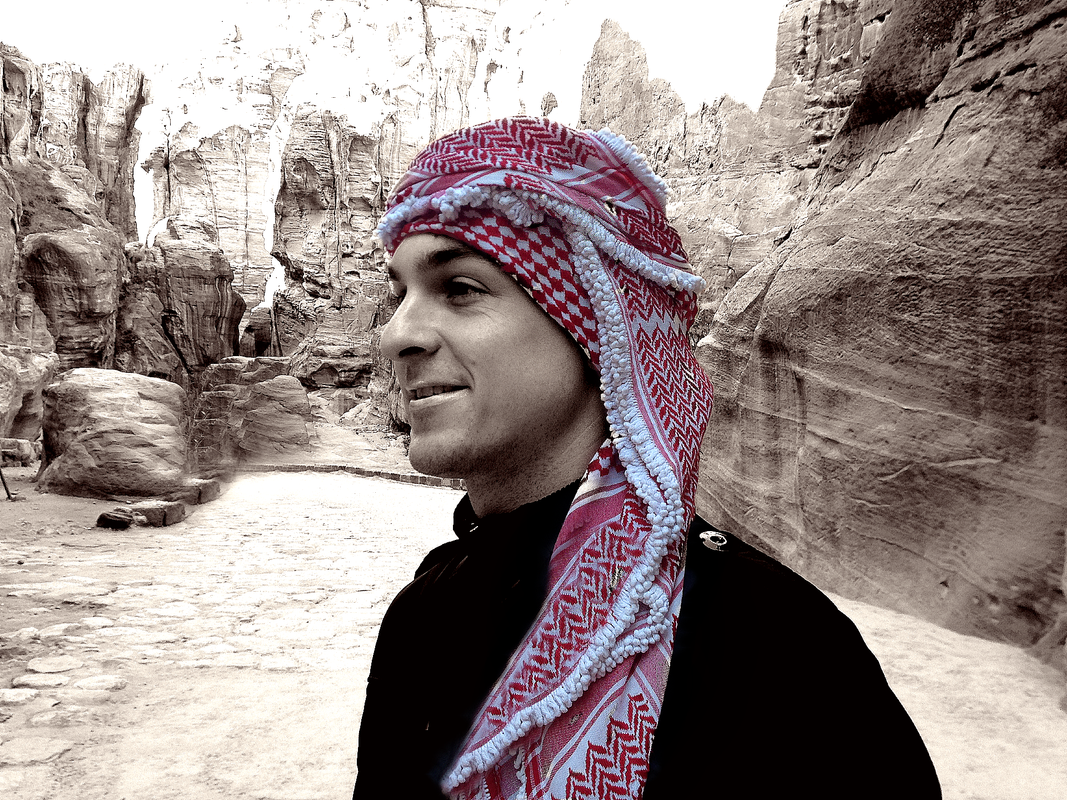 Ramez discussed the various different options in terms of walks with us, and we agreed upon our preferred route and completed it. Some may prefer to walk the entire city, some may just want to chariot ride to the Treasury and chariot ride back. The choice is yours. Whatever you choose, wear comfortable shoes, as the terrain is not completely flat.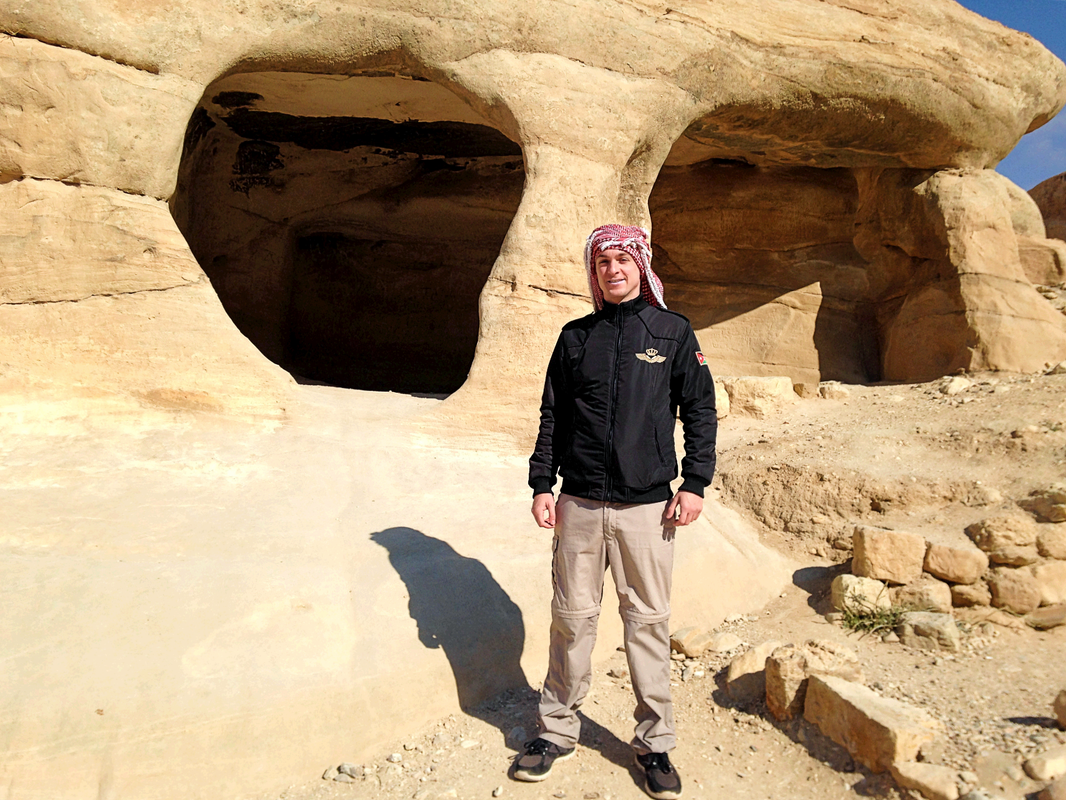 Having Ramez from Kawar Tours with us helped so much at Petra, as he highlighted otherwise very miss-able stones and markings along our route and gave us their history and meaning. Interestingly, once the Nabateans surrendered to the Romans in 106AD, Petra of course became a Roman city. Some of the locals here still sell Roman coins that they claim to have found somewhere inside the protected area. Nobody knows how real they are, and if the Jordanian government asked the sellers, they'd claim they were fakes!
As already mentioned, Jordan is famed for its hospitality, and the people are very proud of that. However I must say, that like all busy tourist areas around the world, inside Petra sometimes you will be offered things for free. Horse rides are a common example. Just be aware that they aren't actually free and you will be expected to pay. Although I opted to walk, I did spend some money inside Petra, as they have lots of great market stalls. One of them is ran by Marguerite van Geldermalsen and her son. Margeurite once wrote a bestselling book called "Married to a Bedouin", and still sells copies today, despite her husband passing in 2002. She has also recently teamed up with local native women who create sterling silver jewellery for her stall.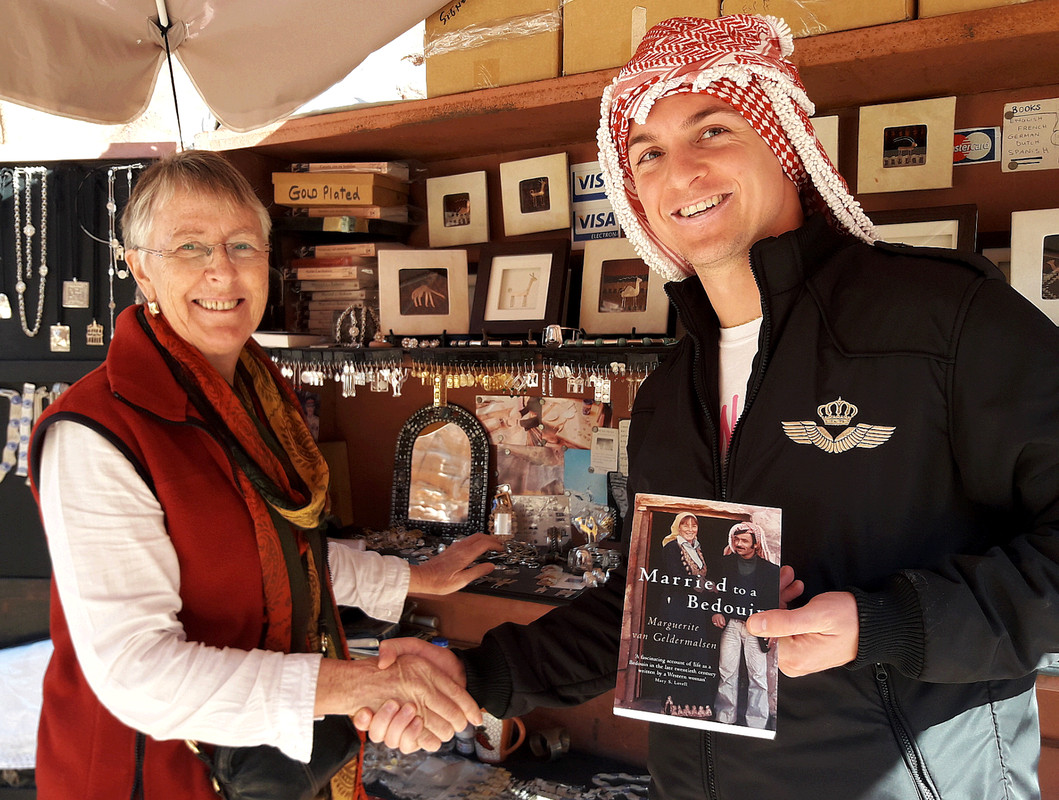 Another stall that I enjoyed was offering to apply "kohl" to your eyes. This traditional eye make up was worn mainly to protect the eyes of Bedouins, and each pot sells for around 15 Jordanian dinars, which is around £17 GBP or $22 USD. I didn't purchase any, however I did pay a smiley Bedouin to do my eyes for the day.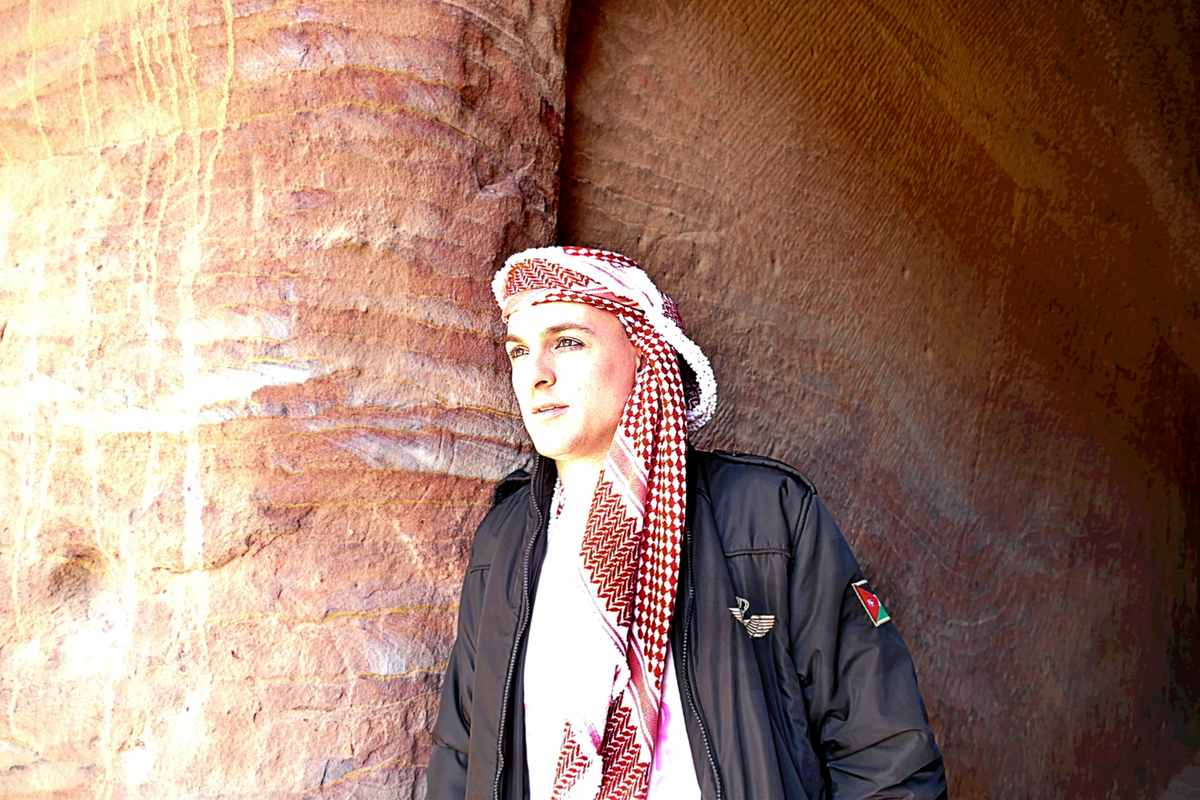 We walked up the steps to the Royal Tomb, where you can find the best view in Petra in my opinion. Once inside, Ramez started to sing, claiming that the acoustics mean everyone sounds like a singer inside the tomb! The carving marks on the wall show the precision and tools that were used in these carvings, very impressive.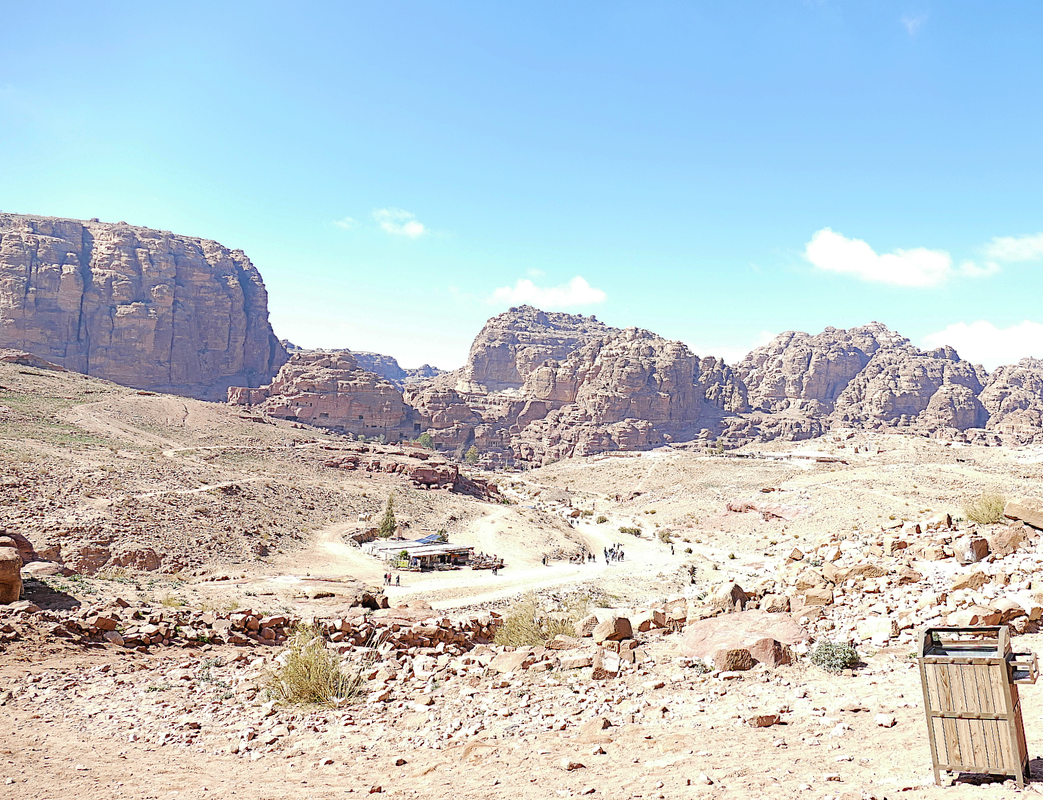 The price for entrance to Petra is 50 Jordanian dinars per person, but those with special needs and children under 12 are free. Once we were back in Wadi Musa (the modern town used as a gateway to Petra) we stopped for a quick lunch then headed to our accommodation for the night, Marriott Petra.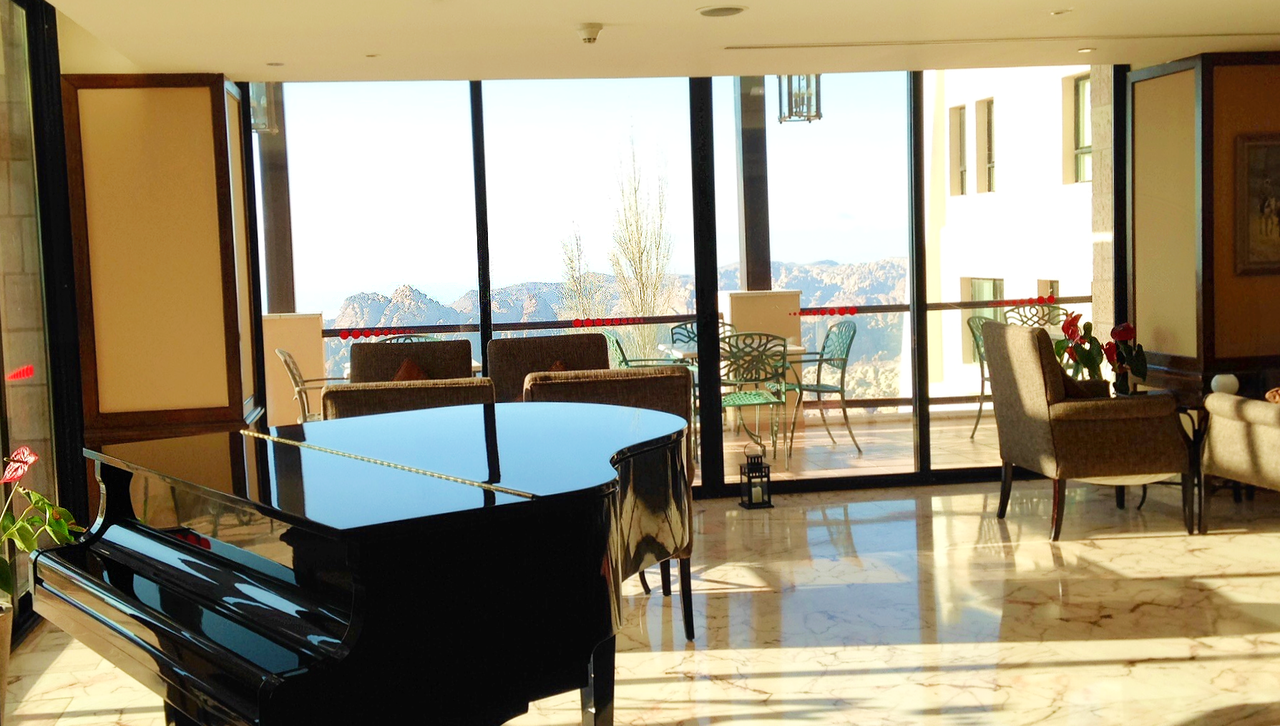 Our first of 3 Marriott hotels on this trip, and a great start. Even for the ever-welcoming Jordanian nature, the staff here were conscientious and helpful. Staying at the Marriott Hotel Petra is a comfortable experience, and a welcome one after hiking during the day. We treated ourselves to massages in the salon, and the blissful tranquility was welcomed. There are no shops or restaurants in walking distance, so you have a choice of two eateries inside the hotel. We ate from the bar menu and had another evening with a gorgeous sunset as the sun melted away below the ridgeline.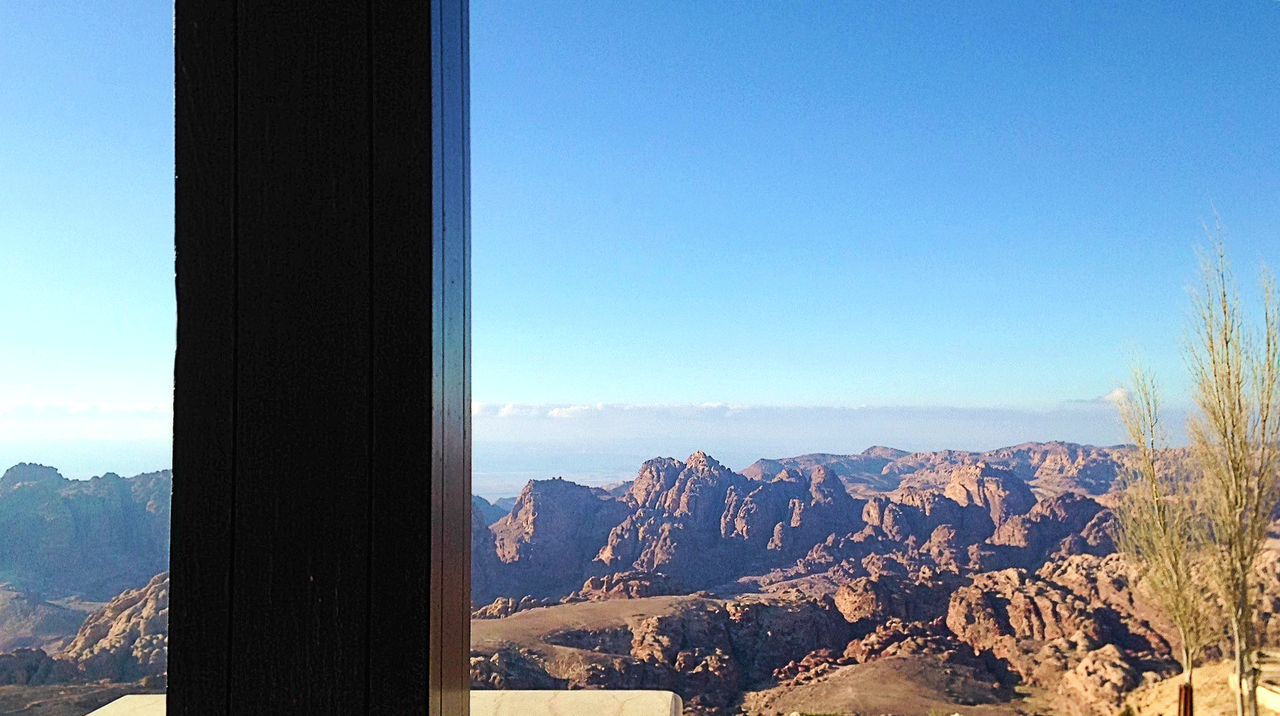 Mount Nebo
The next day on our review of Kawar Tours saw the longest of the journeys on our trip, just over 3 hours from Petra to Mount Nebo. This is a biblical site where it is believed Moses is buried. Perched over 700 metres above sea level, Mt Nebo provides a nice view right from the car park through to the Brazen Serpent sculpture near the memorial building itself.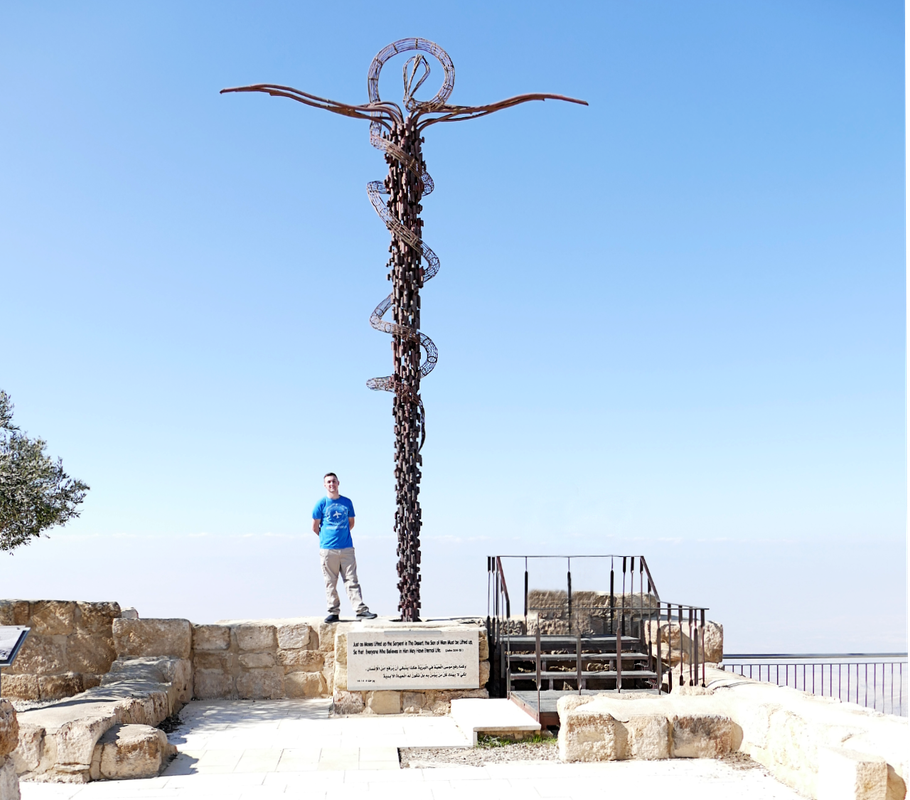 This is a nice activity for those interested in seeing this religious history but note that we only stayed for around 90 minutes, and this was plenty of time to see, read and understand everything. We did have an unfair advantage though, as Ramez had already prepped us with the necessary historic knowledge before we arrived.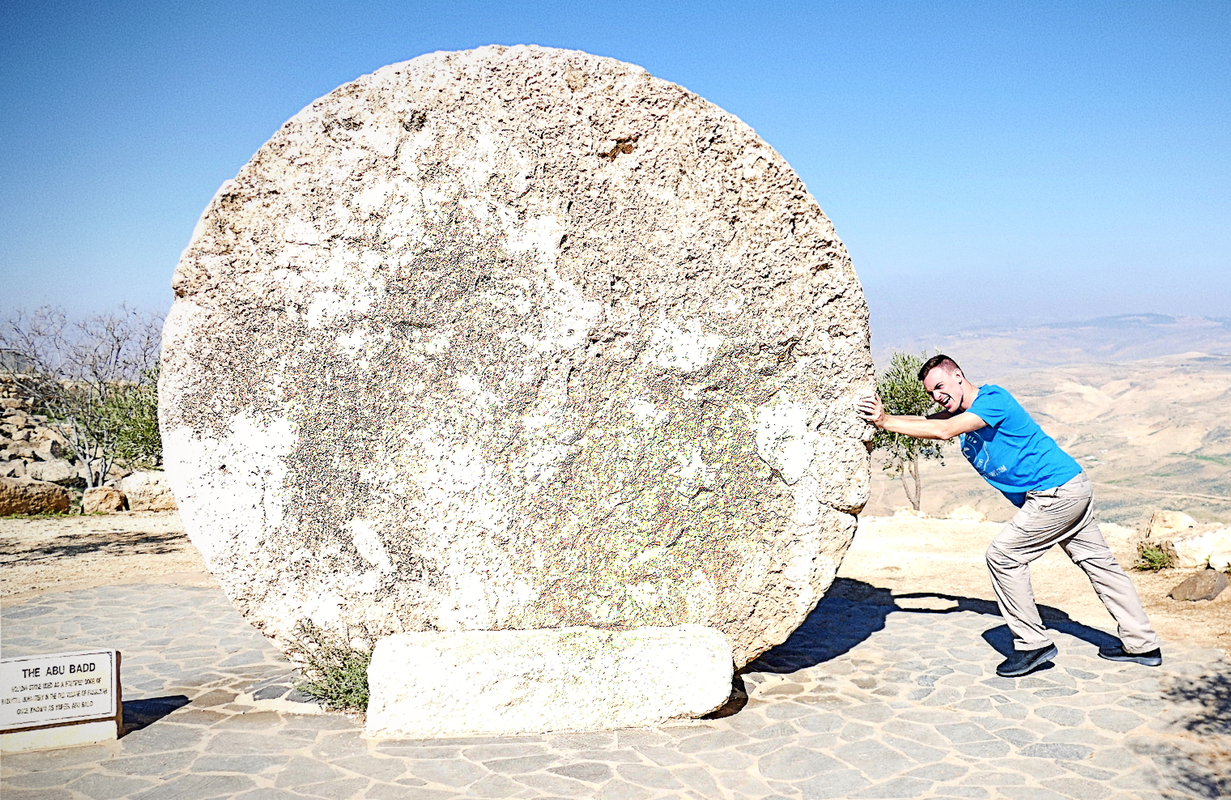 Dead Sea
Our next stop was the Dead Sea, and the journey down from Mount Nebo to the lowest point on Earth has some great sights and will have your ears popping. On arrival to the Dead Sea, we said goodbye to Kawar Tours guide Ramez. He earned every penny of his tips and I'll be eternally grateful for his knowledge. At More Passport Stamps we're about maximising your time whilst travelling, and Ramez is a perfect example of that. Our driver Firas would be remaining with us, but said farewell for the next two days as we enjoyed the Dead Sea.
The Dead Sea Marriott Resort & Spa is perfectly positioned with direct Dead Sea access (its' own private beach) and views over the water. The entrance is a grand driveway, decorated with beautiful brightly coloured flowers, leading you to the reception area where your host checks you in and explains the map of the grounds, the various bars and pools, what is happening when and answers any questions you may have.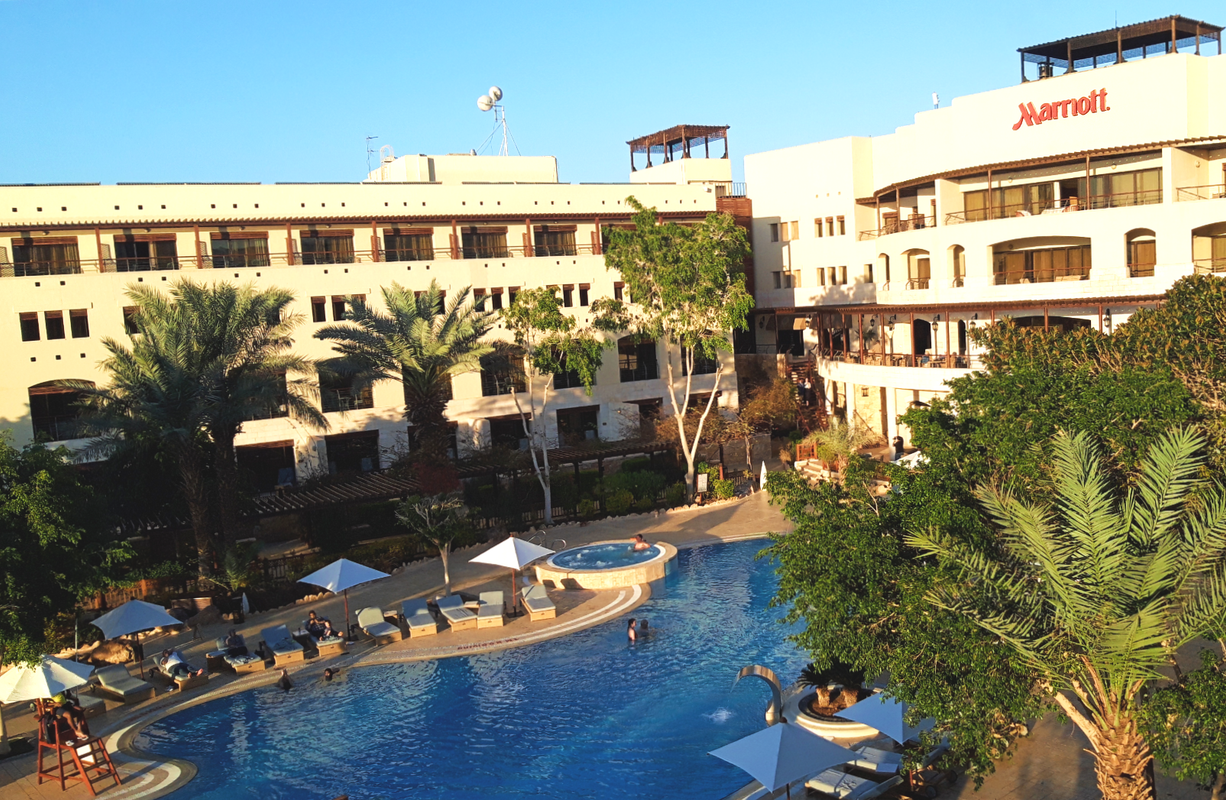 The rooms are immaculate and lavish, in keeping with the rest of the property. The wide range of cuisines available are as tasty as each other, once again complemented by attentive staff. There are buggies provided to take you the short distance to the Dead Sea for when you're ready to bathe. My favourite facility here, and one of my favourite facilities throughout this entire Kawar Tours review, has to be the spa though. A therapeutic haven featuring indoor pool, treatments rooms, saunas, steam rooms, jacuzzis and even a Dead Sea pool! Dead Sea products are widely available here and are used liberally during treatments. Don't forget to call ahead, as appointments book up quickly.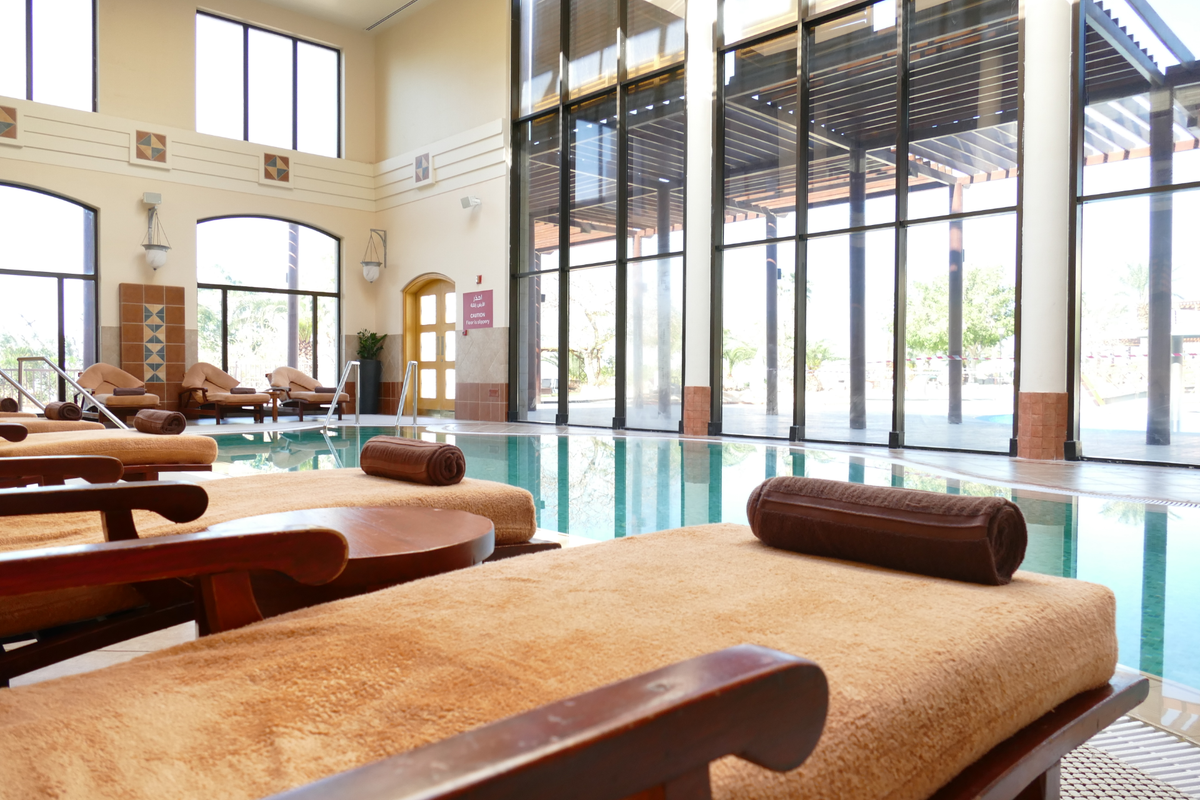 One of the many regular activities here is the local tea brewing experience. Ahmed, our teacher for this experience, was very friendly and happy to go above and beyond during the tea making. Ingredients are placed into a large pot and are then rhythmically beaten with a thick stick to crush them, ready for putting into the tea. Ahmed politely held back his laughter when I had my go at crushing the cardamom! Other ingredients included sage, rosemary, cinnamon and mint. The tea was very nice (coming from a Brit!) and this activity is a must-do here.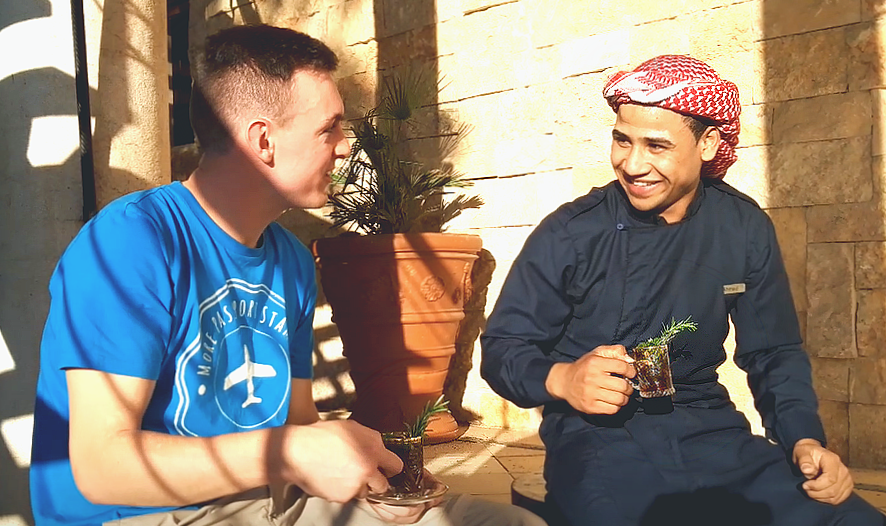 The Dead Sea should be on everyone's bucket list. I remember first being told about it as a child, and I didn't believe it to be true. Well, I can now confirm that it is! The high mineral and salt content in this large body of water means that humans float in it. It also means that no marine life can survive here, and that you should definitely not get it in your eyes. That same make up means it is very cleansing for your skin.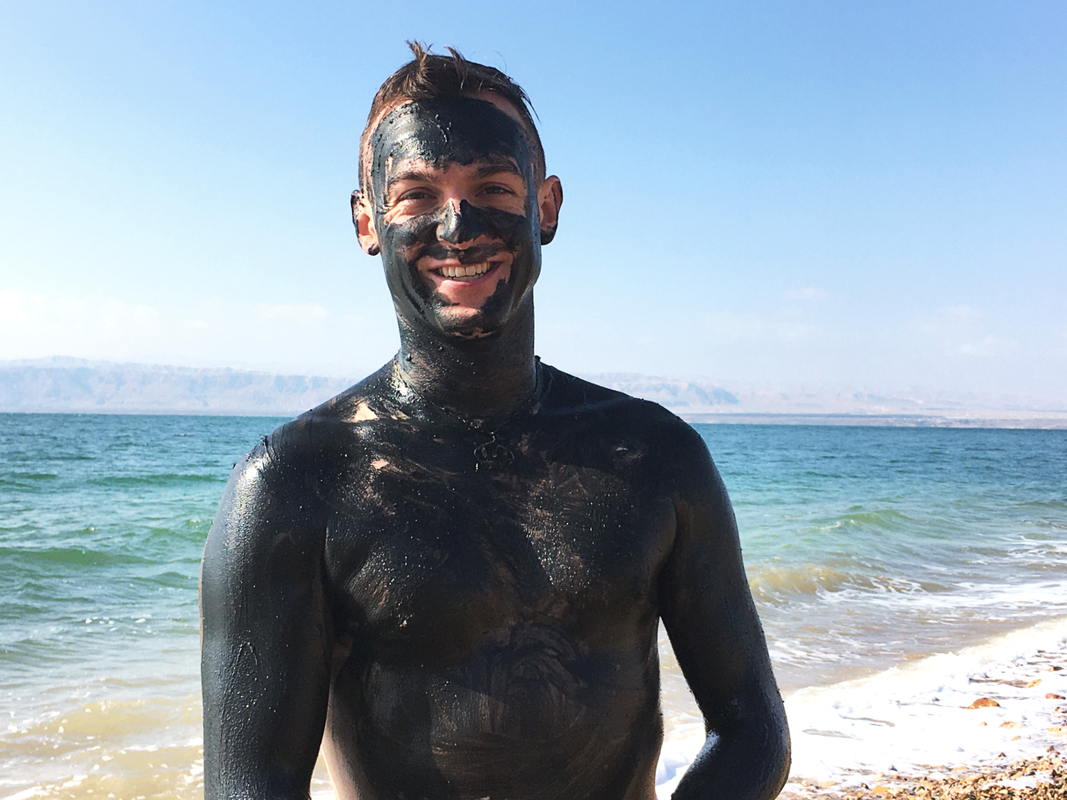 The trick is to enter the water to wet your body, then come back out and use the natural mud to cover your exposed skin. Once this has dried, go back into the water and wash everything off. Your skin ends up feeling very soft and clean, and you will feel refreshed in general. Don't rush though, this once in a lifetime opportunity should be enjoyed at a slow pace. You can even take a newspaper or a book and sit back and read it whilst floating.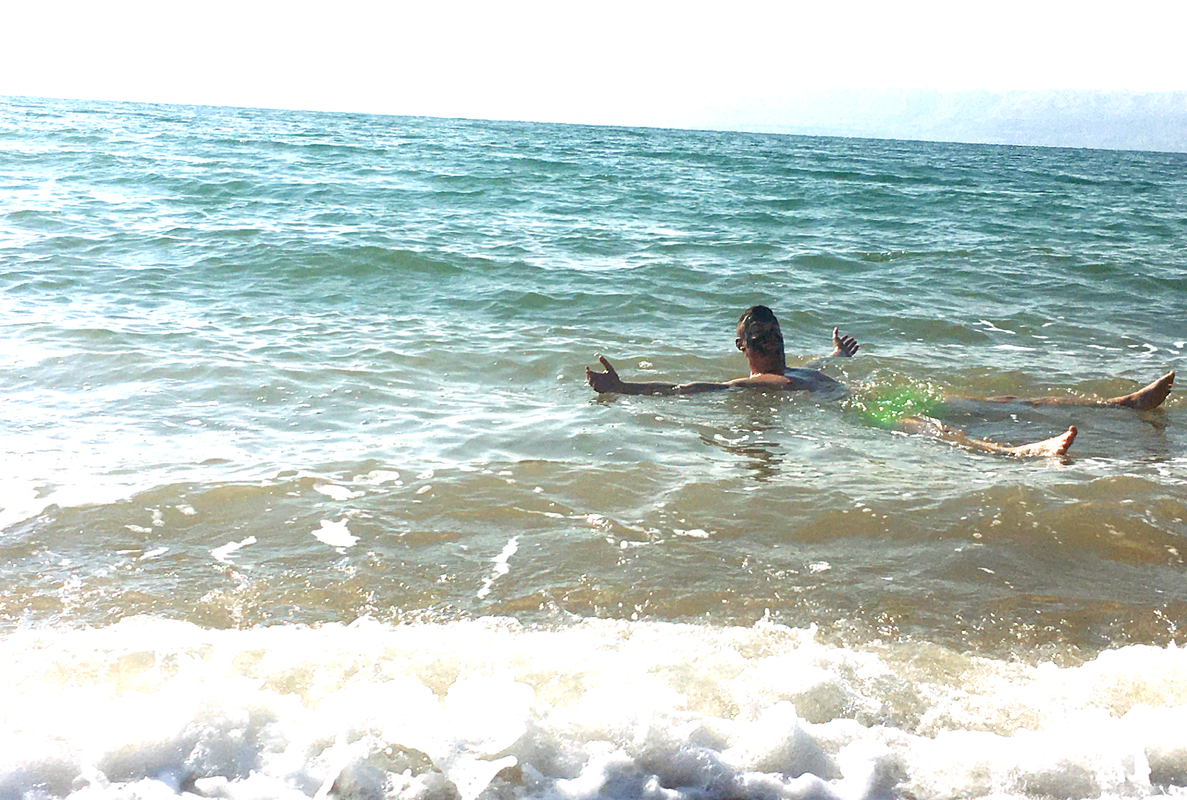 Amman
After 2 nights at the Dead Sea, we were refreshed and ready to tackle the next item on the itinerary. Firas, the driver from Kawar Tours, met us on time, and after helping load the bags, took us on the 50 minute drive to Amman.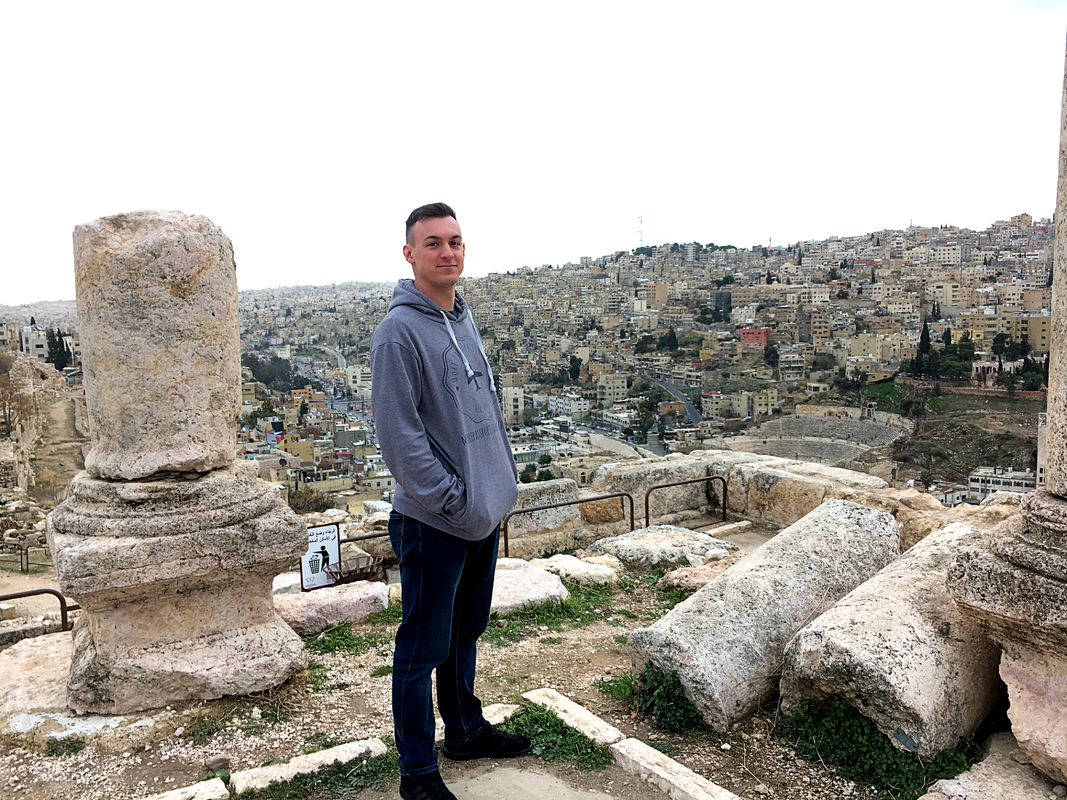 Amman, Jordan's capital and largest city, is known as the city of seven hills, but today Amman covers more than 20. Our first stop was the Citadel, a historical site that is believed to have been occupied during the Neolithic period. Since then it has seen Romans, Byzantines and Umayyads amongst others occupying and fortifying this ancient hilltop. At 3 Jordanian dinars entry for foreigners, Amman Citadel has to be the best value for money of all the sites during our Kawar Tours review.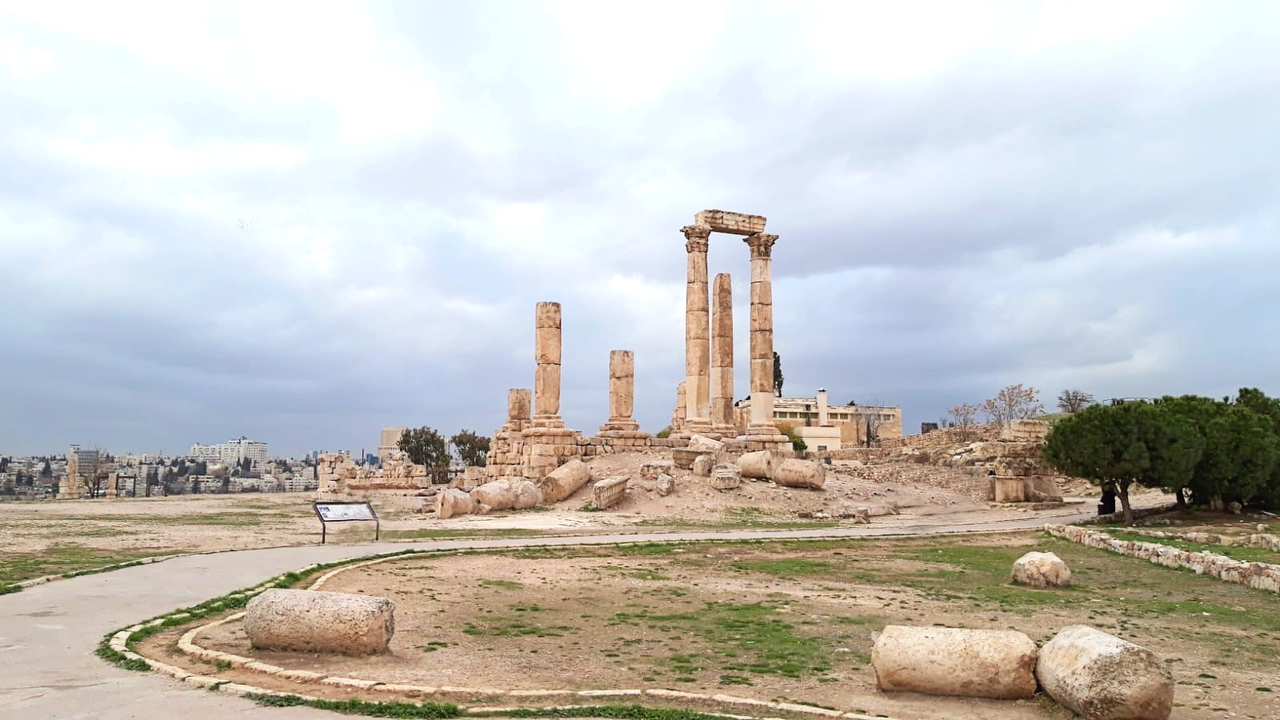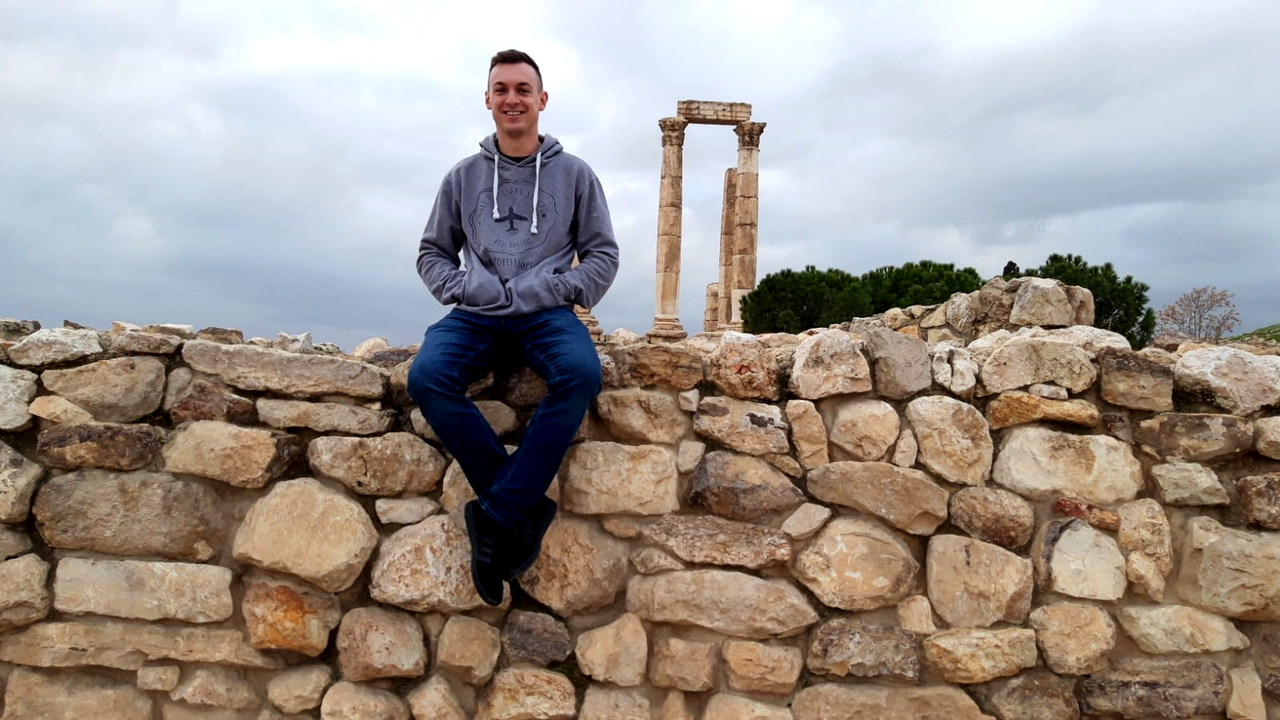 A short 5 minute drive away is the Roman amphitheatre, which incidentally you can see from the Citadel. This 6,000 seat theatre dates back to the 2nd century and is still the location of events today.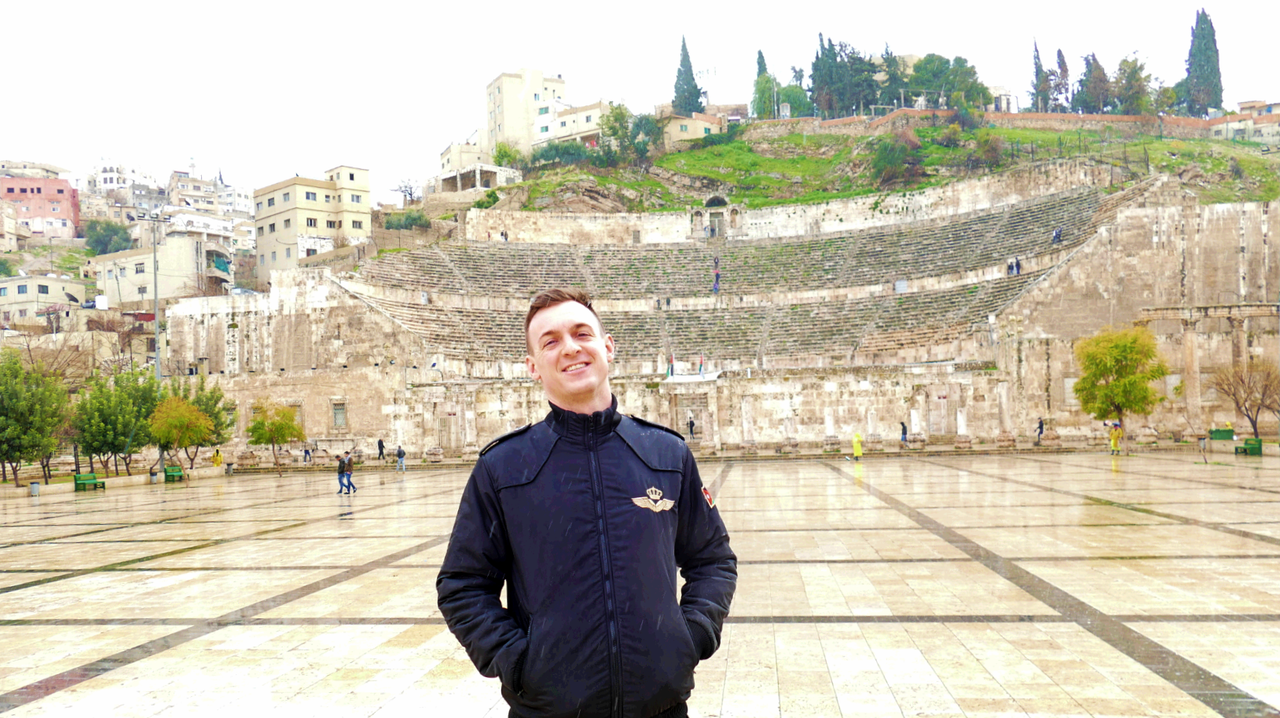 Firas kindly dropped us at the Marriott Hotel in Amman for the final night of our Kawar Tours review. Punctual, helpful, smiley and patient, the driver provided to us by Kawar Tours made our visit much easier.
The Marriott in Amman is slightly different to the others in that it is located in such a large city that does not rely on tourism, and therefore tends to attract more business clientele. Oasis Health Club is located here and features two pools, a gym, a sauna and a spa. One of the main attractions of this hotel is actually the location, very central in Amman, enabling easy access to the rest of the city. As well as the Champions Sports Bar, this location also features a very sophisticated Library Lounge & Cigar Bar as well as an Italian restaurant.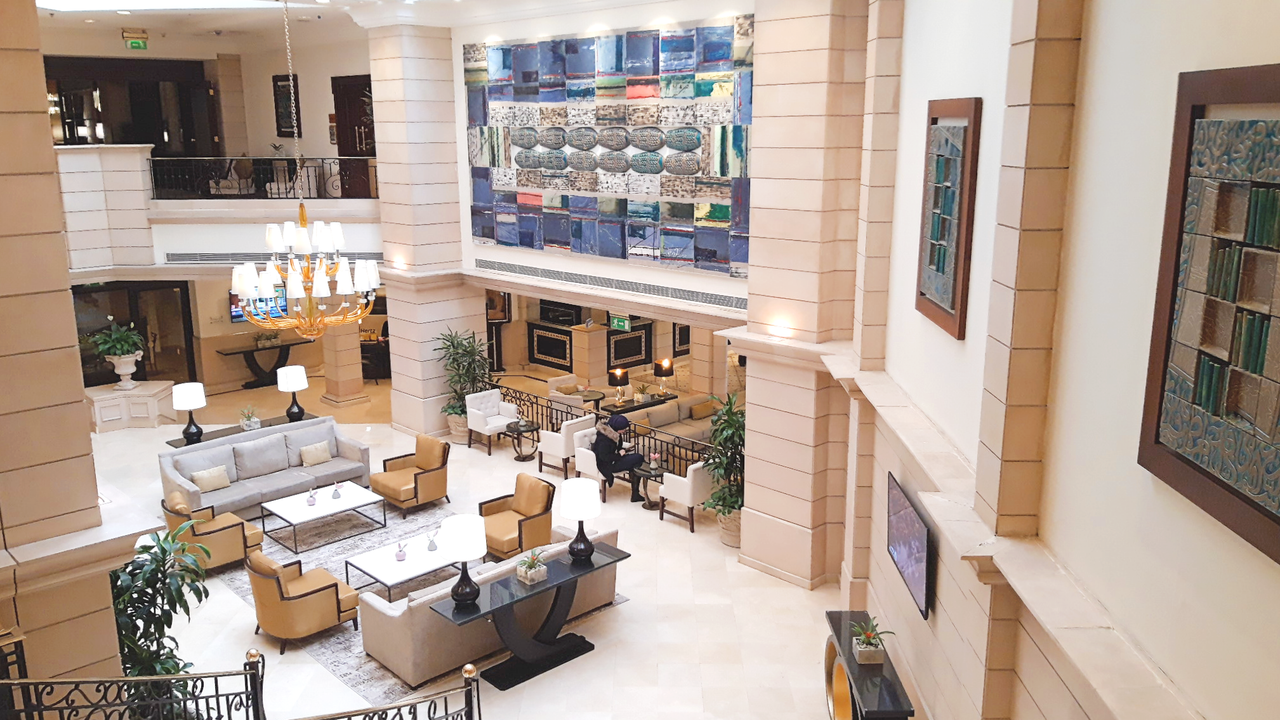 Amman is a lively city and equally as rich in history and traditions as the rest of Jordan and was a great stop to finish our trip. Jordan has so many unique experiences from Petra to Wadi Rum, Mount Nebo to the Dead Sea, that it has to be the most underrated country I've visited.
Organising a trip of this magnitude yourself will be time consuming and stressful with no guaranteed end result. Using a well renowned tour company such as Kawar Tours gives you complete peace of mind and enables you to maximise every second of your journey. After our experience reviewing Kawar Tours, we believe that their bags of local experience and wealth of knowledge for authentic trips in Jordan, mean that we can do nothing but fully recommend them. Book your trip to Jordan on the Kawar Tours website, or email them today.
Kawar Tours is the travel and tourism arm of Amin Kawar & Sons. Since its establishment in 1963, Kawar Tours has made a name for itself as a customer-service oriented destination management company, managing all necessary details and providing optimal travel experiences on air, land and sea. Utilizing its in-depth knowledge of the country, far-reaching network of contacts and strong relationships, Kawar Tours manages and carries out unique events, activities and tours to be remembered, tailored to its customers' diverse travel and tourism needs. From conception to completion, Kawar Tours' professional team navigates every detail involved in its excursions, activities and travel experiences, accommodating its customers' every need with flexibility and skill, often in anticipation. Kawar Tours offers unparalleled travel and tourism services, ensuring a smooth and comfortable travel experience for all. This is a sponsored review on behalf of Amin Kawar & Sons. All views are my own.