I hit the road around 7am, driving north towards the border with Nicaragua. At 10am I had to stop for coffee. I sat by the road but I think I was at the start of a bicycle race, because everybody else had full lycra and helmets on, as if about to start the Tour De Costa Rica.
I jumped back into the car and once again enjoyed the drive, taking in some interesting sights like a prison with 10 foot walls, pretty low in comparison to most prisons I would say. The radio in the car didn't work, but the air con and windows did, so I was happy.
As I approached Liberia I perked up once again, which is a relatively large town/city for Costa Rican standards. I knew I had to stop here at the national bank to pay exit fees before I could reach Nicaragua. I spotted a 'National Costa Rica Bank' and pulled in. It didn't open til 12, and it was 11am. I sat down and grabbed some pancakes for lunch before a quick browse of nearby shops.
After the hour that seemed like 3, I was first in line when the bank opened. I approached the teller, only to be told I had the wrong bank, and it was 2 kilometres down the road where I needed to go. Brilliant. Not sure whether to laugh or cry, I corrected the route and eventually found the right bank. The exit fee was minimal, less than 10USD. I got my slips and began the Northward drive to Penas Blancas, the most popular place to cross between NIC and CR.
It was around here that I noticed the potholes in the road, and many of them deep enough to severely damage your vehicle. I arrived tired and ready to get out of the car, which I had been in for around 7 hours. There were no huge car parking signs anywhere, so I got right up to the border before I realised that parking would be an issue.
I chucked it into an 'Enterprise Rent-A-Car' parking spot, and went to grab my stuff. I asked if I could park there and was of course told that I could not. I didn't mind too much though, because where I eventually parked was brilliant. There is a tiny row of shops (including, annoyingly, a place to pay your exit fee) near the border, and a small path for cars to drive along near the rentals etc. I wound my window down when on this path and asked a man that was sweeping up where I could leave my car, seeing as I would be back in just one day. He smiled and said 'Just leave it there.' So I did.
I pulled the not-so-sturdy handbrake up and jumped out, locked it up and walked away. I had heard the border crossings here can be time consuming, so I wanted to get cracking.
I scurried off before anyone tried to charge me for parking and walked straight past an empty looking building in the road, grabbed an exit form from a local, and across the border to Nicaragua. I realised halfway across no mans land that I needed an exit stamp in my passport, and headed back. I blame fatigue!
I could have gotten away without paying exit tax because the guard didn't even look at it, just saw some yellow slips and was happy (but I don't recommend running the risk!). He stamped my passport and I left, once again.
I showed the stamp to the guards on the Nicaraguan side, who said I may have to go back. The stamp was too light and fuzzy, apparently. They gave me a choice, either go back and get it stamped properly, or go through and run the risk of queuing for a long time before being told I need to go back by customs officials. I opted to give it a crack. I walked through and was immediately offered 'help' by several Nicaraguans.
As an astute traveller, I waved them off and said 'No, gracias' and walked through the crowds towards what looked like an exit. I was 100 yards in when one local said 'Hey man, the passport office is this way!' I felt a tad stupid, but followed him with my tail between my legs nonetheless. I approached the office and I was about to give my passport to an official looking guy who demanded it, when a lady behind the first desk shouted me over, 'This way, quickly!' she said. If it were busier and she had had a queue, then I would have given my passport to this chap and probably been extorted in some way. Lucky.
The first desk is a simple form (you'll know your passport number off by heart by this point) and a 1USD charge for entering the region of Rivas, I think. The second and biggest desk is a few more dollars per person, for entry into the country, but the queues are long. The locals don't seem to understand the rules of queuing though. I know that us Brits wrote the book, and not everybody is the same, but surely a basic 'I was here first' rule is worldwide, no?
Eventually I got to the front by teaming up with some Australians who were just as frustrated. We formed a semi circle human barrier and edged our way through the now fair queue. The locals had the cheek to look at us funny! We got to the desk and a sad realisation came over us. They only take US dollars. Yep, you may be crossing from Costa Rica to Nicaragua, neither country owned by the USA, nor share a border with the USA, but they only accept USD. Confused and slightly angry, I ran to the nearest money exchanger and got promptly ripped off for 20 dollars. I didn't mind too much, I was in.
I shared a taxi with the Aussie's, and exchanged travel stories with them. The drive took us past a beautiful huge lake, which is important for local water according to the driver. I dropped them in San Juan Del Sur, and although my hotels address said San Juan Del Sur, it was actually another 45 minutes in the car. Great. I paid the driver extra, and sat back for more travel on this already travel filled day.
The first 20 minutes were fine, normal roads and actually very nice scenery. However, the taxi took a turn onto a road that looked at first like a dirt road, but actually turned out to be more rocks than dirt. It was the bumpiest road I have ever been on, and I literally had to hold on to my seat. 25 minutes of this is not what I wanted, but I had planned the next hotel as a bit of getaway luxury, so hey ho.
We pulled off the road and into the 'Parque Maritimo El Coco', which looked totally off the beaten path, surrounded by rainforest and pretty amazing, but not what I was expecting. Anyhow, I checked in and was shown to my room. On the walk down to the room I saw why I had booked this place, just 100 metres from reception, through the rainforest, is Playa El Coco (beach) and my apartment was plonked right on it. Not only that, nobody else was booked in here! The apartment was lovely and the bed was laid out nicely, but I couldn't get over the view and the whole feel of the area. It was literally the perfect getaway.
I hit the beach, only to find it gets better. There are lots of crabs scuttling around everywhere, a tell-tale sign of less human activity (they'd be scared away if too many people used the beach). There was a football pitch on the beach, and I found the only other inhabitant too, the barman! The hotels pool was clear and warm, overlooking the sea. They had table tennis, football and a fresh seafood menu. I've totally forgotten how much I paid for this place, but it is definitely worth it!
I slept extremely well, and woke up to the sound of waves lapping up against the sand. I wandered down the beach to the bar where breakfast is served, dodging little crabs as I went. Pancakes with fruit, lovely. After a chilled couple of hours I knew I had to hit the road, as I had a fair bit of travel yet again.
I got a quote off the hotel for a taxi, and it was twice the quote from yesterdays taxi driver, so I rang him to come and get us. He arrived 45 minutes late, but as my only option out of there I wasn't going to make an enemy of him. I asked him to stop at a cash point, so after a brief stop to pay the man I went to the border.
There was a huge queue on the Nicaraguan side, with officially dressed ladies offering to fill peoples forms in for them for the bargain price of 25USD. I declined as I knew all the forms were free once you were inside, some people weren't so lucky. In fact, most white people in the queue had been done over. A lucrative business.
I waited for an age in the queue before they finally opened the floodgates and let everybody pour in, briefly glancing at our passports. Once inside, there was another queue, and in front of that, another queue. Each about 90 minutes long. Today was Nicaraguan Independence Day, and there was a big parade on where a torch is lit and some people run with it from Nicaragua to Costa Rica.
The locals were up to their usual tricks of queue jumping, so I got somebody to hold my place in the queue and I went snooping. It didn't take long for me to find the ultimate queue, only 10 people deep, right next to the passport stamping office. I struck up conversation with a young chap in the queue, who was polite but warned me off jumping in.
A money exchange lady was sat behind him, and she ushered me over and said 'If you stand here I will get you in.' So I did. If you can't beat them, join them, isn't that the saying? There was a very serious looking policeman guarding this queue, and many people, including locals to be fair, got turned away when they tried a similar move to mine. I think I had the right lady on my side.
She had a sidekick, a teenage girl that offered to complete the forms for me so that I could zip straight through. I said I would pay 100 Nicaraguan Cordobas to fill in all my forms.
It is a $1 charge to leave Rivas and around $5 to leave Nicaragua. Some were rushed through the gate so fast that they didn't get charged the Rivas $1. I left the gated area and I paid the young girl, then exchanged some money with the lady, and gave them both a huge thank you!
Now way ahead of schedule, I scurried off to the Costa Rican side to try and 'beat the traffic'. Getting stamped back in took around 10 minutes and was easy, a quick stamp, then a scan of your bags and you're in. If anyone needs advice on crossing the border either way, please contact me and I will be more than happy to help. It's not half as scary as you might think!
The car was exactly where I had left it, in the middle of the path, totally unharmed with nobody batting an eyelid. I jumped in and screeched off. I rounded a couple of corners and just as I was punching in the address of my next hotel, I found myself in a huge queue. I overtook a few cars to see what the kerfuffle was and guess what, it was the police escort for those pesky runners with the torch!
I went at 10kms per hour for 30 minutes before pulling over to get something to eat, no point driving at that speed all the way! After my fill the roads were a bit better, but I noticed a lot of cyclists around. This got worse as I continued South, to the point of danger sometimes when overtaking. I knew it must be to do with that Independence Day parade, but it was nice to see all the locals happy and out of their houses in celebration.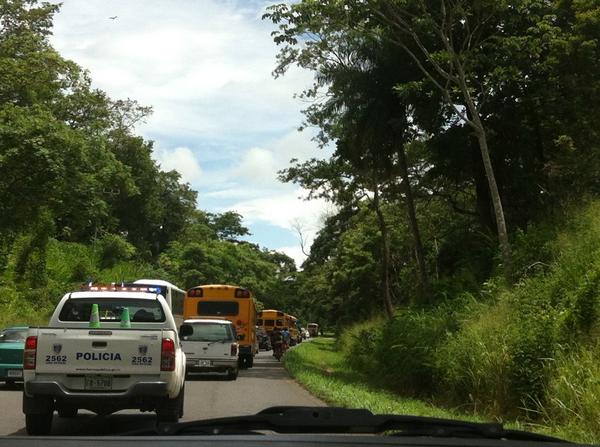 I rounded corner after corner of cyclist-filled roads, with some waving, until I saw yet another huge queue. This time, the police at the front were stationary. This must be an accident. I heard 2 guys in separate cars shouting to each other just in front of us, it was in Spanish but I picked up that they were going to try and drive through some bushes and bypass the incident via the fields. They went for it, and I followed. People on foot and on bikes were everywhere, so I had to take it slow.
I finally reached the point next to where the accident occurred and there was a lot of police tape. I had a huge ditch to get through, with a 4 foot drop going in, and about 7 foot incline going out, pretty much vertical. The guys I followed were in all terrain vehicles and managed it by slowing edging into the ditch then slamming the accelerator once at the bottom. I had to wait my turn as there was no room between the trees at the top of the ditch on the other side for both us and pedestrians/cyclists. I found a gap and went for it, eyes half closed and quietly becoming religious for 10 seconds.
I made it through despite a small wheel spin, and the rest was relatively easy. Just drive through a plantation (corn or something?) and back onto the road, where the queue on the other side was ginormous. I'm starting to think somebody's looking after me because I've had some good luck in the last 48 hours. Then again, some people say you make your own.
I found out later that the accident was a big tanker that had failed to check for oncoming traffic when overtaking and hit a pick up truck, killing 6 of the 7 inside. A sombre reminder how careful drivers need to be at all times. I approached Liberia once again, and turned right (West) towards Playa Del Coco. Yep, I had travelled all day to get from Playa El Coco to Playa Del Coco. 6 hours travel for one letter. Wow.