I was lucky enough to have the opportunity to review the Adaaran Select Meedhupparu, in the Maldives. If you haven't yet read it or seen the video, my journey here was rocky to say the least, see here. Alternatively, read on for my complete review of Meedhupparu and the Adaaran Select resort.
Please note Meedhupparu is treated a little bit like 2 separate resorts on the same island. I stayed in a beach villa and therefore the only content I can give on the over water villas is if you watch the walkthrough video above (starting from 21:30).
✈ Transport
The transportation to Meedhupparu is by seaplane, a simple 45 minute journey providing the weather doesn't turn on you!
They also have a dedicated Meedhupparu lounge at Male airport so you can relax and enjoy a few drinks and snacks prior to your seaplane journey.
🛏️

 Room
I felt the room was airy and spacious, the double bed was extremely comfortable and is a Kingsize so no space issues.
There's plenty of room for 2 people, with a huge double wardrobe, a large drawer, a beside table, a chair, a a luggage rack, a sink, a mirror and even a shower – per person!
During the day it is nice to open the back doors and be able to hear the sea. You can see it from your bed either way. Below is the view from the room I was in, 188.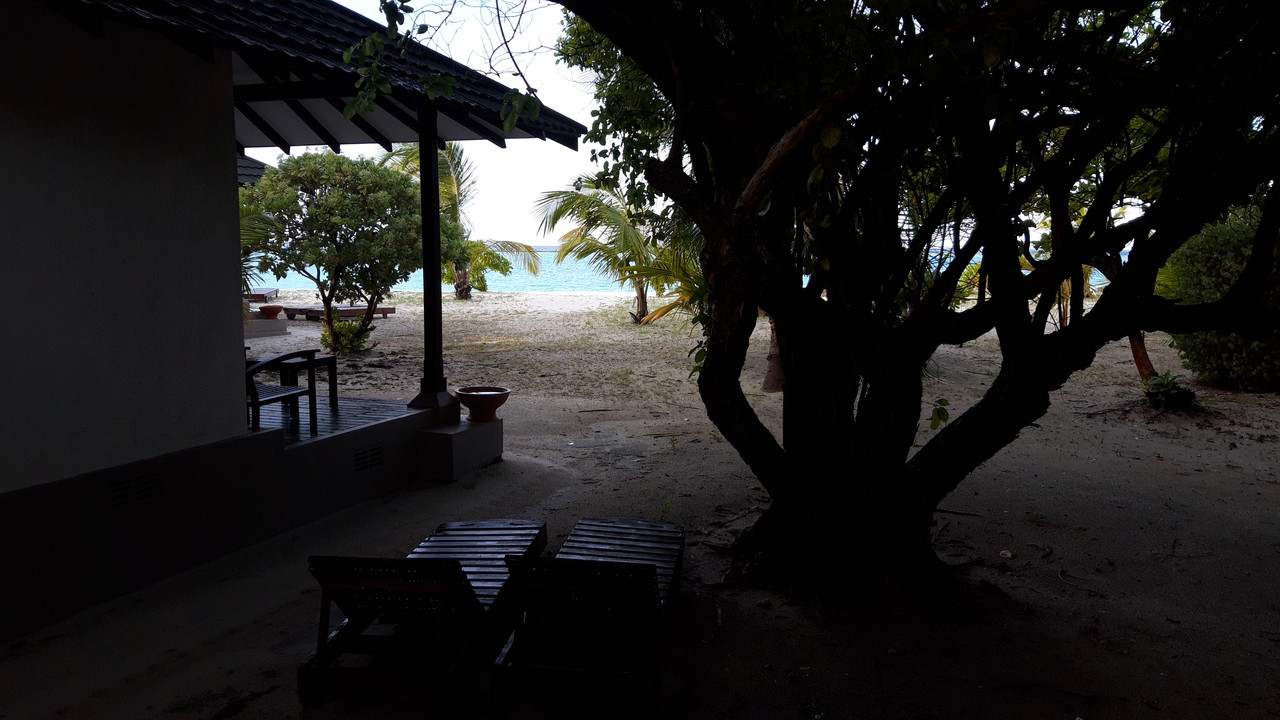 💆‍♂️ Spa
Chavana Spa at Meedhupparu is hidden in a lush garden, which gears you up for relaxation before you begin.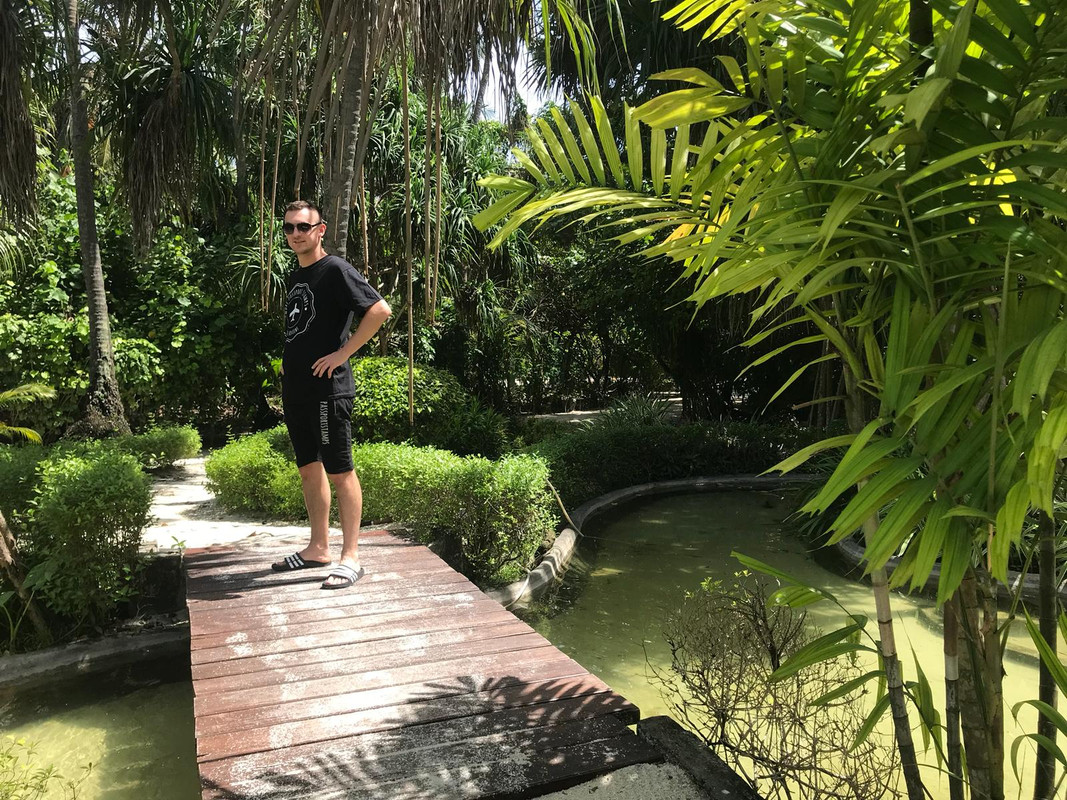 After removing your shoes you are signed in for your treatment and welcomed to a relaxing lounger, where you will be met with a herbal tea to aid detoxification. The spa is well laid out, with a large 4 sided waterfall in the centre of the room giving off calming sounds.
There are several treatment rooms dotted along the outskirts of the spa, along with a sauna and steam room which are free for guests to use at any time. The masseuses are great as you may imagine and will care to your every need.
🥅 Facilities
The gym here is behind the spa, with running machines and some basic weight equipment. The pool area is a great suntrap with plenty of parasols for shade if you need them. Be aware this resort is popular with Germans so you may have to reserve your lounger as is their custom. The pool itself is a large L shape with brilliant swim up bar and even has an infinity edge on the beach side giving a great view out to sea.
There is a pool table in the Sunset Bar and table tennis table in the main bar, both of which are free play.
👩‍✈️ Staff
I found the staff generally cannot do enough for you and tended to be very helpful and polite with pleasantries exchanged often.
The welcome packs do state that tipping is customary and expected, but be aware that many charges already include a service charge so tipping is unnecessary, e.g. treatments at the spa.
💃 Entertainment
Regular bands and/or singers perform in the main bar during the evenings, or sometimes they perform at the Sunset Bar on the beach. The Sunset Bar also shows sports when they are on, usually football as the Maldivians love it!
🍉 Food
The Sufura is the all-inclusive buffet restaurant near the pool and main bar. The food varies and all diets/preferences are catered for. I found the food here really, really tasty. It was so nice, in fact, that I had no need to try the Thavaa restaurant.
It is a little strange though, as they assign you a table number and that table is yours for the entirety of your stay. This ensures you are always served by the same staff member, and they will remember your drinks orders for ease.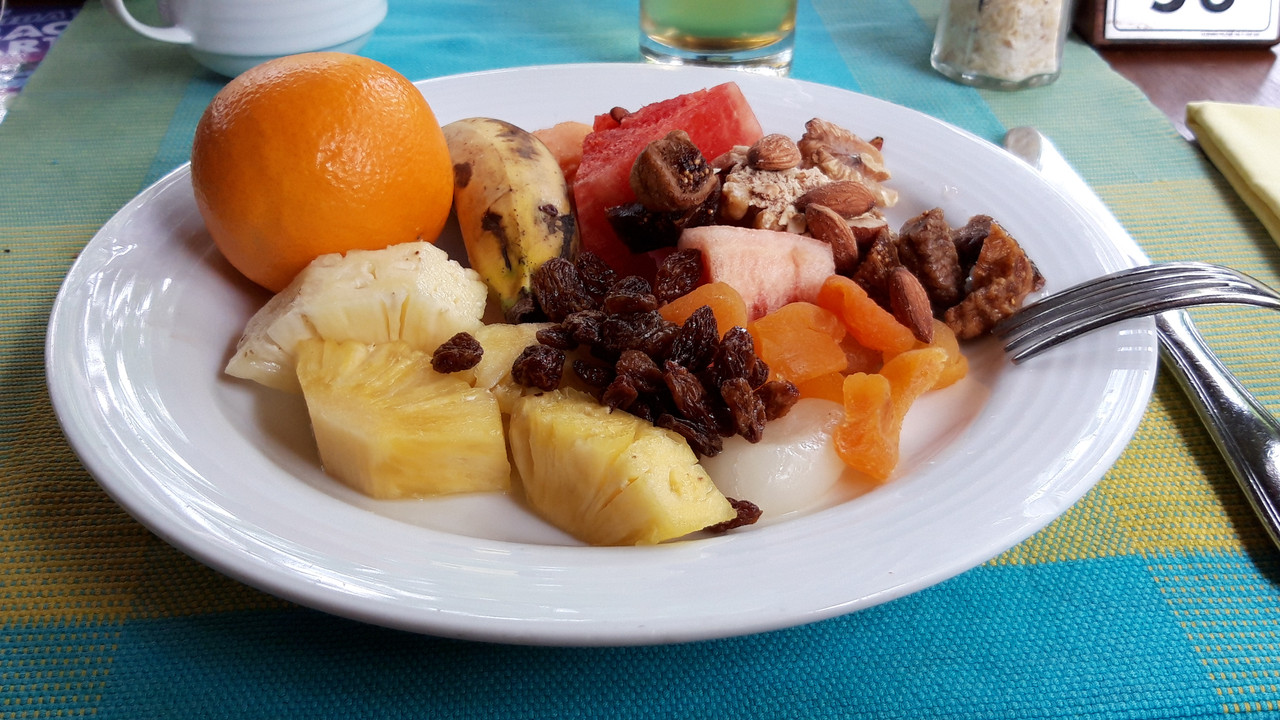 🦈 Snorkelling
Just wade in a foot or so and you will not believe the number of small black-tip reef sharks that are swimming amongst your legs, it's great to see.
The smaller fish range from individual bottom feeders that will happily let you pass over them as you snorkel and they feed, right through to the shoals of tiny fish that will dart away as soon as you're within a few metres!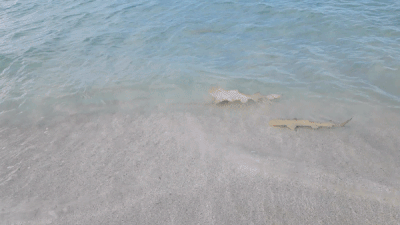 🚤 Excursions
There are a good variety of activities on Meedhupparu, including a sunset photography session and the chance to be left on a desert island for a few hours. You can see an island that the locals reside on for $40 per person or just sip a Kurumba and coconut as the traditional Maldivian dhoni (boat) does a lap of Meedhupparu.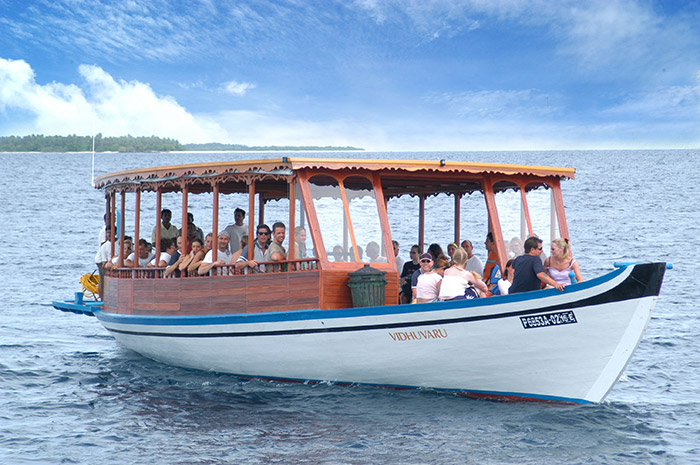 Night fishing is also an option, and these, along with various different snorkelling routes, run every few days and can be signed up for in reception.
🦎 Wildlife
As with seemingly everywhere warm, geckos are aplenty on Meedhupparu. They may just be my favourite animal. Crows might be an issue for some though as they hunt in packs and are seemingly quite daring here. I spotted one try to take a lady's hair clip from her bun early in the morning. Speaking of early, there are several families of poultry mooching about the island, begging for scraps. One morning (I was awake anyway from jetlag) the cockerel gave us a cock-a-doo-da-loo at 4.40am!
There are some other flying species on the island too, including huge fruit bats that tend to prefer flying when it's a bit darker. They are great to watch.
🐛 Bugs
Mossies love me, and Meedhupparu wasn't as bad as I was expecting for them. A few here and there, but they certainly didn't affect the holiday. Sandflies also weren't an issue. Saw a couple of rogue cockroaches on the walk home but again, nothing too concerning.
💰 Cost
Prices fluctuate using many variables. As a rule of thumb, the earlier you book, the better the rate will be. However, there are some great last minute deals too. The low season will set you back around $250-$300 per night based on 2 people in a double, all inclusive. The high season is more likely to be $350-$400 per night.
The over water villas start at around $700 per night and can reach as much as $1200 depending on availability.
🏖 Overall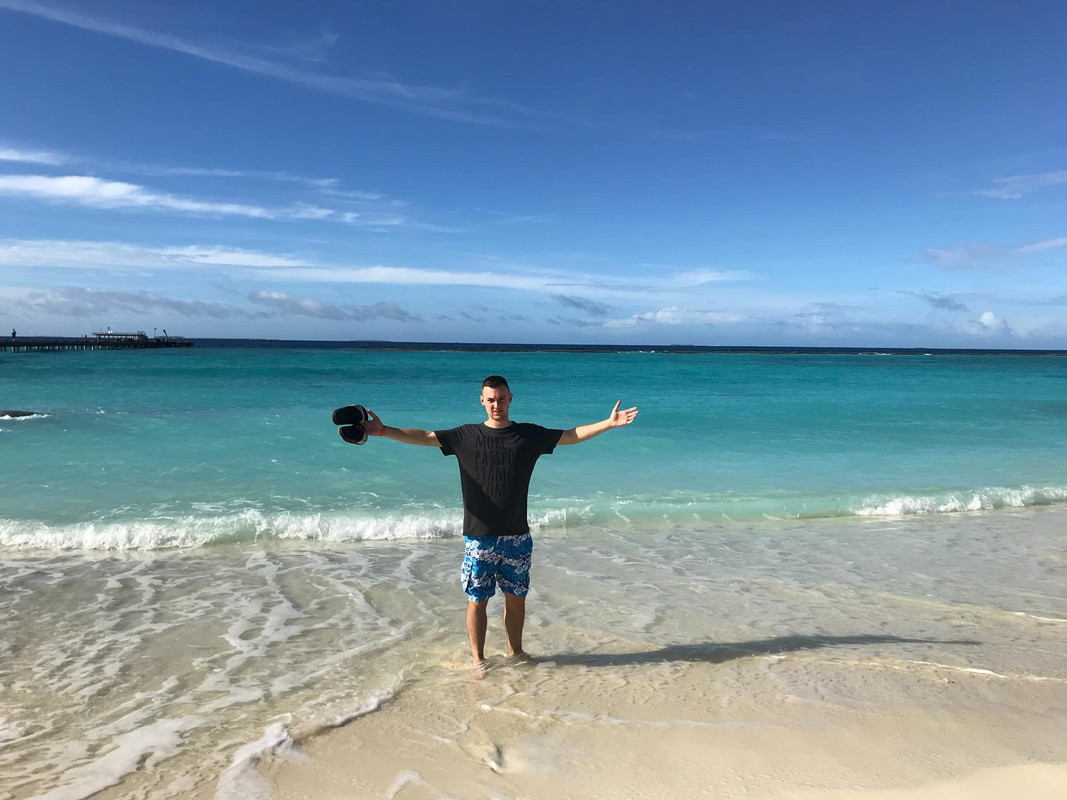 The Adaaran Select Meedhupparu has 238 well presented rooms and 370 uber-helpful staff to compliment their great facilities, lovely views, great food and tonnes of value for money. To book or search for current offers, please visit their website here.
If you want to see a full walkthrough of the island, you can watch our YouTube video review here.