Sometimes travel tests your patience. The ones that keep up with the More Passport Stamps Twitter account will know that I am currently in the Maldives (alright for some). However, often you have to go through hell to get to heaven. My original plan was to get a lift to Birmingham Airport, fly with Emirates to Maldives (via Dubai) then get a seaplane to Meedhupparu, my first Maldivian destination.

My ride couldn't make it so I hitched a couple of lifts to get to the airport, a sign of things to come. The flight was busy and tiring, but we stopped in Dubai as expected. A stopover of just over 4 hours is lengthy enough for anyone. Next leg of my flight was Dubai to Male (capital of Maldives).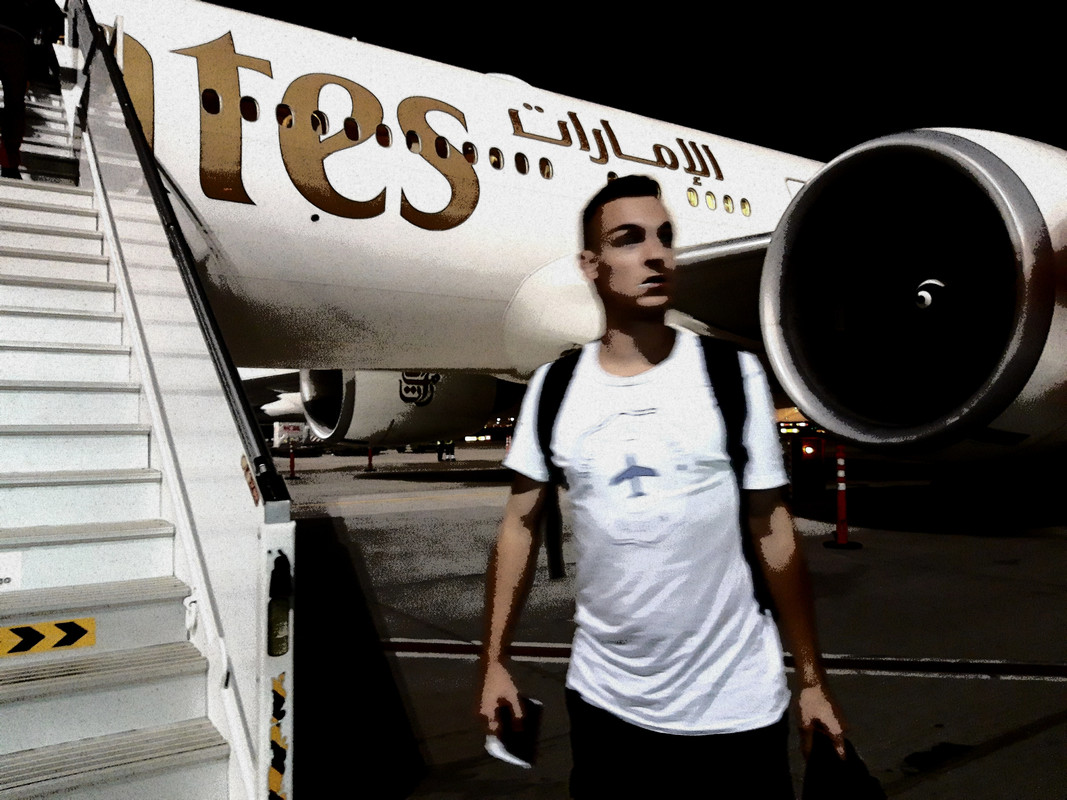 This felt like an easy ride as it was only a few hours and there was ample room, however I couldn't sleep! Finally the plane landed and after seeing some beautiful islands as we were landing I had a burst of energy.
It's now 9am local time and after a seemingly never ending airport bus to Arrivals, I bustle my way through to find the check in desk for Meedhupparu, where I'm given a boarding card for my seaplane and told to check in with Trans Maldivian Airways. Once checked in, I am boarded on another bus, this one taking me to the Adaaran Select Meedhupparu lounge where I am to wait for my seaplane.
It's cosy and there are basic refreshments, but I really just want to get there now. 11am comes and 10 people leave for a flight, but I'm not one of them. The receptionist tells me my flight will be 12.30 instead.
12.30 comes and others have arrived and we all await our departure. The receptionist now tells us we will be delayed as the weather in Meed is not good enough to land. They have no predictors of weather here, only mobile phones and eyes. Basically, a member of staff on the island will say "No, you can't land now" even though most storms pass within 10-15 minutes and it takes 45 minutes to get here.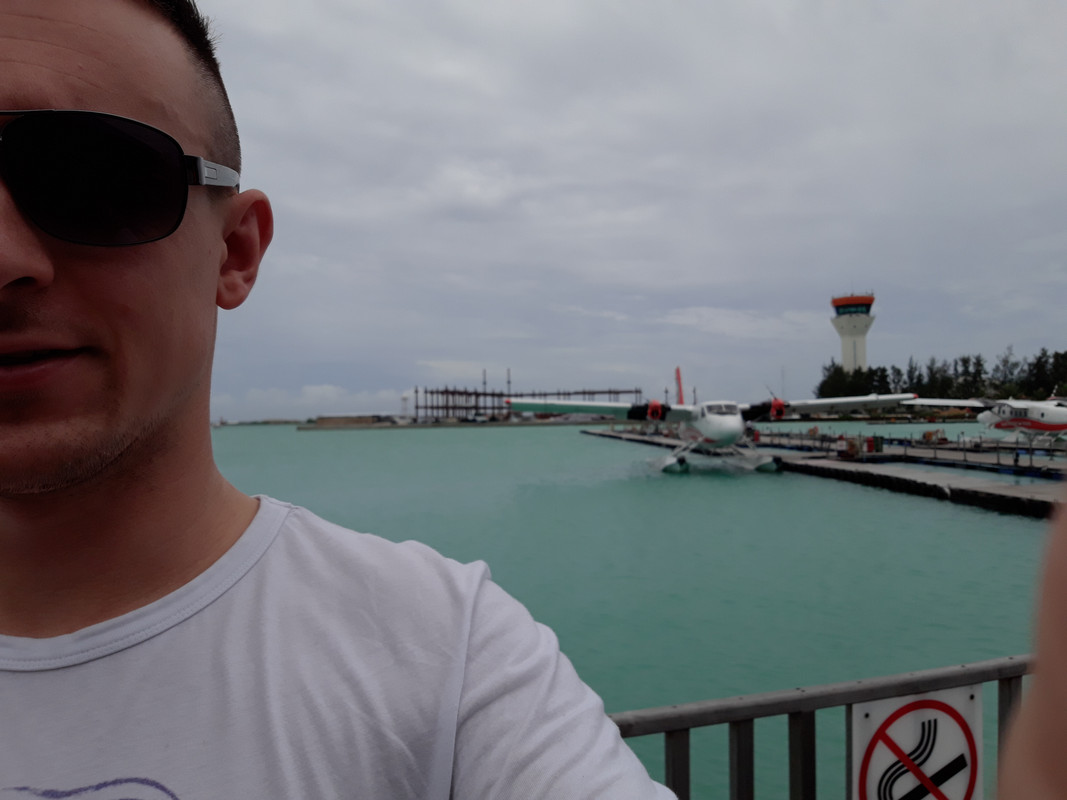 Eventually 1pm comes and we are told the skies are clear over Meed and our flight is ready. It isn't. We are just moved to another waiting room, with a view of the seaplanes. After 20 minutes here, we finally get ushered towards a sea plane. Once in the air I am once again blown away by the natural beauty of the area.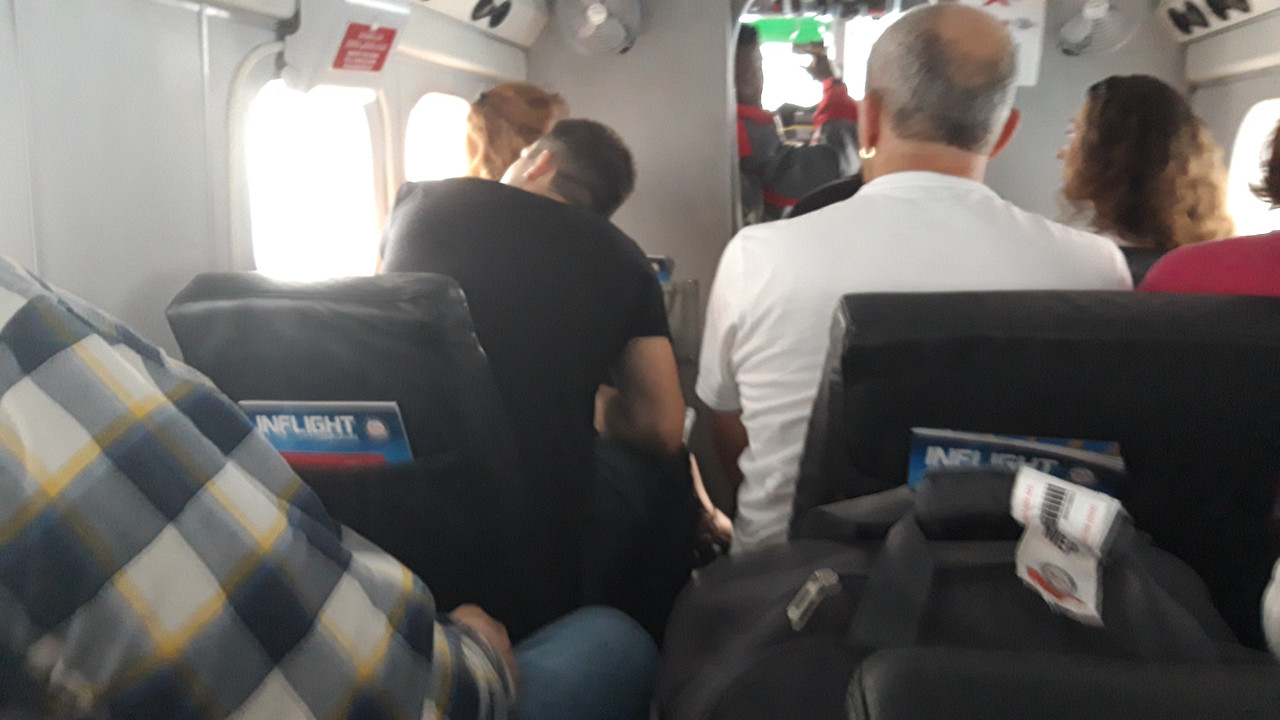 It is 55 minutes (longer than scheduled) before we land, but the sense of relief is short-lived. It transpires that we have actually landed in Dusit Thani, an island 15 minutes from Meedhupparu as by the time we got to Meed the weather had turned again. The staff were great with us at Dusit Thani, as we were golf buggied to their bar and given refreshments whilst we waited patiently for the weather to clear, again.
Finally the weather became clear once more and we were all back on the golf buggies to the seaplane, with Meedhupparu our target. After 30 minutes of flying the weather had turned once again, and we were forced to land at a nearby floating seaplane stop and were told a boat would take us the rest of the way.
We offloaded and held on for dear life as we rocked around in the choppy seas afloat an anchored raft waiting for a boat that never came. The heavens opened and we were ushered back on to the plane for shelter. Half of the travellers had been sick by this point, and this wasn't helping. Finally a boat arrived, but it was from a different island that we were closer too. This boat took us to shore to wait for the boat we needed. You can imagine how the mood in camp was at this point.
Another hour or so passed and a boat appeared on the horizon, it was actually from Meedhupparu! We boarded and set off on the jumpy ride to our island. After 20 mins of bouncing and plenty more filled sick bags (the Russians couldn't hack it), we were met a few hundred metres off shore by yet another boat (I'm not kidding!) that promised us it would take us to shore.
Jumping from boat to boat was certainly an interesting experience. I am writing this now from the comfort of the island and there are several disabled people here including those in wheelchairs. It would have been impossible for them to make this journey.
Our final boat of this marathon was met with several staff members at the end of the Meedhupparu pier. They tied the boat up as best they could but still needed many helpful hands and good timing to ensure we got to shore safely, the seas were still very rough.
Once on land we were taken on buggies to the reception area and offered refreshments. I kindly refused and requested that I be given my room key immediately, not an unreasonable request given the circumstances.
It must be up there with the worst journeys I've ever had, a 2 day test of endurance and character. After 2 cars, 2 jet planes, 2 buses, 2 sea planes, 3 boats and 4 golf buggies I arrived at my room, bedraggled. Watch this short video of the ordeal below!
On a positive note, now I am here it is all worth it. This morning I woke up to the sounds of waves lapping a few metres from my beach front door, and I walked to the shore to find a few baby sharks looking for fish in the shallows. What a magical place.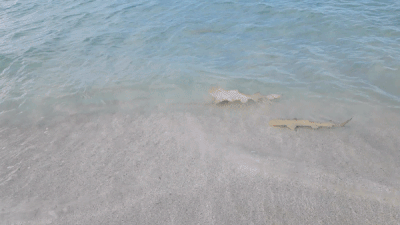 I have since reviewed Meedhupparu and Vilamendhoo respectively. Scroll to the bottom and enter your e-mail to get an e-mail every time I post!